Adidas Invitational: Day Two Recap
The first full day of the July live period featured plenty of quality performances, and some surprising sleepers. Plus, we take a look at five-star Isaac Hamilton's recruitment.
• 5 min read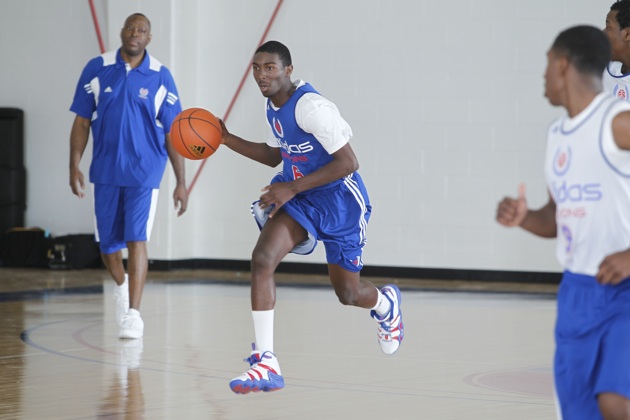 Five-star guard Isaac Hamilton has one of the best scoring repertoires in the class of 2013. (Adidas)
INDIANAPOLIS – When Isaac Hamilton has his offensive game going, there aren't too many better scorers in the country.
Down by 20 in the second half against the Michigan Mustangs, that idea must have clicked for the five-star 2013 prospect. He led his Dream Vision team to a furious game-ending run, completing the comeback with a three-point victory.
"We knew it wasn't over," Hamilton said. "It was a long trip for us, so we tried to find some energy."
Moreover, despite talented teammates such as younger brother Daniel Hamilton and four-star forward Anthony January, it took awhile for Dream Vision to mesh. After all, it was one of their first times playing together.
"It's a whole new group," Hamilton said. "I think I played pretty decent. I was shooting the ball well, getting my teammates involved."
Hamilton is a 6-foot-5 shooting guard from St. John Bosco (Calif.), and is ranked as the No. 23 prospect in the rising senior class. He can score from 3-point range, on pull-up jumpers or on drives to the basket. When he begins to knock down floaters and learners, the points can pile up in a hurry.
California, Washington, USC, UCLA, UTEP, Gonzaga, Connecticut, Florida, Colorado, San Diego State and UNLV are all pursuing Hamilton, with Connecticut, Florida, Washington and California all pushing pretty hard. He has taken trips to UCLA, San Diego State and UNLV.
"I'm looking for a good coach and environment," Hamilton said.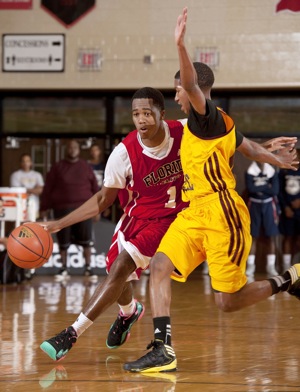 Kasey Hill was already an explosive penetrator, but now he's improved his 3-point shooting. (Adidas)
Top Performers
Kasey Hill, 2013, Florida Rams: Hill was out of control at times, but his speed and change of direction is simply on another level. He can get from end to end extremely quickly, and knows how to find players in transition. Hill can get by his defender on nearly every possession, and can finish. Moreover, he's now become a much more consistent 3-point shooter. 
Isaac Hamilton, 2013, Dream Vision: Hamilton has so many tools in his bag of tricks offensively. He has tremendous body control and can get off shots from just about anywhere on the court. Hamilton can go off the dribble or pull-up and knock down jumpers.
Craig Victor, 2014, New Orleans Elite: Victor was on the losing end of a battle to Chris Walker, but he is just dynamite offensively. He can finish around the basket with ease, and contact doesn't seem to affect him. He showed off a good jump hook and isn't afraid to face-up and shoot from 17 feet.
Derrick Walton, 2013, Michigan Mustangs: Walton has been up-and-down the last couple of events, but he had it going against Dream Vision. He finished through contact at the rim, and was confident when pulling up from deep. He also knows how to get teammates involved.
D'Angelo Russell, 2014, Louisville Magic 16s: A pair of plays against Florida Elite 16s showed Russell's considerable potential. First, he rifled an on-the-money bounce pass for a layup. Next, he crossed his defender and went baseline for a finish with contact. He's a top-10 prospect in 2014.
Leron Black, 2014, Team Thad 16s: It's tough to judge some of Thad's players because of their style, but Black's athleticism and skillset is hard to mistake. He runs the floor extremely well and can finish with both hands effectively at the rim. His face-up ability makes him a factor in the half-court.
Anton Beard, 2014, Team Thad 16s: The future Missouri guard might be undersized for a scorer, but Beard had no problem putting up points on Thursday. The lefty consistently attacked the rim for finishes, and his upper body strength enabled him to get baskets against bigger players.
V.J. Beachem, 2013, Eric Gordon All-Stars: Among the five committed players on his AAU team, Beachem might be the best. He has very good length and athleticism, and he knows how to score the ball in different ways. Beachem can knock down jumpers and get to the rim. Notre Dame got a good one.
Paul Watson, 2013, Compton Magic: Watson showed off a good inside-outside offensive game, finishing inside and then stepping out and knocking down 3-pointers. He was active at both ends of the floor and made plays defensively. He doesn't talk much, but Watson was impressive.
Notes and Notables: The highlight of the day was the head-to-head battle between Chris Walker and Isaiah Hicks. Hicks won in the scoring column, but Walker outplayed him and got the win . . . Kelly Oubre is getting better and better. He's a long lefty that can go aggressively off the bounce and shoot it consistently from the perimeter . . . The U-16 team in the Team Thad program might be the most entertaining team to watch on the AAU circuit. They routinely score 100 points and simply run-and-gun their way to victory . . . 5-foot-11 point guard Chris Chiozza leads that charge. His ball-handling ability and quickness is impressive . . . Michigan-commit Zak Irvin showed very good offensive ability in spurts. He created his own shot and finished . . . Devin Williams doesn't have too many finishing moves offensively, but he's a beast of a player and uses his body to get position . . . Despite being hampered by an injury, Anton Gill was still able to put up points . . . If Jackson Davis limits his tendency to float on the perimeter, he can be an impact player. Tough to matchup with inside . . . Florida Elite big man Joel Embiid is going to be a name to remember. He recently started playing basketball, and already can block shots and finish . . . Overshadowed by Hicks and Gill, Isaac Copeland showed promise for Garner Road. Tall and lanky, but can step out and shoot . . . Team Thad has another very talented prospect in forward Marcanvis Hymon. He knows how to play in a half-court setting and gets good post position . . . Reclassified forward Anthony January filled it up against the Michigan Mustangs, with most of his baskets coming in transition or on putbacks around the rim . . . Considering he was in the scorebook as "Boo Man," it took some time to figure out who Frederick Edmond was. He's an athletic 6-foot-4 wing who is active around the ball and can finish . . . 6-foot-7 lefty forward Jalen Hayes has potential to be a matchup problem because of his athleticism . . . A few more mid-major sleepers: Christen Cunningham, Lamontray Harris, Demonte Flannigan. 
Gary Parrish and Matt Norlander discuss a wild Saturday of college basketball

Ball left the program earlier this month and has since signed with a Lithuania professional...

Sooners beat third-ranked Shockers while Florida and FSU lost in upset fashion to unranked...
The Hoosiers grow up before our eyes, and Miller has his first signature victory as Indiana...

Trae Young, a freshman and the nation's top player, has a 21-point first half at Wichita S...

Michigan State is probably going to have company atop the Big Ten standings