Adidas Invitational Notebook: Leron Black leads high-flying group
Team Thad 16s might be the most fun team to watch on the AAU circuit this summer, and forward Leron Black leads the way. Also, West Coast guard Jaron Hopkins has plenty of talent.
• 2 min read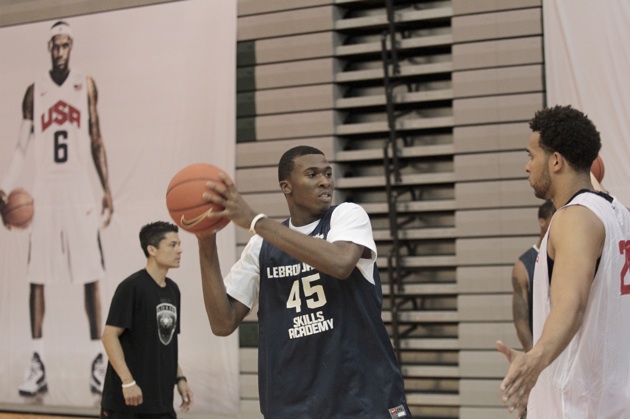 When Leron Black can get out and run the floor, he's difficult to defend. (Nike)
INDIANAPOLIS – When watching AAU basketball for 14 hours a day in July, there's always a chance one stumbles across a boring game that lacks excitement. The U-16 group of Team Thad makes sure it never happens at one of their games.
Arguably the most entertaining outfit on the circuit this year, they routinely score over 100 points a game and bring to mind the Loyola Marymount teams of the 1990s.
"All we do is run, so it's fun," star forward Leron Black said. "If we did slow it down, our guards can go off the dribble. And the big guys, we're not centers, so we can take other big guys off the dribble."
Although the team – part of Thaddeus Young's AAU program – has Missouri-bound guard Anton Beard and quick playmaker Chris Chiozza, it's Black who is the go-to-guy offensively. The 6-foot-7 forward from White Station (Tenn.) is ranked as the No. 26 prospect in the class of 2014 by CBSSports.com – and that might be too low.
Black runs the floor extremely well and can finish through contact around the rim. He's active in the paint and can control the glass.
Baylor, Memphis, Tennessee, Ohio State, Georgia Tech, Arkansas, Mississippi State, North Carolina State and Kansas are all coming after Black. He said Baylor, Memphis and Georgia Tech are coming at him the hardest.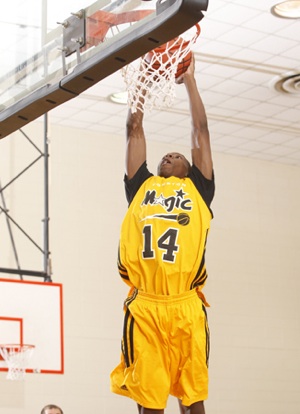 West coast guard Jaron Hopkins can play either spot in the backcourt. (Adidas)
Black has visited Georgia Tech, and he plans on taking a trip to Baylor in August.
"I like the way they play, and they're a private school so the academics are there," he said. "They're a spiritual school, and I'm a spiritual kid."
Black – no relation to Memphis forward Tarik Black – wouldn't mind going to a school that plays a similar system to his AAU team.
"They gotta be good, and like to run," he said. "And academics, because I want to do something after basketball. And a spiritual school."
Jaron Hopkins brings versatility to the backcourt
It's easy to see the tools Jaron Hopkins brings to his position.
Hopkins is 6-foot-4 with length and athleticism, and he also has great vision and passing ability, as well as shifty ball-handling ability that allows him to get to the rim. There are times when he doesn't put it all together, but Hopkins certainly has potential.
"I'm playing well, starting to get the ball in better position," he said. "There are parts of my game I can improve."
Hopkins has the size and aggressiveness to play off the ball, but his playmaking ability caters to the lead guard position.
"I'll play whatever the coach wants," he said. "I play the one at my high school, but we have a lot of small guards here so I play the two."
The Compton Magic prospect and Arizona native is hearing from USC, Arizona, Washington State, Penn State, Colorado, Nebraska, UTEP, UNLV and Oregon State. Hopkins said Colorado is coming at him the hardest.
Hopkins, ranked No. 98 by CBSSports.com, is unsure of where he wants to visit at this point, but he wants to make his decision before the early signing period this fall.
Zack Cimini has been on a roll in college basketball and locked in a play for Texas-West V...

Zack Cimini is on a college basketball heater and just locked in a strong pick for Saturda...

Our advanced computer model simulated Saturday's Arizona-Stanford game 10,000 times
'If you want it, you're world champs,' A-Rod told the Spartans, which isn't exactly correc...

The players have the right to appeal the decision within three business days

Young is coming off his worst game as a Sooner and will try and bounce back vs. the Cowboy...