Adreian Payne's development at Michigan State has been terrific
Michigan State's Adreian Payne has gotten a little bit better with each year of college. Now he has all the makings of a star.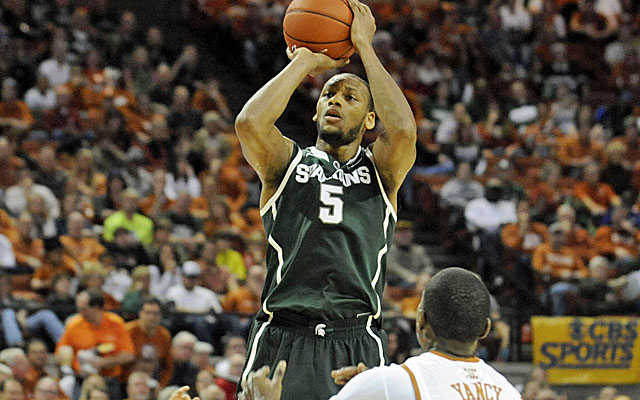 Every March or April, around the time underclassmen start announcing their intentions, somebody goes on TV and tries to explain that certain borderline prospects should return to school so that they can "get better" -- as if every player who stays in school gets better.
Granted, lots of players do get better in college.
I'm not arguing otherwise.
But sometimes borderline prospects are just borderline prospects who have already maximized whatever potential they possess, and there's often no getting better for them. They are just as flawed as seniors as they were as freshmen and sophomores, and I say all that to say this: let's stop pretending that every projected late first-round pick is just two more semesters from becoming a consensus lottery pick because, contrary to what some folks try to tell you at every available opportunity, not everybody gets better in college.
That said ... how much better has Adreian Payne become in college?
Has his development been fun to watch or what?
I first saw Payne when he was in high school. He played in the summers with Jared Sullinger, and which player was better wasn't even a debate. Sullinger was big and strong and unusually skilled. Payne? He was just tall and athletic, the type of prospect who was mostly getting national attention only because he was tall and athletic, and because he played with Sullinger. So I wasn't surprised when Payne averaged 2.5 points and 2.4 rebounds in just 9.0 minutes per game as a freshman because that's pretty much what I expected.
Payne then averaged twice as many minutes and doubled his output as a sophomore.
Then he averaged 10.5 points and 7.6 rebounds as a junior.
Now, as a senior, he's a star. The 6-foot-10 forward finished with 33 points and nine rebounds in Saturday's win at Texas, and he's currently averaging 18.1 points and 8.0 rebounds while shooting 53.0 percent from the field and 45.7 percent from 3-point range.
That's 45.7 percent from 3-point range.
To understand how impressive that is you have to understand that Payne only took one 3-pointer as a freshman and two as a sophomore. Now he's averaging more than three 3-point-attempts per game, and he's already made as many 3-pointers this season (16) as he did all of last season (16). Meantime, Payne has also developed an array of post moves, many of which he put on display against Rick Barnes' Longhorns.
"This is probably Adreian Payne's best game of his life and definitely of his Michigan State career," Spartans coach Tom Izzo told reporters afterward. "We went to him just about every time, and he delivered almost every time -- with the way he shot from the field, from the 3-point line, from the free throw line, getting nine boards. He did a heck of a job."
Yes, he did.
While watching it, I started reading old stories about Payne, and I stumbled across one from two seasons ago that was advancing a Michigan State-Ohio State game. In the article, Payne was essentially asked if he knew any secrets to guarding Sullinger from their days of playing AAU together, and Payne admitted that, no, he did not.
Why not?
Because "people get better," Payne said.
I found that quote interesting.
Because, these days, who knows that better than him?
Andrew Jones is Texas' second leading scorer

Oklahoma's star freshman has a father who has been there and done that

Kentucky now is at risk of slipping out of the Top 25 (and one)
Cherry's commitment gives ASU a top-20 recruiting class and its highest rated pledge since...

Matt Norlander is on a 11-7 run in college basketball picks and shares his best bets for W...

Kentucky losing this game probably cost it a shot at earning a high NCAA Tournament seed