After three consecutive losses, is the Big 12 still Kansas' to lose?
After Saturday's defeat at Oklahoma -- Kansas' third loss in a row -- the question looms: Is the Big 12 title still the Jayhawks' to lose?
• 2 min read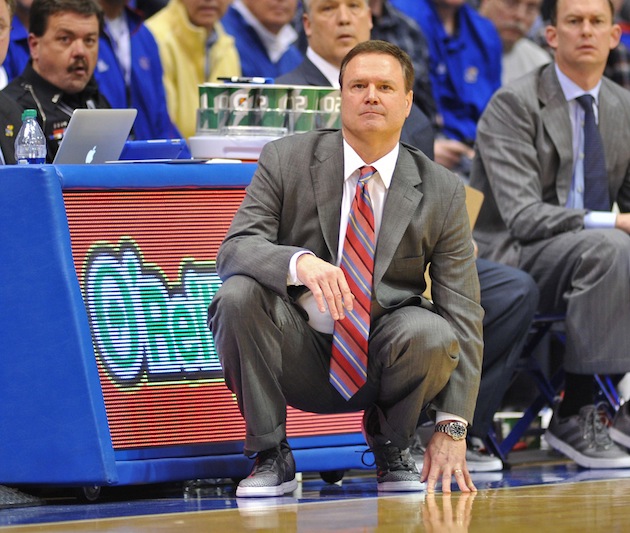 Bill Self and Kansas are in a dogfight to get their ninth consecutive Big 12 title. (US Presswire)
Two weeks ago, it seemed like Kansas would not have to sweat whatsoever for the Big 12 regular-season title. Even with last weekend's loss to Oklahoma State, most people thought no one would really threaten the Jayhawks' quest to win nine consecutive conference championships.
After Saturday's defeat at Oklahoma, though -- Kansas' third loss in a row -- the question looms: Is the Big 12 title still the Jayhawks' to lose?
They will still be the favorite, of course. They're still likely the most dangerous team come March, with the most experience and best coaching of anyone in the conference. With that said, depending on the Iowa State vs. Kansas State outcome Saturday night, the Jayhawks will either be one game back of first place (if Kansas State wins) or in a four-way tie for first place (if Iowa State wins).
That's certainly something no one saw coming or even imagined a couple of weeks ago: Kansas in a dogfight for the Big 12 title.
More on Oklahoma-Kansas
Related links
More college hoops coverage
The Jayhawks still have to go to Oklahoma State, Iowa State and Baylor, and they have a quick turnaround to face Kansas State at home on Monday. Meanwhile, Kansas State has a home-and-home with Baylor remaining, as well as Monday's road game at Kansas and a season finale road trip to Oklahoma State.
The Cowboys could be the team to watch in this race. They get Oklahoma, Kansas and Kansas State at home down the stretch, with the toughest road game coming at Iowa State. A win on Saturday night for Iowa State would be huge, as the Cyclones have Kansas and Oklahoma State at home, as well as road trips to Oklahoma and Baylor.
Oklahoma might not be a threat to win the regular-season title, but Saturday's win over Kansas is the sort of win that could put them in the Big Dance. Throughout the season, the Sooners had a good computer profile, with great RPI and SOS numbers -- but it was a mostly empty profile. There was a solid win over Oklahoma State, and an OK road victory at Baylor. The win over Kansas, though, gives Oklahoma a marquee victory for the resume, one that compares favorably to fellow potential bubble teams come Selection Sunday.
Kansas needs to figure it out quickly if it wants to regain the Big 12 crown. The offense was still inconsistent on Saturday, committing 13 turnovers and not knocking down shots from the perimeter. Elijah Johnson has absolutely no confidence right now, and the complementary scorers for Kansas are not stepping up like they were earlier this season. Moreover, the defense was slashed in the first half, as Oklahoma shot 56 percent from the field during the first 20 minutes, and made clutch shots down the stretch when Kansas went to a zone.
Are the Jayhawks still the favorite to win the Big 12? Yes, but it's certainly not the cut-and-dried case it was two weeks ago.  
For more college basketball news, rumors and analysis, follow @EyeOnCBB on Twitter, subscribe to our RSS Feed and subscribe to our College Basketball Newsletter. You can follow Jeff Borzello on Twitter here: @jeffborzello
These teams went to The Big Dance in March, but could take a step back this season

The success of Chris Chiozza and KeVaughn Allen have the Gators ready to compete for SEC t...

FBI investigation suggests Quinerly received improper benefits from a Wildcats assistant c...
Meet the mid-major coach who refused to vote for the teams involved in the recruiting scan...

The player, now at the University of Portland, says he was injured during a workout which broke...