Alabama loses second-leading scorer Trevor Lacey to transfer
Alabama announced on Tuesday that Trevor Lacey was transferring. Anthony Grant needs to find some consistent options on the offensive end.
• 1 min read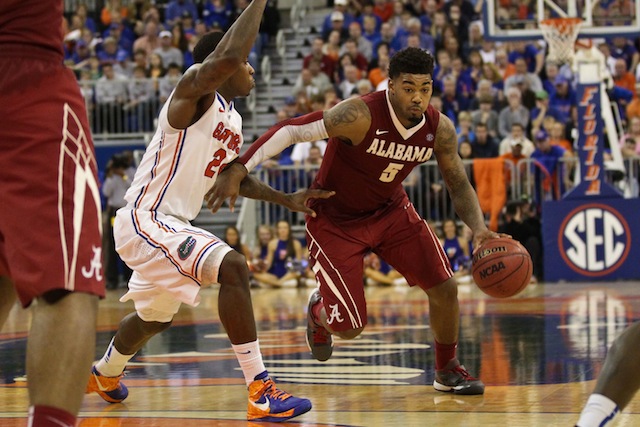 Next year looked like Trevor Lacey's true coming-out party. Alabama's sophomore guard took a step forward this past season, but the Crimson Tide were expected to be a borderline top-25 team in 2013-14 -- with Lacey leading the way.
Then came Tuesday's surprising announcement: Lacey is transferring.
"It was a family decision to pursue other opportunities," Lacey said in a statement. "This definitely was not an easy decision to make. It's been great at Alabama during my two years. It was tough my freshman year coming off surgery and having to work my way back. I wanted to improve during my sophomore season and I thought I did that."
The talented 6-foot-3 shooting guard started all 36 games for Alabama this season, averaging 11.3 points and leading the team in assists with 3.2 per game. Lacey also showed consistent range on his outside shot, knocking down better than 37 percent from behind the arc.
This is a huge loss for Alabama, which expected to bring back every key except Andrew Steele and Moussa Gueye for next season. Lacey and Trevor Releford would have combined to form one of the best backcourts in the SEC and looked like the first two pieces for a likely NCAA tournament team. Without Lacey, the entire offense changes for Anthony Grant and the Crimson Tide.
Despite winning 23 games this past season, the Crimson Tide struggled on the offensive end. Without Lacey, Grant will need to find a few more consistent options. Rodney Cooper and Levi Randolph are solid alongside Releford, and Nick Jacobs is a decent piece on the inside. But someone else has to step up. Devonta Pollard has the talent, but he's not a perimeter threat like Lacey. Freshmen Jimmie Taylor and Shannon Hale arrive next season, but both are frontcourt players.
Tulane transfer Ricky Tarrant would be perfect, but he's not eligible until 2014-15. Where will the points come from?
Alabama was bounced in the NIT last month after going 23-13 overall and 12-6 in the SEC. 
The 10th-ranked Jayhawks end a four-game Morgantown losing streak with a big second half

Gary Parrish, after being questioned, explains why he writes the Poll Attacks each Monday

The Blue Devils looked like a team in need of a reboot against Miami, then they morphed into...
Providence's Ed Cooley suggests to the refs that vampires, not contact, made his player bl...

The Big 12 reprimanded WVU player Wesley Harris for hitting a Texas Tech fan who rushed the...

'History in the Astrodome: UCLA vs Houston 1968' looks at the game that changed college ba...