All-Americans watch list: Bank on Smart, McDermott and Smith
Too early to start tabbing preseason All-Americans? Not with Marcus Smart, Doug McDermott and Russ Smith all returning. Gary Parrish and Jeff Goodman say all three are first-team locks.
by

Eye on Col Basket staff

• 3 min read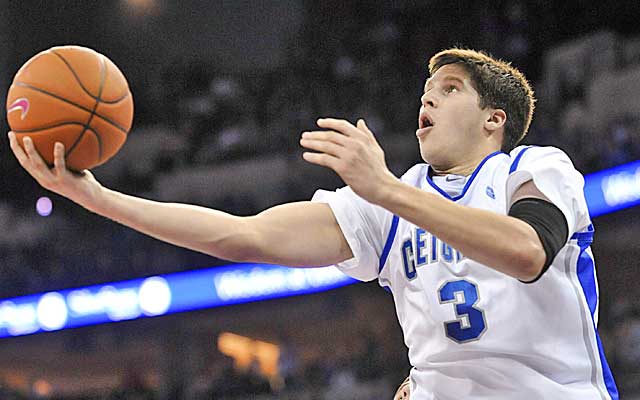 We -- we being CBSSports.com's Gary Parrish and Jeff Goodman -- assumed, on the night of the national title game in Atlanta, that Oklahoma State's Marcus Smart and Creighton's Doug McDermott would enter the NBA Draft. We also figured Louisville's Russ Smith would follow, mostly because his father said he would. But now look. All three returned to school. And all three are sure-bet preseason First-Team All-Americans.
That's our opinion, at least.
We sat down after Sunday's deadline for underclassmen to declare for the NBA Draft and determined that Smart, Smith and McDermott should be locks for all preseason All-American teams, and that Andrew Wiggins must join them even though it's still unknown whether the incoming freshman will play at Florida State, Kentucky or somewhere else. He's just too good not to include, evidence being that Wiggins is projected as the consensus top pick of the 2014 NBA Draft.
The other big?
That's Michigan's Mitch McGary, we decided.
Then we went through two more All-American teams, and it's just kind of fun to look at, isn't it? To be clear, these aren't the official 2013-14 CBSSports.com Preseason All-Americans. It's only May, for God's sake. We'll likely want to adjust in October, after offseason workouts and additional conversations with coaches we trust. But for now, this seems reasonable. So take a look at how we think the preseason All-American teams could look down the line, then tell us who we're overlooking, missing, dissing, etc.
Possible First-Team All-Americans
G: Marcus Smart (Oklahoma State)
Why he's here: Smart averaged 15.4 points, 5.8 rebounds and 4.2 assists this season while leading Oklahoma State to 24 wins. Without him, the Cowboys might not be a Top 25 team. With him, they'll rank in the top 10 of the preseason Top 25 (and one).
G: Russ Smith (Louisville)
Why he's here: Smith was the leading scorer -- by nearly nine points per game -- for a Louisville team that won the national title. The 6-foot-1 guard averaged 18.7 points in 30.3 minutes per game. He's among the reasons the Cardinals might repeat.
F: Andrew Wiggins (TBD)
Why he's here: Wiggins is the consensus top pick in the 2014 NBA Draft and an undeniable talent who projects as a future NBA All-Star. He'll be great wherever he plays next season. Anybody doubting this is somebody who has never sat in a gym and watched him compete.
F: Doug McDermott (Creighton)
Why he's here: McDermott averaged 23.2 points and 7.7 rebounds while leading Creighton to 28 wins this season. The 6-foot-8 forward should be the Big East Player of the Year, this after twice being the Missouri Valley Conference Player of the Year.
F: Mitch McGary (Michigan)
Why he's here: McGary showed enough signs of greatness late -- he averaged 14.3 points and 10.7 rebounds in the NCAA tournament -- to position himself as a lock for the first round of the NBA Draft. Still, the 6-foot-10 big decided against entering. This accolade is among the results.
Possible Second-Team All-Americans
G: Aaron Craft (Ohio State)
G: Gary Harris (Michigan State)
F: Jabari Parker (Duke)
F: Julius Randle (Kentucky)
F: Willie Cauley-Stein (Kentucky)
Possible Third-Team All-Americans
G: Andrew Harrison (Kentucky)
G: Shabazz Napier (Connecticut)
F: Rodney Hood (Duke)
F: Adreian Payne (Michigan State)
F: James Michael McAdoo (North Carolina)
Twenty other players worth monitoring
Jordan Adams (UCLA); Kyle Anderson (UCLA); Isaiah Austin (Baylor); Chane Behanan (Louisville); Jahii Carson (Arizona State); Semaj Christon (Xavier); Spencer Dinwiddie (Colorado); Cleanthony Early (Wichita State); C.J. Fair (Syracuse); Aaron Gordon (Arizona); P.J. Hairston (North Carolina); Montrezl Harrell (Louisville); Joe Harris (Virginia); Marshall Henderson (Ole Miss); Joe Jackson (Memphis); Cory Jefferson (Baylor); Jordan McRae (Tennessee); Juvonte Reddic (VCU); Glenn Robinson III (Michigan); Rasheed Sulaimon (Duke).
Discussing the one-and-done rule -- plus Michael Porter Jr.'s injury and Billy Preston's c...

Even though he's scheduled to graduate in December, the NCAA still won't let Hayes play

The Wisconsin resident wasn't happy with how the Musketeers handled their win in Madison
There's a change to the way teams are picked and selected for the NCAA Tournament

Gamecocks coach Dawn Staley says the she only wants an invite to the NCAA Tournament

Goodwin is making the most of his chance at Florida Gulf Coast after he was forced to leave...