Andy Enfield continues to upgrade talent at USC
It wasn't a great first season for Andy Enfield at USC, but things are looking up.
• 2 min read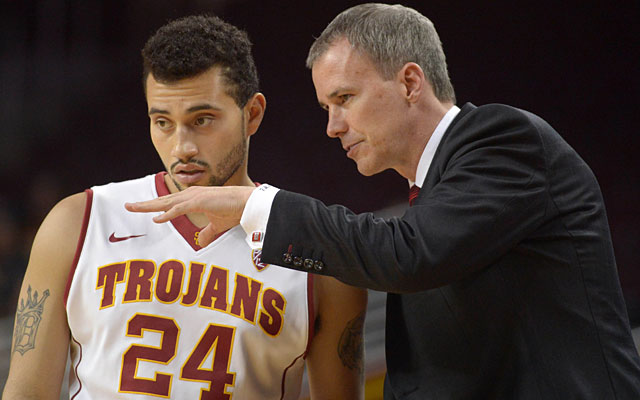 Latest in hoops: NBA Early Entries | Latest News | Coaching Changes
When Andy Enfield was named the new coach of USC last spring, there were plenty of questions. After all, he had been the head coach of Florida Gulf Coast for just two seasons -- and although the Eagles and Dunk City reached the Sweet 16 as a No. 15 seed, some people weren't blown away by the hire.
The biggest question revolved around whether Enfield could consistently get the best talent in southern California to play for the Trojans. Outside of DeMar DeRozan, no top-50 recruits had gone to USC in a long time; it didn't seem likely that would change by bringing on a head coach with few ties out west.
Fortunately for Enfield, he realized the same things everyone else did -- so he went out and hired San Diego State assistant Tony Bland and Pepperdine assistant Jason Hart. Two Los Angeles guys who have recruited the area effectively in recent years.
And it continues to pay off.
The boost for the Trojans came on Sunday night, when former Loyola Marymount signee Elijah Stewart pledged to USC. Stewart is a top-100 talent who blew up in the past calendar year and decided to go to a higher level when Loyola Marymount and coach Max Good parted ways. North Carolina got involved, Oklahoma State got involved, Cincinnati got involved, plenty of high-major schools. But Stewart, a Los Angeles native who played at Westchester (Calif.), chose to stay close to home and go to USC.
Stewart is just the latest high-major talent to help Enfield silence the doubters. Top-50 recruit Jordan McLaughlin chose USC over UCLA back in September, essentially the first big statement Enfield made on the recruiting trail with the Trojans -- and he's been backing it up ever since. In addition to Stewart and McLaughlin, USC also will have the services of UNLV transfer -- and California native -- Katin Reinhardt next season. Late-rising Malik Marquetti is another prospect plucked from Southern California. 
Enfield is also planting seeds for the future, as four-star junior Chimezie Metu pledged to USC earlier this month as well.
Enfield's first season with the Trojans wasn't great on the court, going 11-21 and finishing with just two Pac-12 wins. But he's been doing a terrific job off the court, on the recruiting trail -- and that should soon turn into wins for USC.
Until Enfield makes the NCAA Tournament with the Trojans, there will be questions about whether he was a great hire. But for now, he's answering those questions the best way he can -- by continuing to stockpile talent and keep Southern California talent home.
Quickley played for John Calipari this summer with USA Basketball

A revamped Erwin Center is part of a $4.25 million upgrade to the Longhorns' hoops facilit...

Nov. 10 will be here before you know it so here's what you need to know
The league would be wise to treat that series like the ACC treats Duke-North Carolina

Pacific is penalized after the NCAA found academic rules were broken

Arizona, for no good reason, doesn't have to play at USC or UCLA this season