Andy Enfield landing elite point guard at USC should quiet skeptics
Some skeptics wondered if Andy Enfield could make the jump from Florida Gulf Coast to USC. A significant recruiting development on Wednesday suggests he absolutely can.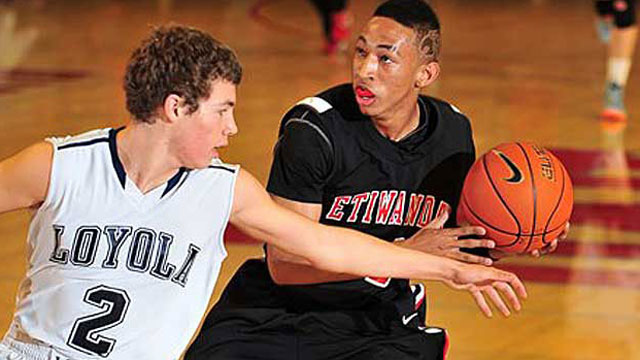 I was sitting with Andy Enfield in his office on campus last April, just a few weeks after he'd been hired as Southern California's new basketball coach, and we were talking about the staff of assistants he was, at the time, still very much assembling.
I told him I thought it was smart to hire two West Coast assistants.
He told me there was more to it than that.
"I didn't want to just hire two assistants who have recruited here," Enfield said. "I wanted two assistants who have recruited here and are from here. I want assistants who grew up in LA. That was important -- to get assistants who have recruited LA and are from LA."
The first big payoff of that approach came Wednesday.
Enfield -- with the help of assistants Tony Bland and Jason Hart, both of whom are Los Angeles natives -- secured a commitment in the afternoon from Jordan McLaughlin, a consensus top-45 recruit who lives only 45 miles from the USC campus. Put simply, this is a significant development because it represents the first top-50 prospect to commit to USC since DeMar DeRozan did so more than six years ago, and because it confirms that Enfield isn't going to have any problems jumping from the Atlantic Sun to the Pac-12.
That was the criticism when he was hired, remember?
Skeptics claimed all Enfield did was "win a couple of games" in March to advance to the Sweet 16 and marry a pretty lady. Those two things made him a national celebrity, practically overnight. But that didn't mean Enfield was qualified to leap from Florida Gulf Coast to USC, some suggested. Then they predicted he'd eventually struggle in a league with Arizona's Sean Miller and Washington's Lorenzo Romar.
Me?
I just laughed.
There are few guarantees in coaching, I admit.
But predicting failure for a 44-year-old who has done nothing but win personally and professionally his entire life seemed silly. Enfield was an accomplished player and academic All-American in college. He made a lot of money in the business world. He married a model. He worked in the NBA (for the Bucks and Celtics). He worked in the ACC ( at Florida State). He won 26 games in his second season as a head coach, led FGCU to the Sweet 16 and, seriously, isn't this an impressive list of accomplishments?
Enfield has forever been smart and good at basically everything he's done.
So it shouldn't surprise anybody that he's already getting things done at USC.
Enfield just beat UCLA for a point guard who plays at the same high school where former UCLA point guard Darren Collison once played. Enfield just beat UCLA for a point guard most predicted a year ago would eventually sign with UCLA. Enfield just beat UCLA for a point guard, and it's connected to that conversation he and I had in his office back in April.
Enfield knew he had no relationships in California when he got the USC job.
He was smart enough to recognize and acknowledge that.
He then rendered it unimportant by basically identifying two assistants who were from Los Angeles and already recruiting Los Angeles -- Bland was at San Diego State; Hart was at Pepperdine -- and offering them big contracts that were too good to reject. So Bland and Hart accepted the offers, went to work for USC, and now he we are.
The Los Angeles Times filed a story on McLaughlin's commitment Wednesday.
Here's the third paragraph from that story:
"[This] is a major triumph for first-year USC coach Andy Enfield, who outdueled UCLA first-year Coach Steve Alford to land McLaughlin. It could be a sign that Enfield's decision to hire assistant coaches with Southern California connections is paying off."
 I think that paragraph is spot-on -- except for one part.
An editor should change could be to is. Because this development is an undeniable sign that Enfield's decision to hire assistants with Southern California connections is paying off. And it should be something that helps turns skeptics into believers because it's becoming more and more obvious that Enfield is going to adjust to being a high-major coach just fine. McLaughlin's commitment is the latest example. But it will not be the last.
CBS Sports HQ Daily Newsletter
Get the best highlights and stories - yeah, just the good stuff handpicked by our team to start your day.
Please check the opt-in box to acknowledge that you would like to subscribe.
Thanks for signing up!
Keep an eye on your inbox for the latest sports news.
Sorry!
There was an error processing your subscription.
Joeviair Kennedy was a freshman on Western Michigan's basketball team when a WMU student died...

Gary Parrish and Matt Norlander also discuss James Wiseman, CJ Walker and other elite prospects...

Jaden McDaniels has the body of a young Kevin Durant and might be the best NBA prospect in...
Los Angeles, which is building a covered stadium, was snubbed from Final Four consideration...

The big man, favored to ultimately pick Kentucky or Memphis, has some interesting rivals pushing...

Cole Anthony, son of UNLV great Greg Anthony, averaged 26.2 points at recruiting's biggest...