Arizona making strong push for top-40 prospect Craig Victor
Arizona has been one of the most consistent programs on the recruiting circuit lately. Is Craig Victor the next target for the Wildcats?
• 2 min read
Transfers are the big "epidemic" in college basketball these days, with upwards of 450 players from around the country looking to move to a different school this offseason. (It's not really an epidemic, but that's for another day.)
For a coach recruiting Craig Victor, though, that's likely not something he will have to worry about.
In fact, Victor calls it "nonsense."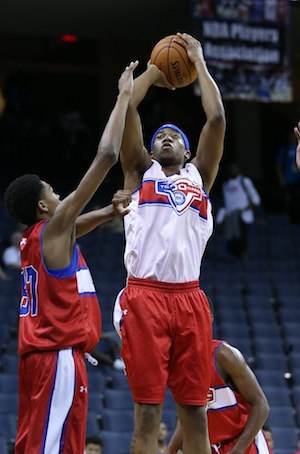 Kentucky could track Victor in July. (Kelly Kline/Under Armour)
"I'm looking for four things in a school," he said. "Family oriented. Somebody that's going to compete for a national championship. A coach that I can go to when I'm having problems so I don't have to go back home, because that's just nonsense. You know, a coach I can rely on. And a strong fan base."
Victor, a 6-foot-8 power forward from New Orleans, is ranked No. 24 in the 247 Sports Composite for the class of 2014. He has a very good offensive game around the basket, whether facing up from the midrange or elbow, or playing with his back to the basket down low. He's constantly making himself available for entry passes, and he's also solid on the glass.
One of the top five power forwards in the class, Victor could have his choice of colleges when he makes his decision.
<span data-shortcode= State" data-canon="Ohio Bobcats" data-type="SPORTS_OBJECT_TEAM" id="shortcode0">, Oklahoma State, Arizona, LSU, Kansas, Miami, Oklahoma, Texas, Connecticut, UCLA are all coming after him, with Kentucky also very interested despite not offering just yet.
Victor's top five at this point? Ohio State, Kansas, Kentucky, Arizona and LSU.
"I love those schools," Victor said.
One school that looks to have plenty of momentum right now is Arizona. Victor has unofficially visited the campus and likes what the Wildcats have to offer.
"I love it," he said. "A lot."
Another good sign for the Wildcats? When asked which classmates he enjoys playing alongside, Victor specified Parker Jackson-Cartwright and Stanley Johnson. Jackson-Cartwright is already committed to Arizona, and the Wildcats are also considered a favorite for Johnson.
Jackson-Cartwright was on the same team as Victor at the recent NBPA Top 100 camp and made his pitch throughout the weekend.
"He's just saying it would be a good move," Victor said. "He's a great point guard, and a guy like me needs a great passer. Somebody that I can rely on to get me the ball."
While Victor isn't ready to make a commitment to any one school just yet, don't expect him to waver once he makes his decision. He's not the transferring type.
That would be nonsense.
Jackson isn't showing the Sun Devils much respect after beating KU

One AP voter must not know ASU is undefeated with wins over the Jayhawks and Musketeers

Duke and Kansas take a hit in the coaches poll
The top 10 gets a major shakeup after a wild week of upsets

The Sun Devils make a big jump and the Jayhawks slide after ASU pulls the big upset

Gary Parrish and Matt Norlander spend some time on the SEC, too