Arizona State needs to take advantage of tough schedule
Arizona State is on the bubble -- but the Sun Devils have the toughest remaining schedule of anyone in the country.
• 2 min read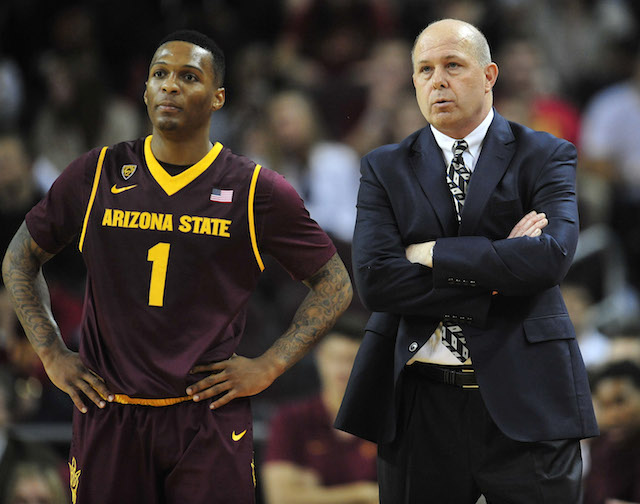 When it comes down to the final few teams into the NCAA tournament, it usually comes down to which teams have proven they can win games consistently against NCAA tournament-caliber opponents. Unfortunately, there are some teams that don't have a chance to do that.
Arizona State certainly won't be one of them. If the Sun Devils don't make the NCAA tournament, it's not going to be for a lack of opportunity.
According to the NCAA's website, Herb Sendek's squad has the toughest remaining schedule of anyone in the country. The Sun Devils' future opponents have a .730 winning percentage (100-37 record). They don't have a single opponent left on the schedule that is below 100 at KenPom.
And it's been that way since early January; Arizona State hasn't played a team below 100 at KenPom since beating USC on January 9.
While it obviously means the Sun Devils have an extremely arduous schedule going forward, it also gives them plenty of chances at good wins. The Pac-12 doesn't have too many marquee teams this season (the only game that would count as a statement win is probably against Arizona), but enough good wins and Arizona State's resume gets a boost.
At this point, Arizona State is likely on the right side of the bubble – but just barely. Jerry Palm as the Sun Devils as one of the last four teams into the bracket, while they were a No. 11 seed in the Bracket Matrix composite of projected brackets.
Their best win is over Colorado, although last week's win at California looks a lot better after the Golden Bears took down Arizona over the weekend. There are no bad losses on the resume, although 13 of their 16 wins are against sub-100 teams in the RPI.
Arizona State is 3-6 against teams in the top 100 – which isn't eye-popping right now, but as we mentioned, there are plenty of upcoming chances.
The Sun Devils have to take care of business against Oregon State and Oregon at home this week – and then comes the February 14 home tilt against Arizona. A win over the Wildcats would give Arizona State a marquee win to hang its hat on. Getting some momentum going heading into a final stretch that includes four of six games on the road would be huge.
Of Arizona State's final nine games, six are against RPI top-50 teams. The Sun Devils might not make the NCAA tournament, but Jahii Carson and co. will undoubtedly have enough chances to make their case.
Creighton AD Bruce Rasmussen answers questions about some of the committee's grouping metr...

Guy, the leading scorer for the No. 1 Cavaliers, had a big weekend even though UVA didn't...

The stigma of being the first men's Division I team to vacate a title will be difficult to...
The Quicken Loans Confidence Builder focuses on Syracuse, Butler and Florida

Rhode Island can clinch a share of the A-10 regular season title with a win on Tuesday

20 programs have had their national championships taken away by the NCAA