Arizona's versatility and balance make difference vs. Duke
Arizona won't have one player carry them this season -- but the Wildcats have the versatility and balance to be a title contender.
• 3 min read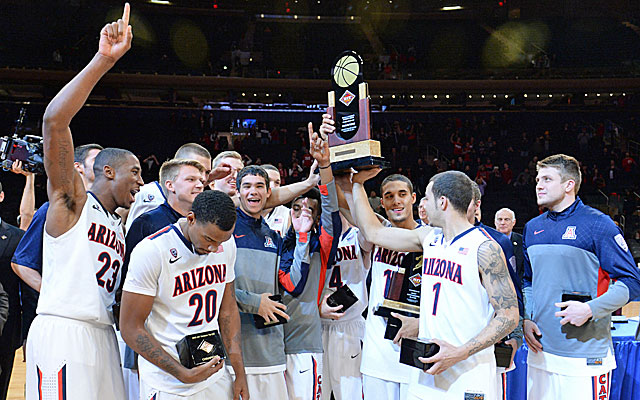 NEW YORK -- When Quinn Cook hit a 3-pointer to put Duke up six with 13:48 remaining, the questions started being asked about Arizona as a potential national title contender.
Do the Wildcats have a go-to scorer? Who's going to consistently make shots from the perimeter? Can the Wildcats play with Duke's small lineup?
Turns out, Arizona had plenty of answers.
Over the next seven-and-a-half minutes, Arizona went on a 20-5 run that included four 3-pointers -- and points from five different players. Duke wouldn't get closer than five points the rest of the game, as the Wildcats were crowned NIT Season Tip-Off champions with a 72-66 win. 
Arizona had five players in double-figures, led by Nick Johnson's 15 points. Freshman star Aaron Gordon had 10 points, seven rebounds and four assists, while Brandon Ashley's 11-point first half kept the Wildcats close. Duke's Jabari Parker came into the game playing arguably the best basketball of anyone in the country, but he scored 19 points on 21 shots, and turned it over five times. Rodney Hood had 21 and eight for the Blue Devils.
"We're an all-around team," Johnson said. "You can see it in the box score. It was pretty even all the way around. We're a good team. We can play with anybody."
Aside from sheer talent level, the most impressive thing about Arizona is its versatility and balance. The Wildcats simply have a response for any team in the country. Sean Miller used a variety of different lineups on Friday evening, utilizing three bigs along his front line, three-guard lineups, 6-foot-7 Rondae Hollis-Jefferson at power forward, etc. And the one constant? They're all terrific on the defensive end of the floor.
Duke had the edge in the first half with its smaller lineup. Arizona's size advantage wasn't paying off on the glass, Quinn Cook was getting into the lane consistently, and Parker and Hood were filling it up. After trying Ashley and Gordon on Parker in the first half, Miller went to Hollis-Jefferson, the freshman from Philadelphia. Hollis-Jefferson was known as an excellent off-ball defender in high school, and his length and athleticism gave Parker fits down the stretch. In fact, Parker's first second-half field goal didn't come until there were fewer than three minutes remaining.
"They're taller guys," Duke coach Mike Krzyzewski said. "When you do get the ball around the basket, they're 6-foot-9 or 6-foot-10, and 7-foot-1. That's a big-time front line. We don't practice against that. They have great length on their team."
In Johnson and T.J. McConnell, Arizona has two guards who can play effective on-ball defense. Hollis-Jefferson brings a different dimension with his length and athleticism, and Gordon is capable of guarding multiple positions. Ashley has shown flashes, and Kaleb Tarczewski is another rim protector. With those six -- and that doesn't count Gabe York and Jordin Mayes -- Arizona can essentially mix-and-match with anyone.
"We do have versatility," Miller said. "Rondae was as good on our side as any of our players. He was playing a position he doesn't even play in practice. He deserves a lot of credit. Rondae and Aaron -- they're so interchangeable."
It's more of the same on offense. Arizona might not have a true go-to-guy, but the Wildcats can hurt you from pretty much any spot on the court. Ashley can score inside and out; Tarczewski is a low-post option (when he keeps the ball up, at least), and Hollis-Jefferson is a menace in transition. And this week, Johnson and McConnell might have been their best offensive players. If those two guards can create looks for their teammates, and also knock down perimeter jumpers, Arizona is going to be difficult to defend.
Gordon is an absolute difference-maker on both ends of the floor, and was an elite high school prospect. But he won't average more than 13 or 14 points a game because Arizona is so balanced.
"Aaron isn't going to score 30," Miller said. "He's not a volume shooter. He's a basketball player. He's a guy you love to have on your team."
There will continue to be questions about Arizona -- but with the Wildcats' versatility and defense, they might have answers for most of them. 
Said Miller: "I believe we can be special."
Nov. 10 will be here before you know it so here's what you need to know

The league would be wise to treat that series like the ACC treats Duke-North Carolina

Pacific is penalized after the NCAA found academic rules were broken
Arizona, for no good reason, doesn't have to play at USC or UCLA this season

We look at the 'Major 7' leagues and give you the best of what's to come in conference play...

Louisville's coach predicts a change is coming to the NBA's one-and-done rule by 2019