Arkansas needs to build off big win by getting road victories
Last season, it was the lack of road wins that kept Arkansas from the bubble. Unless the Razorbacks start getting wins away from home, it could be the same this season.
• 2 min read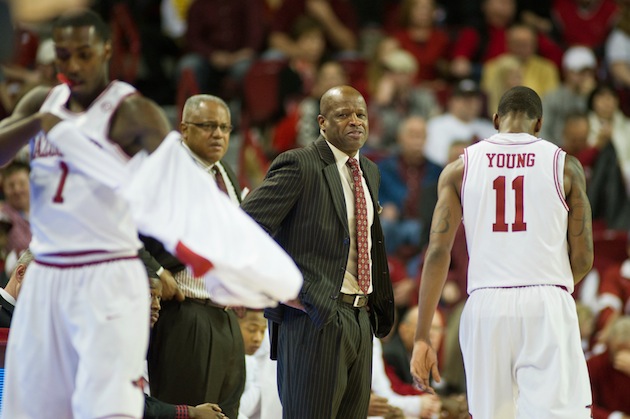 Mike Anderson and Arkansas need to start winning on the road if they want NCAA consideration. (US Presswire)
It was one year ago yesterday that I wrote about Arkansas' NCAA tournament prospects -- how the Razorbacks' inability to win on the road eventually kept them out of consideration for an at-large bid. Overall, they were just 1-10 in road/neutral games.
This season, Arkansas had been somewhat of a disappointment, given all the talent it has. However, this week's blowout win over Florida at home opened some eyes, and could put the Razorbacks back on the radar.
They're not there yet, of course. The win over Florida is great, and Arkansas also has a victory over Oklahoma, but there's nothing much to the resume outside of those two wins. The only other top-100 victory is a home victory over Northwestern State, which probably won't impress the committee too much. The computer numbers are weak, too.
But the biggest issue with Arkansas' resume? The complete lack of road wins. Literally. The Razorbacks don't have a single victory away from their home court. That includes a 21-point drumming at the hands of South Carolina in late January and an 18-point loss at Texas A&M.
Arkansas could certainly change that in the coming week. It will head on the road to Vanderbilt and Auburn. Those two teams are obviously not the most imposing squads in the SEC, but getting road wins -- any road wins -- is paramount at this point. A couple of wins would bring them to 16-8 overall and 7-4 in the SEC, which would be enough to move more toward bubble consideration.
Tuesday's win over Florida could have marked a turning point for Arkansas. The Razorbacks took care of the ball and forced turnovers, getting easy baskets. They shared the ball in the half court, finding open shots along the perimeter and actually knocking them down -- something that they have struggled to do throughout the season. Mike Anderson has a go-to scorer in BJ Young, an athletic forward in Marshawn Powell and plenty of complementary pieces. There's certainly enough talent on this team to make a run.
The only way it will be a turning point, though, is if Arkansas can win on the road. And that starts this weekend.
For more college basketball news, rumors and analysis, follow @EyeOnCBB on Twitter, subscribe to our RSS Feed and subscribe to our College Basketball Newsletter. You can follow Jeff Borzello on Twitter here: @jeffborzello
Arizona, for no good reason, doesn't have to play at USC or UCLA this season

We look at the 'Major 7' leagues and give you the best of what's to come in conference play...

Louisville's coach predicts a change is coming to the NBA's one-and-done rule by 2019
Multiple former players of Lonergan's alleged verbal abuse and inappropriate remarks

When Miller left for Indiana, there was cause for concern in Flyerland; a top-100 signee says...

The Hoyas will spend their non-league schedule playing mostly nobodies -- as will most big...