Around the country: With Wojo hire, examining Coach K's coaching tree
Doug Gottlieb offers his most important factors in UConn's national title, assesses Wojo's prospects at Marquette, and gives a thought on Jarnell Stokes' NBA decision.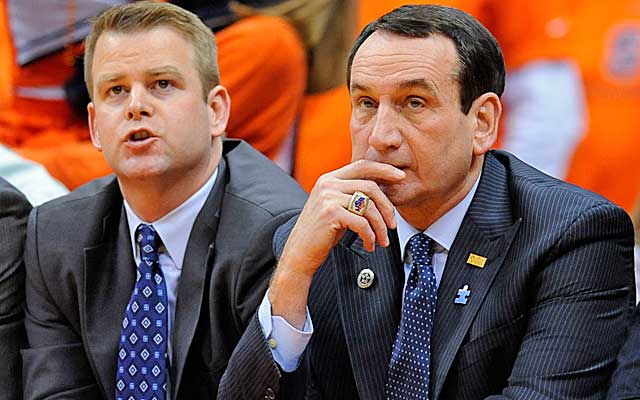 Will Mike Krzyzewski disciple Steve Wojciechowski succeed as the new coach at Marquette? It's a reasonable question to ask. As coaching trees spread, we so often look for results of the mentored to affirm the greatness of the mentor, and so it is with Coach K. Is that fair? Not really. Billy Donovan doesn't coach like Rick Pitino, nor does Herb Sendek, yet both are former Pitino aides who have had very different levels of success.
That said, Coach K's tree is a widening one that finally seems to be breaking through … somewhat. Mike Brey has long been stable at Notre Dame and though this was a down year, he survived some rough patches and isn't going anywhere. Brey was a winner at Delaware before ND and in terms of sustained success, is probably the best former assistant, non-player of the Coach K tree.
Tommy Amaker did very well for a time at Seton Hall, including a Sweet 16 appearance, then he recruited a bit of a higher-level, higher-baggage recruit, and it wasn't working. Amaker left for Michigan, and for all of the leadership flaws in the athletic department at the time, and their lack of facility upgrades in comparison to most of the Big Ten, the bottom line was Amaker didn't make the tourney during his six seasons in Ann Arbor.
Harvard has proven to be a perfect fit as the school has worked with Amaker to compete for top academic recruits without making it impossible to get kids into school, and now he has made three straight NCAA appearances and they are the dominant team in the Ivy.
Johnny Dawkins was struggling at Stanford, as he went five years without making a tourney before finding a good mix and making the Sweet 16 this season while having an outstanding recruiting class.
Quin Snyder was the hot assistant back when he took over Missouri and though the Tigers recruited well and had an Elite Eight appearance, Snyder never finished above sixth in Big 12, then had issues that derailed what looked like a very promising college career. He is currently an assistant and has since become a very well-regarded professional coach.
Which leads us to Wojciechowski. Wojo embodies all that is Duke and Coach K, but will it work at Marquette? It is hard to try and guard everyone when you don't have talent at every position, something Duke does as it tries to impose its will on you.
Keep in mind that Buzz Williams had a penchant for finding non-top 100 recruits and helping them become pros. But Buzz went the juco, unheralded route for many of his best players. Even the greatest player in Marquette's recent history (and probably entire history) Dwyane Wade was a prop 48 under the Tom Crean regime. Will Wojo find those type of guys?
Or will he recruit more like Mike Deane and Kevin O'Neill, who both did an excellent job of getting talent, but weren't lining up with McDonald's All-Americans. The Big East is a different dynamic in terms of perception and exposure and Wojo is likely to be dipping in the same pool as his close friend Chris Collins down at Northwestern. Will he play like Duke, or like Northwestern, or like Notre Dame?
While this unfolds, the race to be the next Duke head coach will be on and poppin', as many of the names above have a shot at some level, and perhaps in the neighborhood of five years to prove themselves.
Fatigue hurt Kentucky in title game
I think fatigue was a factor in Kentucky's loss to UConn in the national championship game. Kentucky played a heavyweight title fight against Wisconsin late Saturday night, had media all day Sunday and had to feel some of that Monday night. Additionally, UK looked a little nervous early and keep in mind they were playing a loose bunch of Huskies, two of whom had won a title before.
Not that UConn was perfect, but there were some factors that helped an undersized team overcome Kentucky. Willie Cauley-Stein's absence hurt Kentucky's pick-and-roll defense and rim protection, and helped mitigate the fact that DeAndre Daniels played much more like the Daniels of the regular season than the stalwart he was for most of the tournament.
Also, the championship game was called very loose, which helped UConn. For the record, I thought the officiating was excellent and even in the title game, but the officiating throughout the tourney was overly tight. I believe officials were concerned about how they were being graded and it caused some important players to miss important stretches in the tourney. Overall coaches were not happy (some were furious, in fact), and despite the championing of the "new rules," when the top coaches are not happy, adjustments are made.
But to be clear, in the end the players decided the game. Ryan Boatright is a tough kid. Remember he originally committed to USC as an eighth-grader from Illinois, then really went unrecruited by local Big Ten schools who thought he was an undersized 2 who was a "ball stopper," and frankly a handful to coach. But since the passing In January of his cousin whom he had grown up with since he was a year old, Boat was a different person. He was more team, less me and it paid off in the tournament when he took the Michigan State, Florida and Kentucky guards out of their game. Shabazz and Terrence Samuel had that same swagger, and their "beat me if you can," chin-out style was classic UConn.
Meanwhile, Kentucky never had a true point guard all season and that as much as anything caused them to underachieve throughout the regular season. The Harrison twins grew as people and players throughout the year, but they were not tough enough to handle UConn's guards. are The Harrisons aren't quick as much as big, and UConn dug in and rattled them. UConn's guards had that special type of swagger that is unmistakable in basketball, and they backed it up with big shot-making to seal the deal.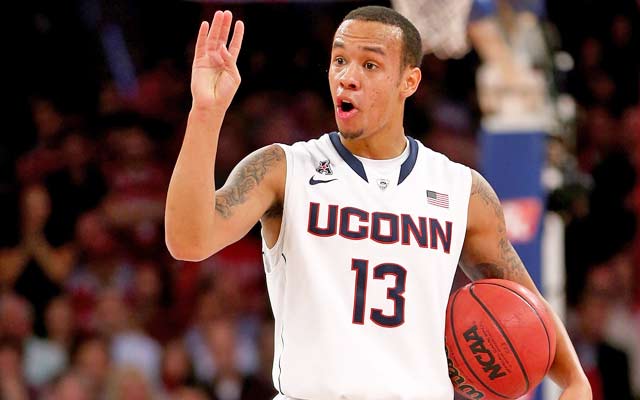 What is Shabazz talking about?
I've always liked Shabazz Napier's game. He can run a team and can get his own shot, while defending his position quite well. Napier ended his career in stellar fashion finishing as the most outstanding player of the NCAA tourney. But along the way he made some bizarre remarks regarding the NCAA, saying "this is what happens when you ban us" in relation to the team's APR penalties, and concluding with his "hungry Huskies" remark that proposed players should be paid.
Let's be honest about some stuff, shall we? Despite what you hear, college athletes at UConn's level get training table privileges and either meal money for on campus or per diem if it is not available. If you live off campus you get a monthly stipend, but like any budget, you have to manage it. "There were hungry nights" is either a complete fabrication or an admittance that Napier does not know how to manage his finances in college.
Either way, to those of us who have lived check to check in college, it can absolutely be done.
As for advocating for players being paid, why don't the people who claim the schools benefit from the players not understand how much more the players benefit in college, beyond the notion of a free education?
Napier is the picture of what college basketball can do for you, as in this case it took a player and helped him grow and mature into a professional who will benefit in his first contract from his success in college. Napier went from unknown "other guard" at UConn, to most outstanding player in the tournament and a possible lottery pick in four years.
Not to mention that Napier is unofficially on "scholarship for life." Most of us, even guys like me who were far inferior players, are in the same mix. Napier won't pay for many meals or tickets in Connecticut going forward again. There will be appearances, a book and likely a basketball camp or two all based upon what he has accomplished while wearing UConn colors.
Could players use some spending cash in their pockets? Sure. But they aren't hungry now, and are better taken care of than you might imagine. College to an athlete is just like that of a regular student, only better.
Instead of taking parting shots at the NCAA, maybe Shabazz could have shown at least some gratitude toward a system, and school, that undoubtedly helped him succeed.
Might be time to look at double-transfers
From the department of unintended consequences, I give you the suddenly common occurrence of the fifth-year double transfer. Bryce Dejean-Jones -- who started his career at USC before transferring to UNLV and now could be on his way to Iowa State or Cincinnati as a graduate player --  is the latest player to use the fifth-year loophole for the opposite of its intended effect.
Originally the fifth-year rule was meant to benefit players who graduated with eligibility, meaning they were good students and were attempting to find a graduate program not offered at their undergraduate school. In other words, if a kid achieves the desired degree, throw him a bone.
While there's nothing technically wrong with what Dejean-Jones is doing, imagine how you feel if you're UNLV, which saw the same thing happen when Mike Moser (UCLA/UNLV/Oregon) transferred last year. You offer a player safe haven as a transfer, he practices for a year, plays for a year or two and then bounces and plays against you. It's not really in the spirit of what the rule is about, but expect a run on these types of transfers until some sort of amendment is placed upon the rule.
Bad look for Jarnell Stokes
Jarnell Stokes is leaving Tennessee and entering the draft. Stokes is probably shorter than the 6-8 he's listed at, and will be fortunate to be drafted. He will collect a check somewhere and may make the NBA as he is tough and can score at the block, but I think his decision is just plain dumb. He has no face-up game and a year in college would give him a better shot at making the league, or making a bigger check overseas. It's not helping that the draft is stacked this year too.
But the most bothersome part of his departure is his statement to Wes Rucker about how "In college, they sell your jersey for $100 in the mall ... That would pay the cell phone bill we can't afford."
First, no one is paying $100 for a mall-bought Stokes Jersey (would love to see the numbers on Tennessee basketball jersey sales), and second why should college have to pay your cell phone bill? You would have a cell phone bill with or without college. Additionally, players work camps, can have a job at anytime they want in or out of season to pay for their cell phones if they so desire, but Stokes instead would rather take the easy way out -- blame the NCAA.
The Wildcats, No. 6 in Friday's updated Top 25 (and one), play their first tough team in a...

Thomas will be just the third player to have his number retired at the University of Washi...

The 47,000 square foot facility on Nike's world headquarters looks awesome
Gary Parrish and Matt Norlander discuss the latest in college basketball

The university also maintains that Pitino was appropriately fired

Price only made it nine games into his third season