At what point will schools realize who can and cannot be hired away?
Every time a decent job opens, the same names appear on a published list of candidates. And then those guys never leave, and it's been this way for a while.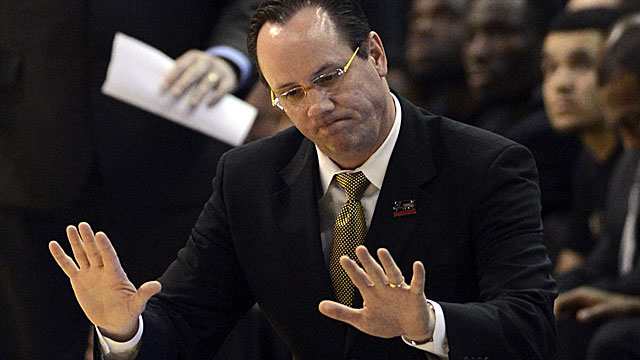 The Tennessee job that opened this week is not the best job in the SEC, and it's not the second best job in the SEC, either. But it might be the third best, and it's probably no worse than the fourth best given that the facilities are terrific and three different coaches have led the Vols to 11 of the past 17 NCAA Tournaments, and five Sweet 16 appearances in the past 15 years. In other words, Tennessee has been able to make the Sweet 16, on average, every three years for the past 15 years regardless of the coach (and despite an NCAA investigation and subsequent probation), and that's why some man somewhere will be lucky to land the job at some point, presumably, in the next week.
But it won't be Shaka Smart.
And, barring a surprise, it will not be Gregg Marshall, either.
I bring those names up only because those names were specifically mentioned within minutes of Cuonzo Martin leaving Tennessee for California the same way those names were spefically mentioned within minutes of Mike Montgomery retiring from Cal the same way those names -- and similar hot-coaching names (What up, Brad Stevens!) -- are mentioned each time a good (or just OK) job in a power conference opens. They're always at the top of somebody's list, forever going to get a phone call. Then they politely choose to stay where they're at, and that's the way of the so-called Coaching Carousel in 2014.
And 2013.
And 2012.
And it's been this way for a while, actually.
I've broached this topic before, but it's worth revisiting now that another year of coaching changes is approaching its final weeks (as long as no college coach jumps to the NBA, of course). Though 28 new head coaches have been hired since the end of the regular season, only three men who could reasonably be called established coaches at top-50 programs have voluntarily left their jobs for other jobs: Buzz Williams, Cuonzo Martin and Frank Haith.
That's it.
There are only three. And the wild thing is that three is actually a high number because in 2013 there was only one (Steve Alford), in 2012 there were only two (Frank Martin and Trent Johnson), and in 2011 there was only one (Mike Anderson), and every example of this -- i.e., an example of a coach at a top-50 program voluntarily leaving -- was laced with unique circumstances that made the coaches reasonably available to the programs pursuing them.
Buzz Williams jumped to Virginia Tech from Marquette because the school had no president, no athletic director, and because he hated the new Big East and was probably going to have an average team next season for the second straight season. Cuonzo Martin jumped from Tennessee to California because nearly 40,000 of his own fans signed a petition to have him fired in the middle of a Sweet 16 season, and if your fans are trying to fire you in the middle of a Sweet 16 season then how are they going to be next season when you're without four of your top five players? Frank Haith was coming off of an NIT and dealing with a fan base that never embraced him, and he might've been one more bad year from getting replaced in Columbia. Trent Johnson jumped from LSU to TCU because he'd just posted three straight losing records in the SEC and wanted to extend his career with a fresh start. Frank Martin jumped from Kansas State to South Carolina because he hated his boss. Mike Anderson jumped from Missouri to Arkansas because Arkansas is home. And Steve Alford jumped from New Mexico to UCLA because, well, it's UCLA.
Again, that's it.
Only seven coaches of top-50 programs have voluntarily changed jobs in the past four years, and every one of them was either running from a person, from a situation, to home or to Westwood. There are no exceptions, which means ADs are almost certainly wasting their time each time they pursue a comfortable and well-compensated coach from a top-50 program unless said AD happens to work at North Carolina, Duke, Kentucky, Kansas, Texas, Ohio State, Louisville, Florida, UCLA or a similar elite program with inherent advantages. And, it should be noted, even UK and UCLA have been turned down in recent years.
So remember that going forward, please.
Only about 10 out of 351 Division I schools can reasonably target a comfortable and well-compensated coach like Gregg Marshall or Shaka Smart, and this isn't some new revelation. It's been this way for a while, honestly. And there's no reason to think it's changing.
The Sooners' freshman, pilloried for his recent performances, showed a different side Tues...

Young is leading the NCAA in both scoring and assists per game

Our advanced computer model simulated Tuesday's UNLV vs. Fresno State game 10,000 times
Our advanced computer model simulated Tuesday's Kansas-Oklahoma game 10,000 times

Our advanced computer model simulated Tuesday's Virginia vs. Clemson game 10,000 times

The Sooners and freshman Trae Young try to snap a two-game skid when they face the Jayhawk...