B1G commish on D-I hoops setup: 'Something we can't really deal with'
Big Ten commissioner Jim Delany indicates more change can come that separates have, have-nots in college sports.
• 3 min read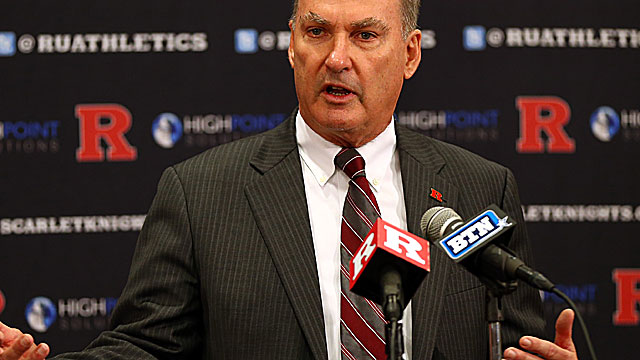 More College Basketball: Season preview | Top 25 (And One) | Conference predictions
What fleetingly seemed like a possibility is now an unlikelihood. The concept of introducting "Division 4" into intercollegiate athletics is no longer something on the horizon. The D-4 concept would've been an avenue for major schools to separate themselves from the rest of the pack. The nebulous idea had its pros and cons, of course, but the biggest drawback: It could've threatened the nature of the men's D-I basketball tournament as we know it.
Why bring this up now? Because despite a D-4 more than likely not coming to be, the NCAA tournament is still not without some threats to its integrity. The Big Ten held its men's hoops media day on Thursday, and league commissioner Jim Delany -- a man who's been at the forefront of a lot of change in college sports -- said the following on behalf of his league, and by extension, the majority of D-I powers-that-be. Per Sporting News:
"We don't want to leave the NCAA. We don't need a 'Division IV.' We can be in a big tent, if we can get an appropriate amount of political redistribution," (Delany) said. "We can have a tournament, everybody can be in it, we can do revenue sharing. We can all brand together. We can all be Division I together."
That's good news! But as Mike DeCourcy writes, there's a subtext at play here. With the option for more power (and money, natch) to be placed in front of the college basketball haves, there's an impending strongarm tactic coming down the pike. The big powers in college sports want to make their schools more enticing to recruits by offering cost-of-attendance stipends, wherein players would be paid $2,000 per year to make up for money they haven't otherwise received.
Sound familiar? That's because this motion passed in 2011 but was rebuffed eventually by way of a super-majority petition vote on behalf of the small schools, who simply can't afford the stipend. (DeCourcy states that, by doing this, small schools "failed to recognize their actions imperiled March Madness as it has existed.") One way or another the big powers want to separate themselves further. And now this issue is coming to a head behind the scenes.
Earlier this week, the NCAA Board of Directors met in Indianapolis, with a discussion on the agenda of how to empower the wealthiest schools and conferences to make rules changes that would allow them to use their resources to improve the experiences of their athletes -- most notably the $2,000 cost-of-attendance stipend that could have been in place the past two years. They authorized a subcommittee that will consider how to construct such a mechanism before the NCAA convention in January.

Concurrent to that meeting, athletic directors at member schools compiled a document arguing for more AD participation in governing the NCAA. Included in that manifesto was this sentence: "We recognize and affirm our support of the NCAA men's basketball tournament and the current revenue distribution plan." ...

"Right now, the level playing-field philosophy is so powerful," Delany said. "The differences among 351 schools and 32 conferences -- it's something we can't really deal with. We're going to have to get the change."

...

In addition to the stipend, Delany said, these are some of the changes the five conferences would like to consider:

-- A long-term educational commitment for athletes that extends beyond their playing careers.

-- Attention to at-risk students and time demands for athletes.

-- Less restrictive rules regarding athletes and agents.
Does this mean a sea change? Not necessarily, but as it stands right now, it seems obvious the biggest power brokers affiliated with college basketball are confident they can get rules either changed or new ones born to afford them and their student-athletes more opportunities (like they don't have them already) than the small schools can.
This could affect the NCAA tournament down the road, no question. We aren't at a point where tiny schools' involvement in the NCAA tourney is at risk just yet, but don't think that can't become part of the conversation in short time. What kind of effect -- a tangible, immediate one or gradual, gradient change -- remains to be seen. But college sports and the money it makes and the biggest schools at the top, it's all requiring an evolution toward a different topography than the kind of NCAA we grew up with.
Cavaliers basketball coach tapes statement on behalf of his university and his city

Gary Parrish and Matt Norlander discuss all things Marvin Bagley and his immediate future

Which version of Grayson Allen will show up for Duke and other questions for every ranked...
Upon landing the nation's top recruit, Duke tops the list with other title contenders at the...

The presumptive No. 1 overall NBA Draft choice makes the Blue Devils 3/1 favorites to win it...

Commitment to Duke is the first step, but the next one is the biggest; here's what you need...