Balanced, unbeaten Buckeyes show their grit with win over Notre Dame
The Buckeyes trailed Notre Dame by eight points with 1:15 to play but rallied to come back and pull out a 64-61 victory in the Gotham Classic at Madison Square Garden.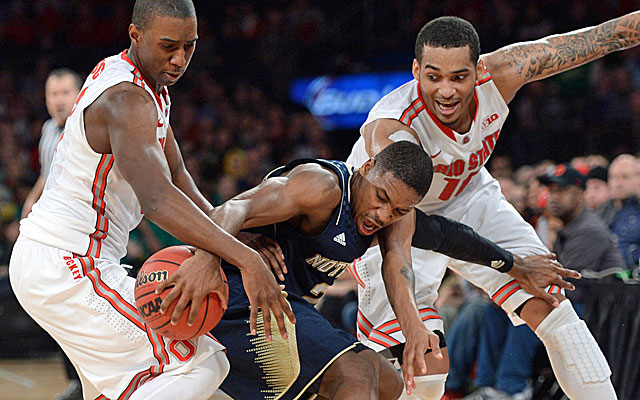 NEW YORK --- Ohio State is the antithesis of what college basketball has become in the modern era.
The Buckeyes don't have a one-and-done type freshman and aren't viewed as a "sexy" team that people want to DVR multiple times during the course of a week.
But they win.
And lately, they've won big.
If Saturday night is any indication, that trend will only continue.
The Buckeyes trailed Notre Dame by eight points with 1:15 to play but rallied to come back and pull out a 64-61 victory in the Gotham Classic at Madison Square Garden.
Ohio State improved to 12-0 with the win and reiterated why they'll again be a major factor both nationally and in the Big Ten.
This is a different type of Ohio State team than we've seen in the past few years.
There is no Jared Sullinger, Deshaun Thomas, or even William Buford on this roster.
But the Buckeyes' collective balance, experience, and willingness to sacrifice makes them a unique and refreshing team.
"We felt this was the way this team would have to be,"  Buckeyes coach Thad Matta said after game."That has to be who we are. That's the one thing I do like with this team. I don't know who it's going to be every night."
In the win over Notre Dame, all five of Ohio State's starters scored more than nine points but no one finished with more than 16.
"They've got a lot of different guys that can come at you," Notre Dame coach Mike Brey said of Ohio State after the game. "They're men. It's a veteran group that has won a lot together. They're long and they're strong."
And that was the case in the game's final 75 seconds.
Facing an eight-point deficit, Aaron Craft and Shannon Scott spearheaded a relentless full-court press that sparked the comeback.
Those two and Lenzelle Smith Jr. give Ohio State far and away the best defensive perimeter in the country and junior forward LaQuinton Ross (16 points, 11 rebounds) looks more and more like he's developing an alpha dog mentality with each passing game.
Another major difference though with this team?
Legitimate production at the center spot.
Amir Williams had 13 points and six rebounds against the Irish and is really starting to live up the potential he arrived in Columbus with a few years ago. With he and backup Trey McDonald now able to go into a game and play effectively, the Buckeyes don't have to go away from an untraditional lineup as they did during many points of last season.
"I've been very pleased with what those guys are bringing to the table," Matta said of Williams and McDonald.
As he should be.
Production in the pivot was one of many questions surrounding this team heading into the season but through a dozen games it seems like it's no longer an issue.
As long as this team has Craft and Matta, there's a good bet
Ohio State will be at the top of the Big Ten and playing meaningful basketball in March.
Matta has won a combined 123 games in the last four seasons and led this program to four consecutive Sweet 16's.
It hasn't been a flashy run of excellence, but nothing this team does this season is going to be flashy.
It's a unit that's low on style, high on substance, and locked in on the only thing that matters.
Winning.
The best basketball player in the world showed up too late to the biggest game in Las Vegas...

Thousands of fans were turned away (even LeBron!) from the LaMelo Ball-Zion Williamson sho...

"Four Sides of the Story" also takes a look at Tiger Woods' first PGA tournament and the role...
Indiana's Archie Miller and Mizzou's Cuonzo Martin have been killing it on the recruiting...

Duke's much-anticipated Allen-Duval connection is off to a hot start already

It'll be Miller vs. Miller if the Hoosiers and Wildcats can finalize the proposed series