Basketball recruiting at Penn State unlikely to be affected by football sanctions
The NCAA's punishment of Penn State will cripple the football program for years -- but what about basketball? Rival schools will attempt to negative recruit more often, but it's unlikely the Nittany Lions' recruiting will be too affected.
• 3 min read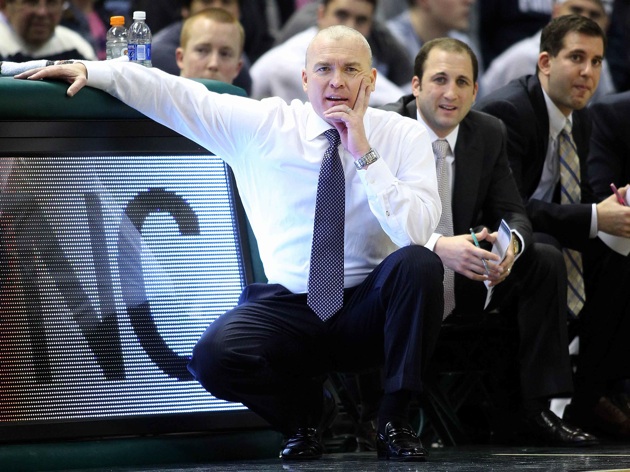 Despite football sanctions, coach Pat Chambers is unlikely to change his strategy in recruiting. (US Presswire)
By all accounts, it looked like Brandon Austin was the first domino to fall within the Penn State basketball program.
When Austin, top-75 prospect in the class of 2013, announced on Sunday evening that he was decommitting from the Nittany Lions, all signs pointed to the forthcoming football sanctions affecting his pledge. People started wondering how much the basketball program would be impacted by the football program's punishment.
While Austin's timing was curious, it turned out that his decommitment had nothing to do with the NCAA sanctions on the football program.
"He just wanted to weigh his options more and I don't think he was comfortable with his choice," fellow 2013 commit Geno Thorpe told CBSSports.com.
According to sources, schools have been reaching out to Austin for weeks, if not months. The versatile swingman has seen his stock rise over the past few events, and it seems like he simply wants to open things back up and look at more schools. Penn State is reportedly still in the mix.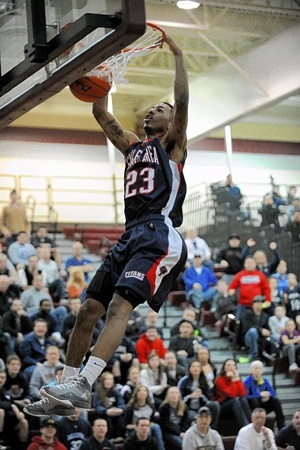 2013 commit Geno Thorpe is keeping his pledge to the Nittany Lions. (Pittsburgh Post-Gazette)
In general, basketball recruiting won't be affected all that much by the Penn State saga. Thorpe was the only other commitment in the class of 2013, and he said on Monday that the football sanctions didn't affect his commitment and the thought of decommitting didn't even enter his mind.
"I think anybody who knows our staff with coach [Brian] Daly, [head] coach [Pat] Chambers and coach [Keith] Urgo knows that they can take you as far as you want to go with basketball," Thorpe said.
It's not as if Penn State has consistently been landing top-100 recruits over the past few years anyway. The Nittany Lions have had success in the past with under-the-radar prospects that they pursue early and lock up before the elite programs have a chance to see what they're missing. They did it with Talor Battle, they did it with Tim Frazier.
The caliber of player that considered Penn State in the past is still likely to consider Penn State after the football scandal.
"I've been very pro-active with my approach," Chambers told CBSSports.com. "I approach it head-on. We talk about it with recruits and if it becomes a problem, then maybe that's not the right kid for our program."
Josh Hart, a top-100 recruit from Washington D.C., is one of Penn State's top targets and has a number of other schools in the mix for him. Despite the sanctions, he's still considering the Nittany Lions.
"They are still a very prestigious school," Hart said. "The community is very close and they will be able to get through this. I think it opens up basketball to be a focal point for people to rally around."
In the past, basketball players who committed to Penn State knew they were going to a football school, and they knew they wouldn't be the star athletes on campus. While football is still the number one sport in State College, the football sanctions obviously crippled the program for the next several years.
Can basketball fill the void as the go-to sport at Penn State? It's a possibility.
The positives that were there six months ago for the Penn State basketball program are the same today. While the sanctions will form a cloud over the athletic department as a whole, basketball remains unaffected for the most part. It's still a Big Ten school, it's still a high-major program, and it will still be on television throughout the season.
"They still have a great education and their basketball is on the rise," Hart said.
Schools will be able to negative recruit against Penn State far more easily now, pointing to the football program and the overall instability of the athletic department. That's a given. But future recruits already know about Jerry Sandusky and Joe Paterno; it's not as if rival coaches are cluing them in on a secret. If a prospective target likes what he sees from Penn State, the football program isn't likely to affect his decision.
Penn State basketball will still grind to get players, and still look to get on prospects before everyone else finds out about them. No matter what happens with the football program, the recruiting tactics for Penn State basketball aren't changing. 
These teams went to The Big Dance in March, but could take a step back this season

The success of Chris Chiozza and KeVaughn Allen have the Gators ready to compete for SEC t...

FBI investigation suggests Quinerly received improper benefits from a Wildcats assistant c...
Meet the mid-major coach who refused to vote for the teams involved in the recruiting scan...

The player, now at the University of Portland, says he was injured during a workout which broke...