Baylor almost overcomes Adidas Paramilitary PJ's in loss to Okla. St.
Baylor's terrible first half against Oklahoma State dug a hole that the Bears couldn't climb out of.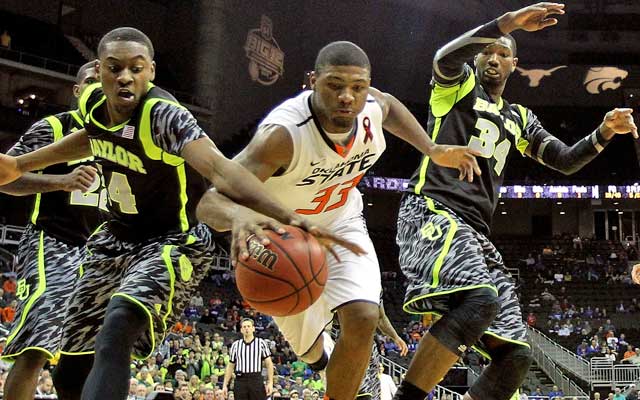 KANSAS CITY, Mo. – For a half, Baylor played as if its apparel contract depended on it.
Judging by what Adidas did to the poor Bears in the quarterfinals of the Big 12 tournament, Baylor couldn't be blamed for tanking the first 20 minutes of its tournament quarterfinal against Oklahoma State on Thursday night.
More on Baylor-Oklahoma State
Related links
More college basketball coverage
The Bears need some excuse for doing the impossible: Drawing attention away from the latest iteration of uniforms-gone-wild. You might have read or monitored Twitter regarding Adidas' latest, shameless attempt to humiliate student-athletes, push product and generate page hits.
Baylor's Human Highlighters that debuted here a year ago looked practically quaint compared to the Paramilitary Party Pajamas that the poor Bears were forced to wear Thursday night.
(The actual uniforms on Thursday featured dark green jerseys with Zubaz-type shorts and sleeves. Think Pee Wee's Playhouse characters on acid.)
Properly shamed, the Bears played one of the worst halves that you'll see by a team that absolutely had to win to get into the NCAA tournament. It was too much to overcome in a 74-72 loss that, it turned out, looked like it was stolen from the Bears.
Deuce Bello got called for what seemed to be a phantom foul with 2.9 seconds on Oklahoma State's Phil Forte. Forte's free throws broke a 72-72 tie, sending the Bears sliding maddeningly off the tournament bubble.
"A perfect example is VCU," Baylor coach Scott Drew said. "People were like, 'Why'd they get in?' They were a Final Four type team. Who recently has beaten Kentucky in Rupp and beaten Kansas? I believe we can beat anyone in the country."
Despite those big wins (plus Oklahoma State in Waco), the Bears displayed a season-long habit of not being able to take care of business. They lost six of their last eight, coming into the game No. 69 in Jerry Palm's RPI.
Think about that: A team that went to the Elite Eight last season and won at Rupp Arena and beat Kansas and Oklahoma State is headed for the NIT.
"In essence, in the last three weeks, you've been first four out, last four in, on the bubble," Drew said. "All the pressure, stress, probably showed tonight."
Gary Franklin's four-point play with 19.1 seconds left brought the Bears all the way back from a 20-point first-half deficit. The result came five days after Baylor posted its biggest win of 2013, beating the Jayhawks in the regular-season finale.
That victory made the Bears a more intriguing bubble team heading into tournament week. Then, this: The Cowboys shot 55 percent in the first half, outhustling the Bears at every turn while getting into Friday's semis against Kansas State. Putting it bluntly: The Baylor uniforms weren't the only things that made you want to vomit. At one point, the Bears were shooting 1-for-18 from the arc.
Then the Cowboys made the mistake of playing like they were comfortably in the tournament.
"We just didn't play to win [in the second half]," Forte said. "We played not to lose. You could kind of tell; we weren't getting stops. We weren't being near as aggressive as we were in the first half."
Baylor shot 50 percent in the second half, scored 48 points and hit their only 3s (five) in the final 20 minutes. That's when Pierre Jackson, the league's leading scorer, had 24 of his 31.  
Drew barely restrained himself recounting the foul against Bello that decided the game. Forte sliced into the lane with the ball sliding out of his hands. That usually would earn the defender the benefit of the doubt. But Forte regained control and went up for a shot. Replays seem to show a clean block by Bello. Forte said he got hit on the arm.
"I saw it," Drew said. "I have an obvious opinion, real easy opinion, but I'll pose the question back to you: If for three weeks you've been struggling on the bubble trying to make this tournament and everybody says you win you're definitely in, you lose, you don't know, would you want the game to come down to that play?"
The talented senior backcourt of A.J. Walton and Jackson will likely conclude their college careers outside of an NCAA tournament they starred in last year. Jackson -- an absolute warrior on Thursday -- could be the first player from a power conference to lead his league in points and assists since Jason Terry 14 years ago at Arizona. Jackson's potential game-winning 3 attempt bounced off as time expired.
"It hasn't really hit me yet," he said. "But at the same time, just kind of the moment you live for, being able to take that last shot."
Walton has been the loyal soldier, starting 48 consecutive games in the middle of his career before losing his starting job.
Baylor's horrible first half cannot be overlooked. In this win-or-else situation, you don't lose any loose balls -- ever. Forte hustled his way past three Bears to chase an errant Jackson pass in the first half. Michael Cobbins clanked a dunk, then got his own rebound and jammed over the two Baylor dudes who failed to stop him the first time.  
But, you know what they say at Adidas headquarters: If you can't shoot it, style it. The Bears just couldn't shoot it well enough in the second half. 
CBS Sports HQ Daily Newsletter
Get the best highlights and stories - yeah, just the good stuff handpicked by our team to start your day.
Please check the opt-in box to acknowledge that you would like to subscribe.
Thanks for signing up!
Keep an eye on your inbox for the latest sports news.
Sorry!
There was an error processing your subscription.
Who's Next: Will UNC stay 'in the family' again when it eventually has to replace Williams...

Pitino wanted to bring a 'spirit of optimism' to Twitter, but the Twitterverse had other plans...

Weathers is accused of stealing a wallet containing credit and debit cards at a bar in Sti...
James is the highest-rated prospect to commit to the Vols since Rick Barnes was hired in March...

Who's Next: What will happen when the Wildcats have to replace John Calipari?

Calhoun is taking over a D-III upstart in West Hartford and officially coming out of retir...