Bedlam: Oklahoma knocks off Oklahoma State
For the 10th straight time, Oklahoma beat Oklahoma State in Norman.
• 2 min read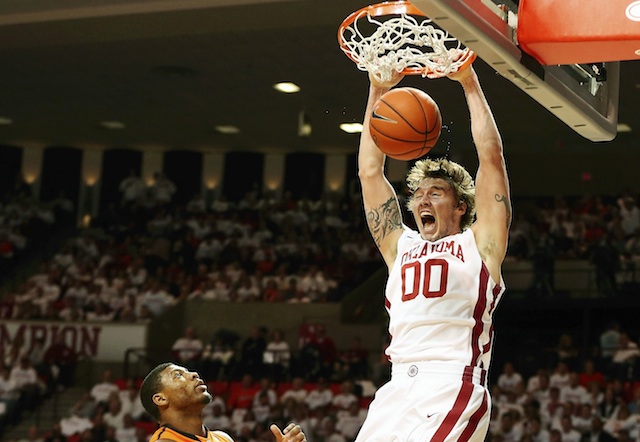 Back in the preaseason, Oklahoma was expected to be a bubble team, at best. After Monday, the Sooners are second in the Big 12 standings.
For the 10th straight time, Oklahoma beat Oklahoma State in Norman, this time getting out to a 17-point second-half lead and eventually pulling out an 88-76 victory.
Ryan Spangler was a monster on the inside, finishing with 15 points and 17 rebounds, while freshman point guard Jordan Woodard finished with 16 points, including several key second-half buckets.
Marcus Smart had 21 points for Oklahoma State, but he was in foul trouble in the first half and struggled to consistently get open looks against the Sooners. Markel Brown had 18 points, but it took him 17 shots to get there, and Le'Bryan Nash was saddled with foul trouble and only took four shots. On the bright side, Phil Forte was 6-for-6 from 3-point range.
That's now four straight wins for Oklahoma, which moves to second in the Big 12 at 6-2 in conference play. The Sooners have road trips to Iowa State and West Virginia coming up. Oklahoma State is now 4-3 in the league headed into a couple of home tilts against Baylor and Iowa State. 
This is a key win for Oklahoma's NCAA tournament prospects going forward. The Sooners continue to answer questions about their resume. All four losses are understandable, even the overtime loss to Louisiana Tech -- the Conference-USA favorite. And Oklahoma continues adding to its cache of good wins. There was already Iowa State, Baylor and Texas, and now the Sooners can add Oklahoma State as a marquee win, and their best victory yet. Moreover, there aren't too many holes in the at-large profile. Oklahoma is 3-1 in true road games and 7-2 away from home. 
Lon Kruger -- who deserves consideration for Big 12 Coach of the Year -- and his team have two road games coming up: at Iowa State, at West Virginia. If Oklahoma can split those games, the Sooners are in good shape going forward.
Looking at Oklahoma State, it's a slightly different story. The Cowboys aren't in danger of missing the NCAA tournament or anything, but there are some questions developing. Since Michael Cobbins went down, Oklahoma State has been highly vulnerable on the inside. Spangler's performance on Monday once again demonstrated the frontcourt weakness. And when Nash doesn't get going offensively, the Cowboys are far too perimeter-oriented. While Baylor is struggling mightily, the Bears' inside duo of Isaiah Austin and Cory Jefferson should annihilate the big men of Oklahoma State on Saturday. 
It would also be nice to see the Cowboys pull out one of these tough road tests at some point. They are 2-3 in road games, with the wins coming at South Florida and West Virginia. 
Heading into February, a team from Oklahoma is the closest to Kansas at the top of the Big 12. It's just not the program we all thought it would be back in November.
The Wildcats are no longer undefeated after losing to NC State

Brey's team overcame a 16-point deficit to top Wichita State in the Maui finale

No. 13 Irish led for only 22 seconds, but a pair of clutch free throws lifted them to a Maui...
Freshman overcomes plenty before he even puts on a jersey and then sparks signature win for...

Officials didn't buy the flop, but the Mastadons player gets an A-plus for his acting effo...

It's early, but the Vols appear to finally be heading in the right direction