Behind steady Hoiberg, Iowa State tops Kansas, may be on to something
Fred Hoiberg picked up a technical in a Big 12 semifinal win over Kansas. Very uncharacteristic. Not uncharacteristic? The way his Iowa State unit hung together to beat Kansas.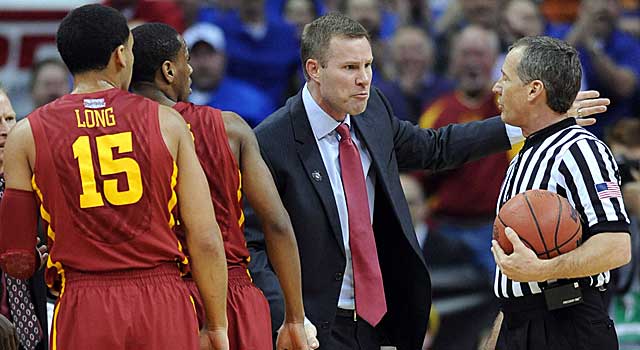 Latest in hoops: Bracketology | Bubble Watch | Latest news & notes
KANSAS CITY, Mo. – After his second career technical Friday night, Fred Hoiberg apologized to his players.
Apologized. Hear that, Jim Boeheim?
"I went out there and used a bad word," Iowa State's coach said almost demurely. "I'm not going to sit here and pretend I didn't."
No need for redress, really. The T came in the first half against rival Kansas in front of what seemed like half the state of Iowa inside the Sprint Center. If there was a time to curse at a zebra, this was it. If anyone says these postseason conference tournaments don't mean anything, they haven't been here this weekend.
There is meaning, there is hatred, there is history.
Kansas seems to take over Sprint each March, 40 miles from home in a state (Missouri) that no longer houses a Big 12 team.
Iowa State hasn't been in a Big 12 championship game in 14 years but here they are. Just don't blink. Friday's head-ringing, hand-wringing 94-83 win over the top seed was as big for, say, the Minnesota Timberwolves, as it was for the Cyclones.
That's because there aren't many places in college for the 41-year old Hoiberg to go that are considered "up."
He's already living the dream of growing up, playing and coaching in his hometown. The beloved native son of Ames, Iowa, they call "The Mayor" doesn't have many collegiate roads to travel unless a Duke or UCLA or North Carolina or a Kentucky come calling.
Those are long shots because he isn't a native son of any of those places. More relevant to the moment: Hoiberg is a 10-year NBA veteran with experience in the Minnesota front office.
Cyclones everywhere are concerned because his pro experience may be considered unfinished business, especially as a coach. That playing career was cut short because doctors in 2005 found an abnormal heart valve. The resulting surgery left him with a pacemaker near his left shoulder. Hoiberg jokes that he can take his pulse without touching his wrist or neck. He literally feels every beat of his heart.
That may be part of the back story why Hoiberg isn't your typical grandstanding knucklehead on the sideline.
"I know he doesn't sleep a lot at night, just a lot of coaches. He just doesn't show it externally," Iowa State AD Jamie Pollard said. "I don't know if that's him because of his health challenges. I'm sure that's always been in his mind but I think he's wired to be more thoughtful before he talks."
In an age when coaches use their sports coats for props to wave at officials, the Iowa State coach's demeanor almost camouflages him on the sidelines.
"We're going to have to put him in timeout," joked forward Georges Niang, who led the Cyclones with 25 points. "He's an emotional coach. He just doesn't show it. He just basically telling us, 'I'm here to fight for you guys.' "
Pollard and Iowa State already have fought for their coach. Hoiberg signed a 10-year, $20 million contract last year that at least conveys the love the Cyclones feel for him -- if not the dollars the, say, Knicks could throw at him.
"The way you show somebody respect, you can do it in years and total compensation," Pollard said. "The reality is, we're banking on the fact that his family is there -- both sets of grandparents, four children high school age or younger. It is a very close-knit family."
It was suggested that the contract not so much reflects a hometown discount but may earn the school hometown loyalty.
"We hope it's a hometown discount too," the AD said.
Turns out that winning sells no matter what your sideline act. Hoiberg is perhaps the nation's hottest major-college coaching prospect. He is about to become the second coach in school history to lead three consecutive teams to the NCAA Tournament. His 87 wins are the most by a coach in his first four years at Iowa State.
It's how he has built this program. A couple of years ago all five starters were transfers. This year he coached the Big 12's player of the year. In addition to being the league's most consistent player this year, forward Melvin Ejim is an honest-to-goodness senior.
Remember those?
Ejim is Iowa State's fifth first-team academic All-American in history -- the first to also lead the Big 12 in scoring.
Hoiberg was one of the previous four academic All-Americans.
The coach has had a bit of a magic hand in recruiting and developing talent. It was Hoiberg who took troubled transfer DeAndre Kane out of Marshall and made him into a star in a major conference as a senior. Kane is one of three players in the country to average 17 points, six rebounds and five assists.
Niang, a sophomore, is the team's mouthpiece and poster boy -- a 6-foot-7 bruiser who plays taller than he is. A good quote, Niang battled Kansas' big front line all night finally earning himself a five-stitch gash above his right eye.
Told a picture of him had gone viral with blood streaming down his face Niang said, "I look forward to seeing it."
He added, "Coach preaches: 'How are you going to act when adversity hits you? Are you going to give up? Are you going to point the finger?"
The answer has been no. And the thing is, these guys can play. The Cyclones are one of the best offensive collections in the nation. For that reason they will be a factor in the tournament, having already beaten Michigan, BYU, Iowa and -- finally -- Kansas this season.
"People probably think we're a team on the rise," Niang added. "Who is Iowa State? Where is Iowa? I just think we have a great core group of guys and great fans. Why would you not want to come play for us?"
Why indeed?
The entire Big 12 operates in the shadow of Kansas, but Iowa State still grinds believing it can be that good.
On Friday it was.
You had to be fired up even if you weren't sitting next to what might be the most sedate man on a college sideline. The Cyclones had lost 18 of the previous 19 to the Jayhawks. Three of those losses came last season. The first two, each in overtime, were "the absolute two hardest games I've ever had as far as losses go," Hoiberg said.
On Friday the coach could joke about a technical that shouldn't have been. The official overreacted when Hoiberg stepped out on the floor, which he is allowed to do during a media timeout.
"Kentucky, two years ago in the NCAA Tournament," Hoiberg said, recalling his only other career T. "Those are the only two I've had in my life -- including as a player."
It would be a bit lazy to write that Hoiberg's technical motivated the Cyclones. Kansas was in the middle of a 16-0 run at the time.
It was also crazy to discount the Cyclones. They rallied in the second half, shooting 68 percent. All five starters scored in double figures (Kane added 20, Ejim 19, Dustin Hogue 12 and Monte Morris 11). Niang got his stitches and the Cyclones got what they wanted.
"It gives us the confidence," said the $20 million coach, "that we can compete with anybody in the nation."
The Wildcats are no longer undefeated after losing to NC State

Brey's team overcame a 16-point deficit to top Wichita State in the Maui finale

No. 13 Irish led for only 22 seconds, but a pair of clutch free throws lifted them to a Maui...
Freshman overcomes plenty before he even puts on a jersey and then sparks signature win for...

Officials didn't buy the flop, but the Mastadons player gets an A-plus for his acting effo...

It's early, but the Vols appear to finally be heading in the right direction