Beilein has Michigan buzzing again
The Michigan Wolverines are off to their best start in school history at 19-1 and a likely No. 1 national ranking on Monday.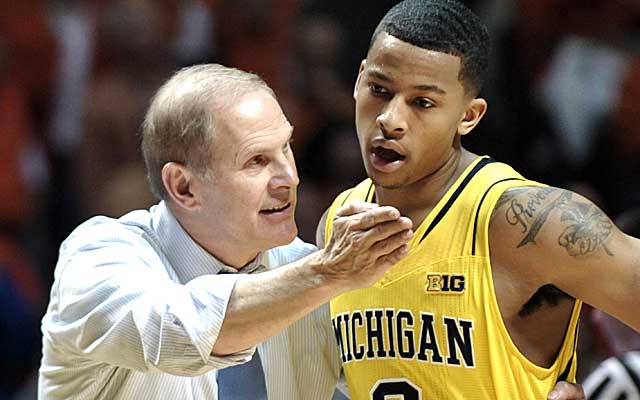 John Beilein and Trey Burke have Michigan off to its best start in school history and a possible No. 1 ranking. (AP)
CHAMPAIGN, Ill. -- Trey Burke was an infant, just weeks old, while Nik Stauskas and Glenn Robinson III weren't even born yet.
It was November of 1992 and Ann Arbor, Mich., was all about the Fab Five. Chris Webber, Jalen Rose and Juwan Howard were stars who owned the town, and also owned the national polls, starting the season in the top spot and remaining for the first couple of weeks until a loss to Duke on Dec. 6.
That was the last time the Michigan Wolverines have been numero uno.
More on Michigan-Illinois
Related links
More college hoops coverage
No one could have ever imagined this when John Beilein arrived back in 2007. Shortly after the news broke that he was bolting West Virginia for Michigan, questions quickly surfaced on how long it would take before he was run out of town due his inability to recruit. Six years later, Beilein is on the verge of taking the Michigan Wolverines back to the top. No, this team hasn't won a national title or even advanced to the Final Four, but it is likely to move to No. 1 in the country for the first time in more than two decades when the polls are released Monday.
Beilein has always been known as an X's and O's guy. Great coach, but there was a ceiling on how far his teams could overachieve and advance. The West Virginia club with Mike Gansey and Kevin Pittsnogle went to the Elite Eight in 2005, but Beilein would never taste a Final Four because, well, he didn't cheat and couldn't attract talented enough players.
But now Michigan is the latest team to state its case as the No. 1 team in the land. Indiana took the spot in the preseason and held it for five weeks before a loss to Butler allowed Duke to move to the top of the polls. Then Louisville took its turn for one week and the Blue Devils returned to numero uno before a 27-point loss to Miami earlier in the week will allow a new team to rise to No. 1.
Beilein casually instructed his players to tone it down when discussing the potential No. 1 ranking, which should come down to the Wolverines and Kansas. His old-school, even-keeled approach is that being No. 1 doesn't matter. Not at this point.
"It's a cool achievement," Burke said. "But it doesn't really mean anything."
"Not until the end of the tournament," added Glenn Robinson's kid. "It's great for our fans."
"It's just a number," Stauskas chipped in.
"You don't win championships in January," Hardaway Jr. said.
These kids may not sound like it, electing to go with the company line, but they are excited -- and deservedly so. They have brought Michigan basketball back. It doesn't have the glitz and glamour of the old days, when booster Ed Martin was paying Webber and other players. Football is king in Ann Arbor now, not hoops -- and that's just the way Beilein prefers it.
This group gets it. They won't be calling timeouts they don't have if they do make it to April and they won't regularly be taunting opposing fans and opponents (well, maybe Stauskas). These guys are fairly anonymous, and mature enough to understand that this is just a number. The first goal is a Big Ten title, then a Final Four and a national championship.
This isn't a fantasy land, either. It's a reality.
Michigan is off to its best start in school history at 19-1 after Sunday night's win at Illinois. The Wolverines' lone loss came on the road two weeks ago in Columbus against <span data-shortcode= State" data-canon="Ohio Bobcats" data-type="SPORTS_OBJECT_TEAM" id="shortcode0">. The wins are impressive: At home against NC State and a neutral over Kansas State, both of which are ranked. There's also a quality road win at Minnesota.
More impressive is how Beilein and his staff have built it. Typical Beilein fashion. It began with a bunch of blue-collar guys like Zack Novak and Stu Douglass, and continued with unheralded guys like Trey Burke, Tim Hardaway Jr., Jordan Morgan and Nik Stauskas. The staff finally brought in a pair of Top 50 kids this season: reserve big man Mitch McGary and talented freshman forward Glenn Robinson III.
"If you would have told us that in only one year after we graduated, we'd have a Big Ten title, three NCAA tourney appearances and a potential number one ranking, we would have said you were a bit ambitious," Novak said from the Netherlands, where he is playing professionally. "However, I'm not sold on a January 1 ranking and I'm positive that they aren't, either. The goal here is a national championship. The number one ranking is nice for the fans, but at the end of the day it's all about April."
These guys are fun to watch. That's no shock with Beilein. Again, he can coach. Really, really coach. But no one could have anticipated Burke turning into the nation's top point guard -- and no one expected Stauskas to be lights-out from long distance. Hardaway has matured, Robinson has been phenomenal thus far and the three-headed monster down low of Jordan, McGary and Jon Horford isn't spectacular, but plenty effective.
They aren't the Fab Five, but in all likelihood, these guys will have Michigan back at No. 1. And who knows, maybe they'll even do something that Webber, Rose and Howard didn't.
Cut down the nets in April.
The game will be finished on Thursday at noon at Providence's on-campus basketball gym

The five-star forward put on a dunking and blocking clinic in high school's state quarterfinal...

Pitino dug in and maintained he ran a 'clean program' after the NCAA stripped UL of its 2013...
Bagley is still recovering from a knee injury he suffered during the Blue Devils' loss to...

Izzo was emotional as he coached the seniors on their final home game in East Lansing

The Shockers look to build on their four game winning streak as they return home to face T...