Belmont is awesome again but in a totally different way
Belmont is in a new conference, but the Bruins are as dominant as ever.
• 4 min read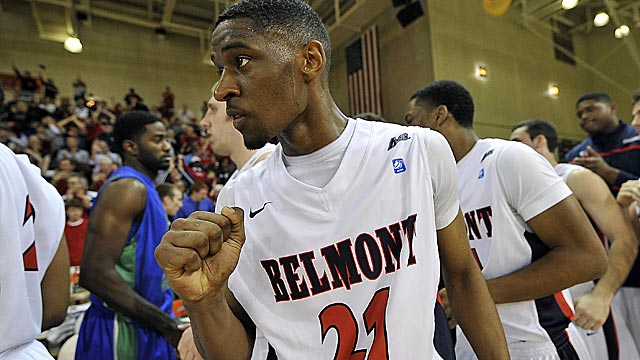 Ian Clark has transformed his game and helped Belmont to keep winning but in a totally new way. (US Presswire)
So often, by the time we get to the end of January/early February, most of our attention is fixated on the major conferences plus Mountain West, Atlantic 10 and the like. Toss in some Gonzaga, Memphis, Saint Mary's love, and our plates are pretty full with topics and trends to track as we head toward real NCAA tournament talk. This mainstream, main-conference lean is natural, and I don't begrudge it.
But beneath all of typical topics, I do love looking at which small-league schools not only thrive but dominate. Every year, two or three programs take their leagues hostage and either roll through without a loss or get really close to an unbeaten conference campaign. I've always found this inevitable annihilation of other small fries fascinating.
Belmont's a team that has become a behemoth in this regard. And it's in a new league this year, but you'd never know it based off its typically/unexpectedly stout 17-4 record through two-thirds of the season. After reaching the NCAAs five of the past seven years as Atlantic Sun landlords, the Bruins formally moved to the Ohio Valley last summer. Maybe the OVC's a better league; maybe it isn't. But the change did initially present some uncertainty for one of college basketball's most successful programs over the past decade.
So much for that. Belmont's 8-0 halfway through league play, an accomplishment that Rick Byrd's team has only done once before, in the 2010-11 season that saw the Bruins earn a 13 seed with a 30-5 campaign. Belmont looks destructive again, only this time what makes the strong start so notable is the new setting and change of style. The team has been better than Byrd, 59, expected it to be. It lost three players (Drew Hanlen, Mick Hedgepath, Scott Saunders) vital to Byrd's old-fashioned motion system. Because of this, Byrd and his coaches expected the squad to be soft in the interior. Scoring inside would be a struggle.
Well, it has been.
But Ian Clark is turning in one of the best senior seasons out there and remaining a secret while doing it. So it goes at small schools, most of the time. Among all D-I players, Clark, a 6-foot-3 guard, is averaging 19.2 points and has the highest effective field-goal percentage (71.8) and true shooting percentage (72.6). His overall field-goal percentage is clicking at 57.6, the best for anyone 6-3 or shorter. The smaller guys normally aren't this reliable from the field. Streaky, if anything. But Clark and his shifty backcourt mate at the 1, Kerron Johnson, have turned the Bruins into a guard-first group -- and thrown many teams off in the process. By going to a ball-screen offense, something that Byrd had an affliction for in the past, the Bruins have become a top-10 shooting team overall (.492 from the field).

"It's loosened how we do things," Byrd said.
For at least this year, Belmont's not that team with the 5 guy who can be constantly fed in the middle, who plays with his back to the basket and sprinklers out options on the perimeter from around his base. Clark's main contribution offensively in years past was to be a spot-up shooter, an irregular one at that.
"His mid-range game hurt us more than it helped us," Byrd said. "He's worked really hard on that, and now he stops, pulls up and makes 15-foot floaters, teardrops. He's making great passing decisions. He's one of the best off-the-ball-screen players out there. The only problem is he can't throw it to himself."
Is it as good as the Belmont teams that were hyped by tempo-free stat junkies the past few years? Byrd said it's on a similar level but only because the D -- citing KenPom.com's metrics in the process -- is as good as he has ever had it. And that approach has changed this season, too. Byrd has normally pressed in the past. Now it's a halfcourt defensive team yet still turns teams over nearly one out of every four possessions.
"Guys get awards about 95 percent based on offensive numbers -- and 50 percent of the game is on the other end," Byrd said. "He's [Clark] our best defensive player on our best defensive team. I don't have any way to give anybody numbers because there's not numbers about 'can you guard well?' If you're a 3-point shooter and we tell him he can't have any looks, he's not giving up any looks and is the best I've ever had at that."

Age remains so vital to Belmont's success as well. This program is abnormally reliable -- even among small schools -- to have a few seniors and juniors ready and able to contribute big minutes and production every year. (It seldom loses players to transfer and doesn't often bring transfers in.)

Between Clark's big play and Johnson's ability to mix tempo, penetration tendencies and find other people as often as he scores (he's a scoring point guard, for sure), new-look Belmont's still getting the same results.
I write this knowing the real test comes in a week. Reigning OVC champs Murray State (15-5) will host the only game between these two on Feb. 7. Byrd calls it "a larger road block than we ever faced in the Atlantic Sun," and that alone makes me happy that this program headed to a new league. 
Small conferences don't often give us reason to discuss them because they lack must-see matchups. But there aren't many more games I'd rather watch on Feb. 7 than Bruins-Racers. It's getting to be about that time again where both of these teams deserve to be reintroduced to the nation.
---
For more college basketball news, rumors and analysis, follow @EyeOnCBB on Twitter, like us on Facebook and subscribe to the thrice-a-week podcast on iTunes. You can follow Matt Norlander on Twitter here: @MattNorlander.
Louisville's coach predicts a change is coming to the NBA's one-and-done rule by 2019

Multiple former players of Lonergan's alleged verbal abuse and inappropriate remarks

When Miller left for Indiana, there was cause for concern in Flyerland; a top-100 signee says...
The Hoyas will spend their non-league schedule playing mostly nobodies -- as will most big...

An overview of what the most interesting conference will offer up this season -- beyond Duke...

The sneakers were made to commemorate the Tar Heels' six national championships