Ben Howland returns to Pitt to take in Panthers practice
The former Panthers -- and of course, UCLA -- coach is taking a year away from being on the bench. So he's had time to take in practice in Pitt.
• 2 min read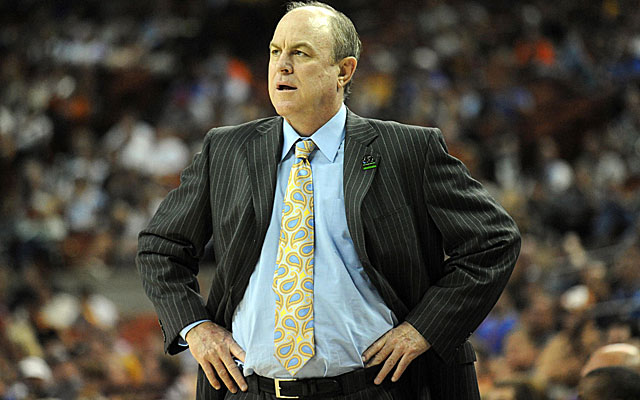 It genuinely feels like a lifetime ago that Ben Howland was the coach of the Pittsburgh Panthers. If you're curious about when his last season in the Steel City was: 2002-03. Yep, now more than a decade ago, when he took the Panthers to the Sweet 16 before replacing Steve Lavin at UCLA.
The Pittsburgh Post-Gazette reported this week on Howland's return to Pittsburgh and his casual reunion with Panthers coach Jamie Dixon. Dixon was an assistant on Howland's staff for all four seasons before getting promoted to the head-coaching job upon Howland's departure out West.
Amid the familiar sounds of dribbles and laughter and whistles, Howland was back home.
"That was the first time that it really hit me," said Howland, a veteran coach on a hiatus for the first time in 32 years. "I've never had time off at this time of year. [This visit] is special for me with Jamie, obviously, because of our close relationship."
"I bring in coaches every year to watch us practice," Dixon said. "And it's even more valuable to have a guy with as many wins as he has here. We talk all the time, so it wasn't all that different, but I guess to everyone else it seems like a new deal."
Howland sat courtside Friday night for the Oakland Zoo Blue/Gold Scrimmage, a 74-67 victory for the Gold team, as a sideshow reminder of the radical transformation the program -- and the entire Pitt community -- has undergone in the past decade since Dixon took over for Howland.
...
Dixon and Howland have earned more than 200 wins since parting ways 10 years ago, with the Panthers (262-86) tipping the scales on the Bruins (230-105), though UCLA made the Final Four three times. ... His own future still uncertain, Howland hopes to have secured a college head-coaching job by springtime. "I'm hoping someone will hire me," he said. "Whoever that is, I have no idea."
Howland's career record stands at 398-205, and he'll most certainly be hired somewhere. The level of that job remains to be seen. With Howland, it's all about fit. I could realistically see him landing anywhere from a solid major program togoing small-school and reverting back to his days at Northern Arizona.
When he does get back into the profession, a revival is of course possible. Of all people, look at Lavin, who took many years off after getting booted from UCLA. Now at St. John's, he's already made one NCAA tournament and arguably has the most talented team in the Big East this season.
Duke's much-anticipated Allen-Duval connection is off to a hot start already

It'll be Miller vs. Miller if the Hoosiers and Wildcats can finalize the proposed series

Wisconsin's Ethan Happ has made only two jumpers in his career, but is adding a long-range...
The deal is part of long-awaited $2.64 billion contract; CBS' hoops-only commitment runs through...

If Wichita State guard Landry Shamet has a breakout season, he could leave early for the N...

Athletic big man finished 3-day trip to Durham, N.C., with trips to USC, Arizona coming up