Ben Howland still being available is weird (but good for Oregon State)
The idea that former UCLA coach Ben Howland is still unemployed is surprising. Will Oregon State take advantage of that fact when replacing Craig Robinson.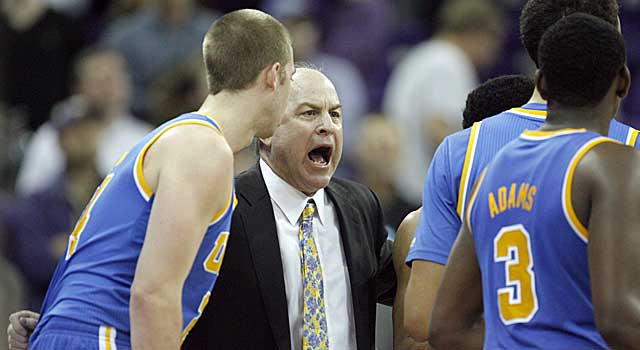 Latest in hoops: NBA Early Entries | Latest News | Coaching Changes
Ben Howland was minutes from entering a physical rehabilitation appointment for a broken arm suffered in a biking accident when we connected last week. So our conversation was brief. But it was clear the former UCLA coach had sort of resigned himself to the reality that the coaching carousel was seemingly stopping, and that it appeared he would be left out.
Which was never the plan, by the way.
Howland made it clear, both publicly and privately, over the past year that he didn't like the way his time at UCLA ended, and that his desire was to get back into coaching as soon as possible. He wanted the Marquette job when it opened but would've probably taken Tennessee or Missouri, had either been offered. Problem is, neither was offered. So here Howland was, middle of last week, wondering if he should've tried to get involved with a lesser job, maybe even the Washington State job that Ernie Kent landed last month.
And that's why Monday must've been great for Howland -- because it came with news that offered new hope.
As you surely know by now, Oregon State fired Craig Robinson more than six weeks following the Beavers' final game. So the timing is unusual. But the timing could double as a blessing for Howland because the surprising development has restarted the coaching carousel at the high-major level, and common sense suggests he'll be involved. Or, at least, common sense suggests Howland should be involved. On the other hand, common sense suggested Howland should've also been more seriously involved at Marquette, Tennessee and Missouri given that he's quite literally one of college basketball's most accomplished coaches of the past decade, which means common sense has been abandoned, on some level, this offseason, and it's difficult to conclude anything other than that Howland has a serious public relations problem that's inexplicably soured his reputation.
I realized this a few weeks ago when I went on two radio stations to discuss the coaching carousel. Both hosts asked if I was surprised Howland hadn't already been hired, and, both times, I told them I was. Then one of the hosts asked if I believed the reason Howland remained unemployed was because of "the way things ended at UCLA," at which point I explained in great detail that things actually ended pretty well at UCLA.
Because, you know, they did.
There's no denying that Howland's program slipped after making three straight Final Fours from 2006 to 2008 because of early departures to the NBA Draft, recruiting misses and transfers. But "the way things ended at UCLA" was with the 2013 Pac-12 title made possible by a top-five recruiting class that had the Bruins playing faster than any other Pac-12 team, meaning Howland, in his final year at UCLA, alleviated most of the important questions that had haunted him in recent years, and those important questions were these questions:
Can Howland still recruit big?
Can Howland still win significantly?
Can Howland play an appealing style?
I admit, those were fair questions at one time. But, again, Howland's final recruiting class was one of the nation's best, and his final season was spent playing faster than any other Pac-12 school while winning the Pac-12's regular-season championship. Additionally, it should be noted, that three of Howland's recruits (Jordan Adams, Kyle Anderson, Norman Powell) were the three leading scorers on the UCLA team that Steve Alford just took to the Sweet 16. So things were actually looking up at UCLA when athletic director Dan Guerrero decided to make a change, and -- just so we're clear -- that's fine. Perhaps the program needed a so-called breath of fresh air. Whatever. My only point is this: Howland getting fired at UCLA should not be presented as evidence that things had fallen apart on him at UCLA. But, for whatever reason, it often is. And that Sports Illustrated article filed a year earlier that portrayed the Bruins in a poor light certainly has hurt Howland's candidacy, too.
Is Oregon State wise enough to see through all of the BS?
Who knows?
And, in fairness, it's not like Howland is the only interesting candidate. Arizona assistant Damon Stoudamire also makes a lot of sense given that he's a Portland native with strong Nike ties, and that might be the way the school ultimately goes. We'll see. But it would be silly for Oregon State to not at least explore the possibility of bringing Howland back into the Pac-12 considering he won four Pac-12 titles in his final eight years at UCLA, including his last. More to the point, it would be foolish for Oregon State to not at least consider hiring the most accomplished coach it could possibly hire -- one who also happens to be dying to get back in and prove that he never should've been out.
Discussing the one-and-done rule -- plus Michael Porter Jr.'s injury and Billy Preston's c...

Even though he's scheduled to graduate in December, the NCAA still won't let Hayes play

The Wisconsin resident wasn't happy with how the Musketeers handled their win in Madison
There's a change to the way teams are picked and selected for the NCAA Tournament

Gamecocks coach Dawn Staley says the she only wants an invite to the NCAA Tournament

Goodwin is making the most of his chance at Florida Gulf Coast after he was forced to leave...