Better luck next year: 10 teams that could reach Sweet 16 in '14
Here is a look at 10 teams that were bounced early this year but could take the next step next season in the NCAA tournament.
• 3 min read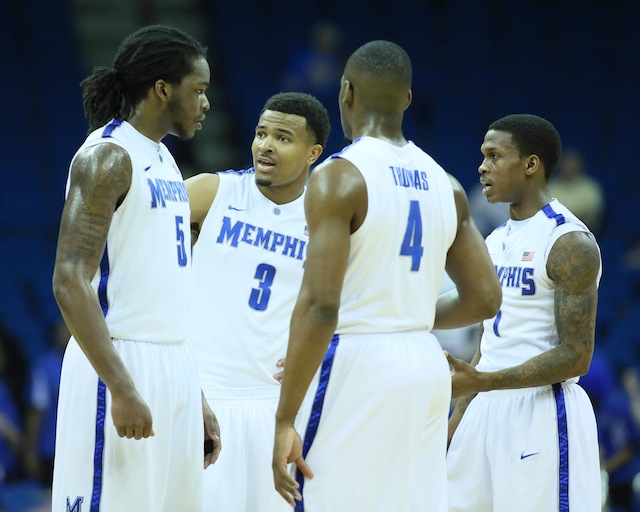 Several teams suffered tough losses during the first weekend of the NCAA tournament -- but it isn't all bad for some of them.
Eight of the 16 teams remaining in the field were already home by this time last season, and only seven of last year's Sweet 16 reached the second weekend in 2011. With the unpredictability in personnel and overall parity across the country, we're not seeing new teams break into the Sweet 16 every year.
A year from now, the second-weekend teams could look very different. Here are several squads who were bounced early this year but could be around at this point next season.
Memphis: Josh Pastner broke through and won his first NCAA tournament game this season, and it wouldn't be a surprise to see the Tigers take the next step a year from now. Joe Jackson and Geron Johnson are in the backcourt, and Adonis Thomas, Shaq Goodwin and Tarik Black form the frontcourt (if everyone stays). What has everyone excited, though, is the top-three recruiting class led by Kuran Iverson, Nick King and Austin Nichols.
New Mexico: Everyone loved to hate on the Lobos this season, but that will have to be more limited a year from now. They won 29 games this season, and rotation guys Chad Adams and Jamal Fenton are the only ones gone. Tony Snell is exploring his NBA options, too, but he hasn't made a final decision. Kendall Williams will enjoy having sharp-shooting freshman Bryce Alford on the wing.
North Carolina: Expect the Tar Heels to compete for the ACC title again next season. Dexter Strickland will be gone, and James Michael McAdoo will undoubtedly flirt with the NBA. But there is still plenty of talent. P.J. Hairston and Reggie Bullock are on the wings, and Marcus Paige is running the show. Down low, returnees Brice Johnson and Joel James will team with frosh Isaiah Hicks and Kennedy Meeks.
Boise State: One of the last teams in the NCAA tournament this season, the Broncos shouldn't be sweating as much next Selection Sunday. Big man Kenny Buckner is the only one gone, and Leon Rice brings back his outstanding perimeter trio of Derrick Marks, Anthony Drmic and Jeff Elorriaga. Marks and Drmic are one of the best scoring duos around.
Colorado: The Buffaloes were a hard team to figure out this season, but they only lose Sabatino Chen for next year. Askia Booker and Spencer Dinwiddie will return at guard, and Andre Roberson and Josh Scott are back in the frontcourt. Xavier Johnson should be ready for a big step forward, and Tre'Shaun Fletcher and Jaron Hopkins lead the incoming freshmen.
California: Even if Allen Crabbe goes pro, Mike Montgomery still has a solid team. Justin Cobbs will be back on the perimeter, and guard Tyrone Wallace could take a major step forward. Incoming freshman Jabari Bird should be a solid replacement for Crabbe. The frontcourt duo of Richard Solomon and David Kravish have shown flashes of their potential.
Villanova: The Wildcats weren't supposed to beat Louisville, Syracuse, Georgetown and Marquette this season -- and they could be better a year from now. Ryan Arcidiacono is back at the point, and he has weapons at his disposal with James Bell, Darrun Hilliard and JayVaughn Pinkston. Can Daniel Ochefu replace Mouphtaou Yarou on a full-time basis?
Georgetown : Despite the expected loss of Otto Porter, the Hoyas will still have pieces -- especially if Greg Whittington returns from academic suspension. Markel Starks, Jabril Trawick and D'Vauntes Smith-Rivera are all back on the perimeter, and Nate Lubick and Mikael Hopkins return up front. Look for freshman Reggie Cameron to make an impact.
UNLV: The Runnin' Rebels were filled with talent this season, and next year won't be different -- despite the losses of Anthony Bennett, Anthony Marshall and Justin Hawkins. Katin Reinhardt and Bryce Dejean-Jones are back on the wings, and Mike Moser should return to form. The key could be newcomers Christian Wood, Jelan Kendrick and JC point guard Deville Smith.
UCLA: A lot of this depends on which players are actually on the team next season --and who takes over as the head coach. Shabazz Muhammad is expected to go pro, but Larry Drew II was the lone senior. Kyle Anderson (if he stays) and Jordan Adams could form a very duo on the perimeter, and there is a solid recruiting class on the way (if they indeed come to Westwood).
Others: If Doug McDermott (Creighton), Kelly Olynyk (Gonzaga) and Marcus Smart (Oklahoma State), Sean Kilpatrick (Cincinnati) return to school, those teams would immediately move onto this list.
Either the Shockers or the Irish will lose for the first time in Wednesday's Maui Invitational...

Five-star recruit Brian Bowen won't play for the Cardinals, but is free to transfer

No. 12 Cincinnati will face Wyoming in the championship game
Trump is once again looking for gratitude from the outspoken father of LiAngelo and Lonzo

Missouri freshman will miss the season and likely never play another minute of college bal...

College basketball fans, especially those at Missouri, are robbed of the excitement Porter...