Big 12 tournament: Preview, prediction, TV info
Kansas was the favorite to win the Big 12 tournament -- but with Joel Embiid out, can someone dethrone the Jayhawks?
• 3 min read
Latest in hoops: Top 25 (and one) | Bracketology | Bubble Watch
What: Big 12 championship.
When: March 12-15.
Where: Sprint Center, Kansas City.
Bracket: View tournament field here.
TV: First round on ESPN3, Quarterfinals on ESPN2 or ESPN3, Semifinals on ESPNU or ESPN3. Championship game on ESPN (March 15, 8 p.m. ET).
Last year's champ: Kansas (31-6, No. 1 seed).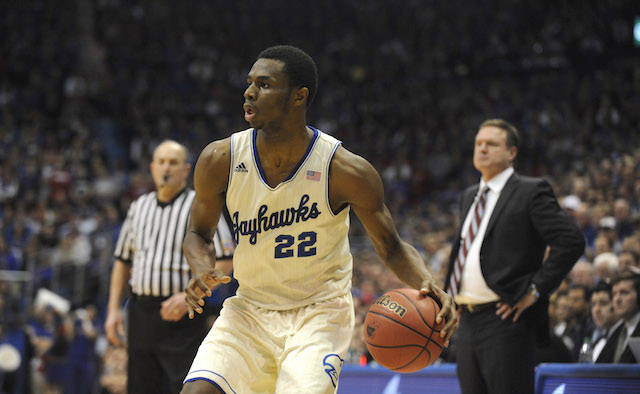 What matters: For the 10th straight season, Kansas won at least a share of the Big 12 regular-season title. The Jayhawks rode three freshman starters and improved point guard play from Naadir Tharpe to a 14-4 conference record. They have lost two of three to end the season, and we'll get to that in a little bit.
There are a plethora of teams chasing Kansas. Top to bottom, the Big 12 might have been the best conference in the country -- and the competitiveness in spots two through eight is a major reason. The two hottest teams in the league are not even in the top half of the bracket. Baylor has seven of eight to end the regular season, clearly moving off the bubble. Oklahoma State had won four in a row before falling in overtime in the season finale, but with Marcus Smart back from suspension, the Cowboys are a threat.
Iowa State could have the pieces to also make a run in the conference tournament. The Cyclones love to exploit personnel mismatches, and Fred Hoiberg is terrific at exploiting matchup problems defensively. Can they win consistently away from home, though? Oklahoma, Kansas State and Texas are also looking to gain momentum entering the NCAA Tournament.
The biggest sleeper in the tournament will be West Virginia, which is coming off an impressive home win over Kansas. The Mountaineers have beaten the Jayhawks, Iowa State, Kansas State, Oklahoma and Baylor during the regular season.
Who matters: The biggest personnel question entering the Big 12 tournament will be Joel Embiid. Kansas' freshman center is out for the tournament with a back injury, and is also doubtful until at least the Sweet 16 of the NCAA Tournament. How much will that impact the Jayhawks? Embiid is a game-changer at both ends of the floor, and Kansas' defense clearly took a hit without him against West Virginia.
Andrew Wiggins will obviously need to carry the load for Kansas in the coming week. He scored 41 points in season finale, showing signs that he's ready to take his game to the next level and be a go-to-guy.
Iowa State has a trio that causes nightmares for opponents. Melvin Ejim and DeAndre Kane were both top candidates for Big 12 Player of the Year honors, and Georges Niang creates matchup issues due to his ability to score inside and out.
Marcus Smart entered the season as one of the leading options for National Player of the Year, but shooting issues, flopping and his suspension dropped him from the conversation. However, he's reverting to his early-season and freshman season form lately. Since returning from suspension, Smart is averaging 19.8 points, 5.2 rebounds, 6.4 assists and 4.4 steals in five games.
Fun fact: 67.8 percent. More than two-thirds of the Big 12 conference games ended with the home team winning. That is the fourth-highest total of any conference in the country, according to KenPom. With the conference tournament on a neutral court, it will be interesting to see how teams change. Kansas lost four road games, Oklahoma lost four road games, Iowa State lost six road games, Texas lost six road games, and Kansas State lost seven road games. These teams are vulnerable away from home.

Prediction: Before the Embiid news, I would have undoubtedly taken Kansas. With the freshman center out for the tournament, though, I'm going to pick . . . Kansas. Yes, the loss of Embiid hurts, but it's still hard to trust the other main contenders away from home. Moreover, the biggest threats to Kansas aren't loaded up front. Oklahoma, Iowa State, Oklahoma State -- none of those three have consistent post players. Kansas still has enough talent to beat good teams even without Embiid. The NCAA Tournament might be a different story, but I like the Jayhawks to take home the Big 12's automatic bid. 
KU can clinch at least a share of its 14th straight Big 12 title with a win Saturday over Texas...

Larry Hartstein is a perfect 5-0 picking for or against the Utes and locked in a play for...

Huggins wasn't fined but was reprimanded after pointing out the disparity in free throws in...
UCLA travels to fellow bubbler Utah and Washington also hits the road in Pac-12 bubble act...

Bagley's knee problem is worth worrying about, but Allen has suddenly found his All-American...

The university blasted the MEAC for 'vindictive sanctions' in a lengthy news release