Big West tournament: Preview, prediction, TV info
UC-Irvine and UC-Santa Barbara have gone back and forth all season; will they meet for the Big West title?
• 2 min read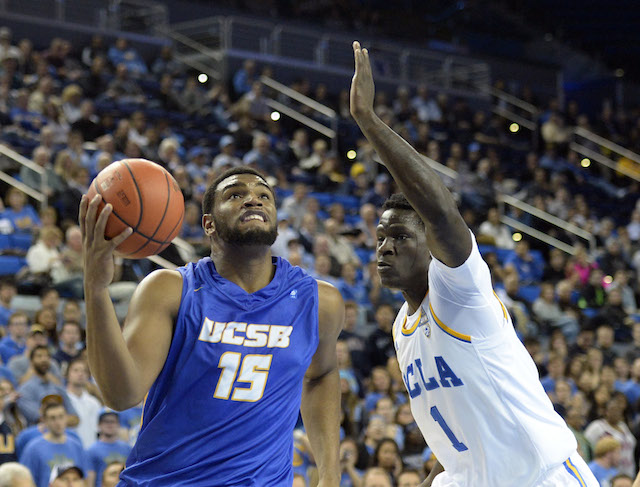 Latest in hoops: Top 25 (and one) | Bracketology | Bubble Watch
What: Big West Conference championship.
When: March 13-15.
Where: Honda Center in Anaheim, Calif.
Bracket: View tournament field here.
TV: Championship game on ESPN2 (March 15, 10:30 p.m.). Quarterfinals on FOX Sports Prime Ticket, semifinals on ESPN3 and ESPNU.
Last year's champ: Pacific (22-13, No. 15 seed)
What matters: This was a two-team race at the top of the league for most of the season, with UC-Irvine edging out UC-Santa Barbara by one game. Since a two-game slip-up in late January, Irvine ended the regular season with wins in nine of its last 10 games. Meanwhile, Santa Barbara falling at Irvine by 11 in late February essentially clinched the title for the Anteaters. Outside of those two, the other two best options are Long Beach State and Hawaii. LBSU was swept by both Irvine and Santa Barbara, but lost only two other games during the Big West reuglar season. Hawaii stumbled down the stretch, dropping three of its final five games to fall to the No. 4 seed.
Who matters: UC-Irvine has one of the best defenses in the country, leading the nation in both 2-point percentage defense and effective defense. The Anteaters are balanced on the offensive end, with three double-figure scorers. Luke Nelson (11.8 ppg) and Chris McNealy (11.4 ppg) lead the way, while 7-foot-6 Mamadou Ndiaye anchors the interior. The best player in the league was clearly Alan Williams (21.6 ppg, 11.6 rpg), one of the most productive players in the country. He had a couple of inconsistent games down the stretch, but Williams is an absolutely dominant performer inside. Long Beach State's perimeter duo of Mike Caffey (16.2 ppg, 4.3 apg) and Tyler Lamb (15.5 ppg) are capable of keeping the 49ers in the game against anyone. Hawaii's Christian Standhardinger (17.7 ppg, 8.4 rpg) is another big-time player.
Fun fact: 30.6 percent. Nearly a third of the Big West's conference games were decided by four points or fewer or in overtime -- the highest percentage in the country. Although Irvine and Santa Barbara are the favorites entering the conference tournament, it wouldn't be a surprise to see close games throughout the week. Almost half of Irvine's league wins were decided by single-digits, while Santa Barbara had four of its 12 wins decided by single-digits.
Prediction: UC-Irvine takes down UC-Santa Barbara in the championship game. These were the two best teams in the Big West in the regular season, and I think they will also reach the championship game. Irvine isn't as good offensively, but the Anteaters have Mamadou Ndiaye and the best 2-point defense in the country -- they will be able to slow down Alan Williams when it matters. Moreover, they have a variety of weapons on the offensive end and can make plays inside the arc. Russell Turner will be a hot name in coaching circles this spring, and an NCAA Tournament appearance will only cement that idea.
Cal's form wasn't pretty, but when it works, it works

Josh Nagel has his finger on the pulse of Purdue basketball and locked in a play for Tuesd...

Gary Parrish and Matt Norlander discuss the latest in college basketball
The Mountaineers' coach surprised Self with a pullover -- and Self actually wore it during...

After beating West Virginia, the Jayhawks are on a four-game winning streak and jumped to No....

Oklahoma's basketball phenom has won the national Freshman of the Week award again