Billy Baron hopes to end up-and-down journey on a high note
Billy Baron left Virginia to play for his father at Rhode Island. Then his father got fired. And Baron followed him to Canisius. And he's now excelling.
• 10 min read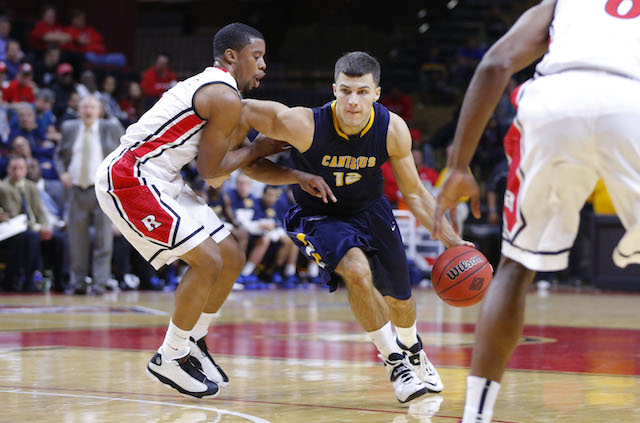 The scouting report on Canisius guard Billy Baron this season was fairly simple: he likes to defer in the first half, get other players involved, and then take over in the second half if necessary.
That report seemingly went out the window beginning against Iona last month, when the 6-foot-2 Baron had 17 points and five assists in the opening 20 minutes. He continued that trend against Marist, going for 25 points in the first half.
He still reverts to his early-season form at times, opting to be more of a distributor as the game gets going. After going off against Marist, he combined for just nine first-half points against Quinnipiac and Fairfield."It's the flow of the game," Baron said. "Getting my teammates into the game, I know I'm going to need them. It's extremely important. Frees up me, frees up my game, because the defense is worried about them."
In other words, he's willing to adjust if the situation calls for it.
Plans change.
Baron might know that better than anyone.
**
It took one game for Baron to realize he made a mistake.
His debut for Virginia on Nov. 12, 2010 was terrific. Baron knocked down five 3-pointers and finished with 19 points in a win over William & Mary, and looked well on his way to a fairly successful career in Charlottesville. He went on to score 14 points in his second game, and saw at least 21 minutes in each of his first four games.
But Baron's focus was elsewhere. After practices and games, he was rushing to the closest television -- he wanted to watch Rhode Island, coached by his father, Jim, and starring his older brother, Jimmy. The Rams opened the 2010-11 season with a road game at Pittsburgh, and that's all the son cared about.
"I was so focused on what they were doing; my heart wasn't really in it," Baron said. "I had 19 points, but I was like, not that happy or satisfied. Right there, I knew. After my first game, I knew something was wrong. I shouldn't be feeling this way."
Virginia was the biggest offer Baron had coming out of prep school at Worcester Academy (Mass.), and a step up to what he had when he'd graduated Bishop Hendricken High School (R.I.) the year before. It was a similar story to that of his brother Jimmy, who is now playing professionally over in Italy.
Like his younger brother, Jimmy didn't have too many scholarship offers heading into his prep season at Worcester. Unlike Billy, though, Jimmy opted to play for his father at Rhode Island.
"My only offer, other than the one I got at the family dinner table, was from [Division II] Assumption College," Jimmy Baron said from Italy.
Billy didn't follow in his brother's footsteps, choosing to go to the ACC and play for Tony Bennett. His father supported his decision, and his older brother pushed for the Cavaliers. Jimmy wanted his younger brother to play professionally, and the best way to do that was suit up for Virginia.
"It was his choice," Jim Baron said. "I don't want to [dissuade] anything that my kids want to do. I wanted to be open with him about the whole scenario. The ACC was a great level for what he achieved in high school. Having coach Bennett and his staff recruit him, it was tremendous."
Soon though, he found the experience wasn't going well. Baron was happy with Bennett and his teammates, but he wasn't enjoying himself. His minutes had decreased as the season progressed, and he needed a change. And in late January of his freshman year, after 17 games with Virginia (and three more where he didn't receive a minute), Baron left.
Predictably, Baron joined his family. He chose Rhode Island over Stanford, with the opportunity to play for his father back in his home state too enticing to pass up. A more up-tempo style of play was attractive for Baron too. When Rhode Island played at Richmond while Baron was still at Virginia, he went and watched his father's team. The Rams shot 27 3-pointers and scored 78 points. That certainly suited Baron.
"I don't really regret it," Baron said of transferring from Virginia. "I learned a lot transferring. It sets a whole new bar, it's motivation for you."
He had to sit out the first semester at Rhode Island, but started 14 of his final 20 games for the Rams in 2011-12. Baron averaged 13.0 points and 2.6 assists, scoring in double-figures on 13 separate occasions.
Seemingly more comfortable, Baron was poised for a big junior season under his father at Rhode Island.
That wouldn't happen.
Jim Baron was fired as the head coach of the Rams one day after their 2011-12 season ended.
**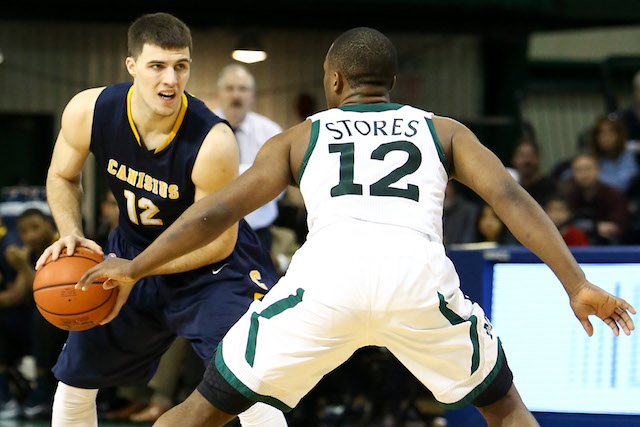 Dan Hurley was introduced as the head coach of Rhode Island on April 13, 2012. His first day on the job, Hurley met with Billy Baron in his office, the same office Baron had helped his father clean just two weeks earlier. He had sat with his father in the car, crying after the news of him being fired broke that Sunday morning. He had walked around campus in the ensuing weeks, going from class to class, at the school that just fired his father.
It didn't take long for Baron to realize he needed another change.
"I was just like, ugh, not again," Baron said. "I just couldn't do it. I had to get out of there."
Baron didn't really talk to anyone while he pondered his next move. Providence and Purdue got involved, hoping to get Baron as a transfer. He considered going elsewhere, getting immediate playing time and a fresh start. He considered following his father to Canisius, which had hired Jim Baron in early April.
But Billy wouldn't let anyone convince him where to go next.
"Billy was taken by surprise," Jimmy Baron said. "It was the only time my father has been fired from any school in his career, so I think it was difficult for him to understand. Also, he was in the middle of it all."
"It was hard. I felt I let him down, and I think he felt like me down," Jim Baron added. "When I look back on it, it was a real special moment."
After clearing his head for a couple weeks, Billy Baron decided his next step was going to be in the MAAC.
"I felt like I wanted to finish this thing off with my father," he said.
And it's worked out as well as anyone could have hoped. Canisius won five games the season before the Baron duo arrived on campus -- the Golden Griffins won 20 last season, when Baron emerged as one of the stars of the mid-major world. He was named to the All-MAAC first team -- the first Canisius player to earn that honor since 2000 -- averaged 17.2 points last season, and also led the MAAC with 5.0 assists per game.
He's been even better in the 2013-14 season, ranking fifth nationally at 23.6 points. Baron has hit the 30-point mark on five separate occasions, including two 38-point performances. He's also averaging nearly five rebounds and five assists. Hopes remain high for the Golden Griffins, who are 16-9 and second in the MAAC standings with a 10-4 record.
"Last year I was so emotional. I was trying to get back at my past, I was so tired," Baron said. "Now I'm focused on myself, I can't dwell on the past. I've been more disciplined this year. I'm looking forward, and my brother and father helping me."
The immediate future is the MAAC tournament and potentially the NCAA tournament, but what lies ahead for Baron after that is undetermined.
**
Jimmy Baron has notebooks detailing what his younger brother is doing wrong on the court.
He too was a big-time scorer at the college level, averaging 17.4 points and shooting 45.4 percent from 3-point range as a senior at Rhode Island. He is now playing for Virtus Roma in Italy -- but he wants better for his younger brother. He wants Billy to make the NBA.
"Since I have been doing this at the professional level for five years, I see things differently than the college player does," Jimmy Baron said. "I do take notes and make highlights with graphics of his games. I think sometimes it helps, but I also respect the way he sees things."
After a win in January, Billy Baron didn't want to look at his phone. He knew there would be text messages from his older brother, telling him what he could have done better and how he should have done this or that. On that particular night, Baron had 28 points, eight assists, five 3-pointers -- and Canisius picked up a road win over the best team in the league.
But Jimmy Baron thought his brother could have continued to utilize the hot-hand in the first half, when he hit three 3-pointers in a row and scored nine points in about one minute.
"I love it," said Billy. "Now I can handle it. He critiques everything I do. He wants me to be better than him; he wants me to make the NBA," Billy Baron said. "I sat there with him when he was on the cusp of it, and he didn't make it (Jimmy was briefly the property of the Washington Wizards before being released). Ever since then, he's been pushing me to make the league. I really do cherish it. It's a healthy rivalry."
Their father thinks Jimmy essentially laid out the blueprint for Billy on how hard he has to work and how committed he has to be if he wants to play in the NBA.
"I think it's shown him a tremendous amount," Jim Baron said. "He saw Jimmy being on a mission and being a great player. I think it's extremely motivating. When you have siblings, everything you do is competitive."
It's definitely rubbed off on Billy. He is extremely disciplined with what he eats, constantly in the gym, always taking care of his body. When other college kids are going to McDonald's, Baron has to pass.
Being at a MAAC school, he realizes he needs every edge possible to get drafted before other prospects from bigger conferences and basketball powerhouses.
"At Canisius, I have a small window to get to the NBA," Baron said. "That's my dream. I'm going to try my hardest. People think, I transferred twice, I can't cut it at the ACC level, I can't cut it at the A-10 level. Well, all right. That's why I'm going to try everything I can do to take the next step forward."
NBA scouts have been in consistently to get a first-hand look at Baron, and while he isn't in any mock drafts just yet, he has played himself onto the radar.
"He's obviously worked his way into the evaluation process of most NBA offices," one scout said. "When you are a top-five scorer in the country and are doing it with efficient numbers, it goes without saying."
That's a few months away, though. For now, there is still a conference championship to win.
**
Billy Baron hopes his story ends with tears.
Not the kind he had when he was at Virginia, and not the kind he had when his father was fired from Rhode Island.
The kind that would come with helping lead Canisius to the NCAA tournament for the first time in 18 years.
"If we made the NCAA tournament, I would cry like a baby right on the court," Baron said, choking up. "It would mean so much to me and my father to go from Virginia to Rhode Island, to him getting fired, to here. It's emotional. To just try and cut down the nets and get to March, I can't put it in words. I really can't."
It didn't seem possible back when Billy chose Virginia instead of playing for his father at Rhode Island, but four years later, the two are reunited and cherishing their final weeks together.
"It feels fabulous," Jim Baron said. "When you start rehashing the experiences of what transpired, it's been very, very special to be able to do that. I probably will not realize what it's all about until it's over with. But I'll have a lifetime to enjoy the relationship that we did have. I treasure every minute of it. It's not where you start, it's where you finish and how you finish."
The Barons are hoping it comes under the bright lights of the Big Dance.
"It would be like the storybook ending," Billy said.
And if it doesn't, Billy Baron will adjust. He always does.
CBS Sports HQ Daily Newsletter
Get the best highlights and stories - yeah, just the good stuff handpicked by our team to start your day.
Please check the opt-in box to acknowledge that you would like to subscribe.
Thanks for signing up!
Keep an eye on your inbox for the latest sports news.
Sorry!
There was an error processing your subscription.
Duke, UNC, Kansas, Nevada and Wisconsin all placed players on the preseason All-America first...

The CBS Sports Classic and Champions Classic are among the best events in 2018

The Cavaliers got some good news for the upcoming season
Calipari believes only a small portion of elite HS prospects will take the G League route

No. 3 Gonzaga and No. 4 Duke are behind the Jayhawks and Wildcats to start the season

Porter returned for a sophomore season with hopes of developing into a lottery pick for the...