Bracket Voodoo: Best early bracket pick is Arizona
First step in claiming your bracket pool prize: pick the correct winner. Bracketvoodoo.com's Brad Null says as of right now, Arizona is the best choice.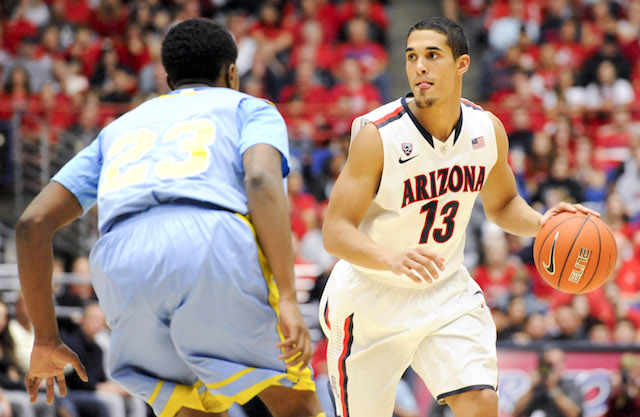 In the last couple of weeks I've been giving you advice about your March Madness brackets, but it has been missing something -- namely, the bracket itself.
This is for good reason.  There are still 10 days before the bracket is announced. But what the heck ... thanks to Jerry Palm, we already have a bracket. So let's go ahead and dive in, predicting who is going to win the tournament using Jerry's projected bracket from Tuesday, March 4.
We analyzed this bracket using the bracketvoodoo.com prediction engine, which powers our optimized brackets by simulating the entire tournament millions of times. If the tournament started today, our top picks to win the NCAA Men's Basketball Tournament would be:

These are preliminary numbers, and a lot can and will change over the next 10 days. (Don't worry; we'll keep you updated.) But as of now we have the third-ranked Wildcats with a decided edge, and in fact we see their chances of winning as more than twice that of any other team.  As for last year's champion, Louisville, we give them a 5.8 percent chance of repeating; actually pretty good for a No. 6 seed (odds that may come into play for some of our optimized brackets).
By contrast, here are the breakeven probabilities taken from the most recent odds on vegasinsider.com. (Note: These aren't actual probabilities, since the entire sum adds up to around 150 percent -- that's how the casinos make their money!)

What does this mean? The expected return is the average return on your investment if you bet one of these lines. So a negative value means you should expect to lose money and a positive value means you would win (in the long run). So, if you find yourself in a Vegas sportsbook and want to bet on a team to win it all (and can get these odds), your best bets would be Arizona or Villanova. Stay away from any of the other favorites. In particular, the market is a lot higher on Florida, Kansas, and Wichita State than we are. (This is especially interesting since Florida was a team we really liked last year -- just goes to show that in picking brackets, it isn't just how good the teams are, but how good everyone else thinks the teams are.)
The 18.3 percent chance for Arizona to cut down the nets isn't far from the 18.6 percent chance we calculated for favorite -- and eventual champion -- Louisville to win last year. But what is a bit of a change is how much weaker the next few favorites are this year. Last year, our second through fourth picks to win the championship had a combined 33 percent chance of winning. This year Florida, Villanova and Duke combine for just a 23 percent chance.
The 2012 favorite, Kentucky, had a 24 percent chance of winning it all (which it did). However, though Kentucky had a significantly higher overall probability of winning than this year's favorite, in one sense Kentucky's edge over the other top seeds wasn't as big as Arizona's.  In 2012, the next two most likely champions had a combined 26 percent chance of winning, while this year's have only a 16 percent combined chance of winning. In fact, relative to this year, 2012 was extremely top heavy, with the top 3 favorites having a combined 50 percent chance to win it all versus 35 percent this season.
So what does this mean for your bracket? It means get ready for another wild ride. While seeing two No. 4 seeds and a No. 9 seed in the Final Four was a bit unexpected last year, this year it wouldn't be that surprising. This is also an early peek at some good lower seeded picks to win your pool -- at this stage Duke, Louisville, and any strong teams that end up in Wichita State's region all look to be potentially sound picks to make it to the Final Four. (Of course we won't have actual recommendations until the official bracket is out -- a lot can change in the next 10 days!)
This also means it will likely be even harder than I originally calculated to pick a perfect bracket and win Warren Buffett's $1 billion. Due to the deeper field this year (which means fewer heavy favorites, especially in the later rounds), if the tournament started today, the best chances you could give yourself to pick a perfect bracket would be one in 350 billion!
----------------

Brad Null is the founder of bracketvoodoo.com, the world's most advanced NCAA Tournament bracket analysis and optimization engine. Try it out now at bracketvoodoo.com
The selection committee will again reveal what it is thinking ahead of Selection Sunday

Teams not in major conferences with a shot at an at-large NCAA Tournament bids

The nation's No. 3 player will commit Saturday and here's his impact on each of his finali...
Gary Parrish and Matt Norlander also preview the weekend and Zion Williamson's announcemen...

The Sun Devils started 12-0, but since then are 2-4 after Wednesday's loss to Stanford

Andrew Jones is Texas' second leading scorer