Bracket Voodoo: How to dominate during March Madness
Whether you're playing in Warren Buffett's billion dollar bracket or in another March Madness competition, filling out lots of brackets with different results will improve your chances of winning.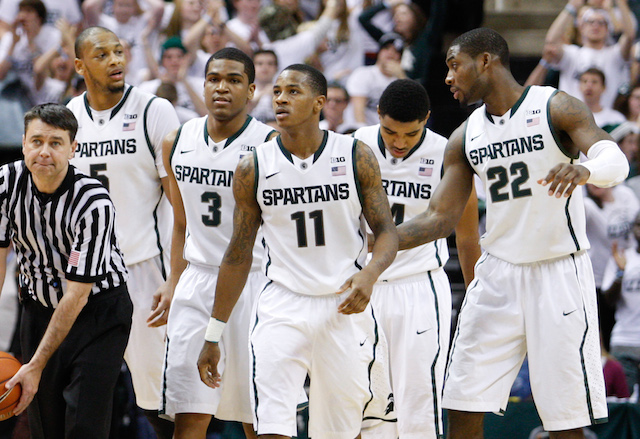 If you're like me, the anticipation of March Madness and its all-consuming highs and lows -- from Selection Sunday to "One Shining Moment" -- is the grown-up version of waiting for Christmas morning.  If you've ever called in sick on the first Thursday of the tournament and then spent it truly sick with the madness, praying that this year Santa brings you what you've wanted and that your teams and your bracket go further than ever before, you know what I'm talking about.
I think this is what they call "good stress" -- juggling the remote between four games at a time, a plate of nachos on your chest, phone buzzing as brackets get busted all over your pool, the dizzy joy of your picks pulling through until that one crushing defeat and the text from your brother-in-law that simply reads "Sorry for your loss." It's all good, until it fades.
Yes, much like Christmas morning, the highs and hopes of the Madness come and go all too quickly. Over half of March Madness brackets are busted on the first weekend (we ran the numbers). That's a hard fact to live with. But don't give up hope. Let's make your euphoria last a little longer this year. And make this year be the year that you get to text your condolences to all of your buddies as you dominate March Madness.
To do that, my number one tip for you is this: Enter as many pools as you possibly can.
Entering a variety of pools serves several benefits. First and foremost, it offers you more chances of winning. At bracketvoodoo.com, we've put considerable effort into developing the best algorithms to optimize any bracket for any pool, and we've had a lot of success.  But we can only do so much. Let's say you are in an office pool with 20 participants.  In that situation, bracketvoodoo.com can triple your odds of winning. Sound good? Well, it is -- indeed, it's awesome.  But bear in mind that means taking your 5% chance up to about 15%, so there is still that pesky 85% chance you are going to end up somewhat disappointed.
How do you avoid the pain? The most obvious strategy is to enter more pools.  The more pools you are in, the more chances you have to win. It sounds easy enough, but there is a twist: In order to cut away at that 85% losing percentage, you need to understand that it won't do you any good to enter multiple pools if you just enter the same bracket in each pool. You need to diversify your picks. Entering many and varied pools should help you on this count.
This may be a psychologically tough thing to accept and act on. You may feel you've picked the perfect bracket and you want to put it out there, everywhere. After all, it is a winner. Yet, despite the common misconception among March Madness participants that there is a "perfect bracket" out there, the fact is, any pool you are in may have a different "optimal" bracket, and it may be downright silly to use the same bracket in your office pool as in the CBSSports.com Bracket Challenge. Indeed, picking the right bracket for a pool is not just about predicting who is going to win. Picking the optimal bracket for a particular pool is actually a function of how many people you are competing against, the scoring system you are using, and the potential biases of the people you are competing against.
So, taking all this into account, while you may go with the favorite (Arizona? Florida?) in your 20-person office pool, it might be wise to then pick a strong lower seed (Louisville? Michigan State?) in the 100-person pool your buddy has been organizing for 15 years, and then go way out on a limb for the Billion Dollar Challenge, a la our recommendation from last week. You can use bracketvoodoo.com to play with some picks and figure out the best strategy for any given pool.
To illustrate how size matters and why you might consider entering different sized competitions, this chart shows the average edge bracketvoodoo.com users got in pools of different sizes in 2013. (When we refer to a bracket's edge, we mean how much more likely it is to win than the average bracket.)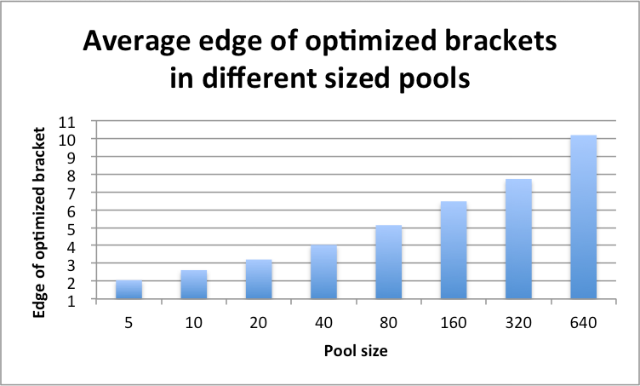 As you can see, this edge gets bigger for bigger pools, and can get even bigger for the really large challenges (remember the 50x edge of our proposed Billion Dollar Bracket last week?). Of course, this greater edge comes with the obvious downside that in these larger pools, you will nonetheless have an even smaller chance of winning (maybe just 5-6% in in the 100 person pool).
But don't despair -- you can generally counteract the shrinking odds by placing more entries in these pools.  And the larger the pool, the more entries you can usually add while still giving each of them a good chance of winning. Using our optimization engine, we ran the numbers for typical 20-person, 100-person, and 1000-person pools, and came up with an optimal set of three entries for each pool.
When we calculated how much additional edge each bracket had over the average Joe's bracket, the results showed that you could enter 3 or more brackets in each of these pools and still be almost twice as likely as the average person to win with each of them. And for the really large pools (like the 1000 person option) all three would be at least five times as likely to win.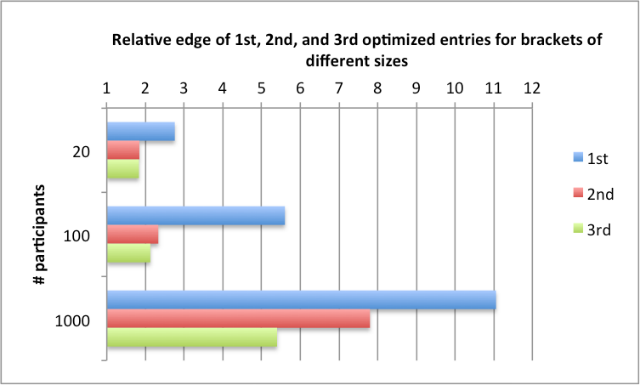 The moral of the story is, play big, play small, play smart, and play a lot. This year, change up your game. Ditch your one standard entry in the office pool and move up to 9 optimized entries in 3 different pools. You can take your chances of coming out on top this March from 5% to around 50% and still be confident that all of your brackets are smart brackets. This is exactly what bracketvoodoo.com's users did in 2013, so join the ranks.  Here's to your most exciting March Madness yet. I hope you got your flu shot. I think you are going to need a sick day. 
----------------

Brad Null is the founder of bracketvoodoo.com, the world's most advanced NCAA Tournament bracket analysis and optimization engine. Try it out now at bracketvoodoo.com
Our advanced computer model simulated Tuesday's Kansas-Oklahoma game 10,000 times

Our advanced computer model simulated Tuesday's Virginia vs. Clemson game 10,000 times

The Sooners and freshman Trae Young try to snap a two-game skid when they face the Jayhawk...
Howard scoring sensation R.J. Cole is our Freshman of the Week

How the late Andrew Smith inspired change and helped save a child

Matt Norlander is on a 14-10 run in college basketball picks and shares his best bets for...