Bracket Voodoo: Take a long look at Louisville, Florida
Bracket Voodoo's Brad Null says Louisville and Florida look better than they did a week ago, while Kansas and Wisconsin saw their stock to win the tournament fall.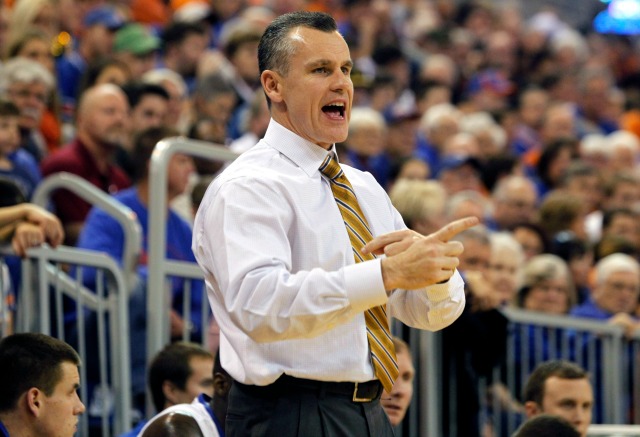 Last week I analyzed Jerry Palm's projected men's NCAA basketball tournament bracket, and at that point Arizona looked like a clear favorite to cut down the nets. But a lot can happen in a week. Arizona lost to Oregon; Kansas looks like it has a bit more to be worried about; and Louisville and Florida reeled off some impressive victories.
So given all of that, we analyzed Jerry Palm's updated projected bracket (through games of Tuesday, March 11th) using the bracketvoodoo.com prediction engine and determined the probability every team would advance to each round.
If the tournament started today, our top picks to win the NCAA Men's Basketball Tournament would be: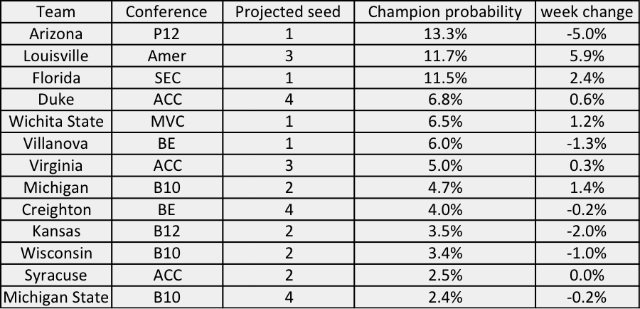 So Arizona, despite remaining number one in our power rankings and the odds-on favorite to win it all, is the big loser here, dropping from an 18.3% chance of winning the whole tournament to 13.3%. Louisville and Florida, behind those impressive victories, got healthy boosts in win probability (and in seeding for Louisville from #6 to #3) and have established themselves as the next two teams to beat, and form a pretty clear top three alongside Arizona.
Another big loser was Kansas, which has been hurt primarily by the update that Joel Embiid is likely to miss considerable time in the NCAA tournament, if not miss the tournament entirely. Thus, Kansas dropped from 8th to 13th in our power rankings and its chances of winning the tournament have dropped from 5.5% to 3.5%.
Also losing ground was Wisconsin. Following its loss to Nebraska, Michigan has now taken over the top spot among Big Ten teams, meaning both of last year's finalists have themselves poised for another deep run in the tournament.
The final big loser was Villanova, which actually moved up from 6th to 5th in the bracketvoodoo.com power rankings, but, through no fault of its own, the Wildcats saw their win probability drop from 7.3% to 6.0%. This is primarily due to the fact that Villanova is now in the same region as Iowa, our most dangerous #9 seed. Due to this factor alone, Villanova's chances of making the Sweet 16 have dropped from 66% to 59%.
Looking a little deeper, the graphs below show how the 5-12 seeds size up in terms of best chances of making a run to Dallas. (Click here for these odds for all teams):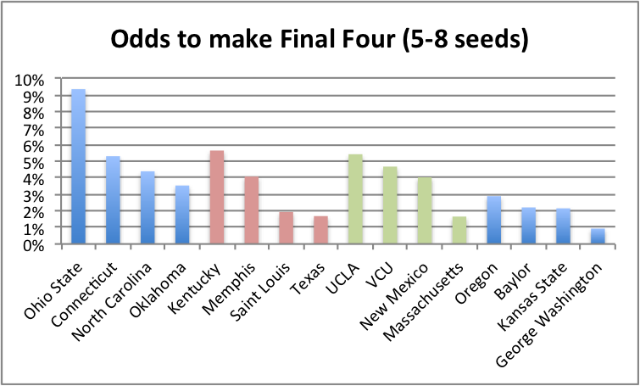 Among the 5-8 seeds, Ohio State is the one team with the clearest edge over other like-seeded teams. Among 9's and 11's, Iowa, Oklahoma State, Pittsburgh and Gonzaga look to have the best shot of surprising folks. Tennessee is our top ranked 12 seed, even though right now the Vols are slated for a First Four game, so watch out for their odds to pop up as well if they get into the field of 64.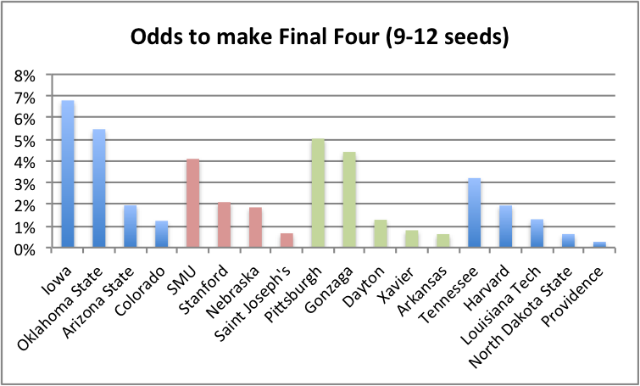 As we've mentioned before, these are preliminary numbers, and a lot can still change over the next four days. At this point, the most impactful changes (barring major news a la the Joel Embiid story) will come from where teams end up in the actual bracket. As we saw from the Villanova example above, where you get seeded, as well as what teams get placed around you can have a significant impact on your March Madness fortunes.
To get a closer look at how much these win probabilities could change based on seeding alone, we evaluated how every team would fare if moved from its current location in Jerry Palm's projected bracket to any other spot either on the same line or one line above or below their current seed. So, for example, we analyzed what Louisville's prospects would be if instead of being the #3 seed in the East region (where Palm has them now) they were slotted as the #3 seed in any other region or as the #2 or #4 seed in any region. The graph below compares our current projections with the best and worst projections (according to this method) for all of our top 12 ranked teams: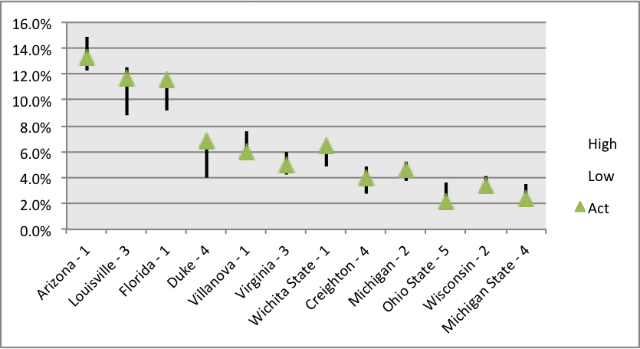 What is most notable here is that Arizona, Louisville, and Florida are a clear top three. Barring bad losses in the conference tournaments, these three will end up as the favorites in the NCAA Tournament. On top of that, Louisville and Florida look to have relatively good projected draws as of now (and Arizona not so much), which is bunching the three teams together even more.
The next six teams are bunched very closely as well, and surprisingly, Duke (with a 4 seed) has its best possible draw. The Blue Devils would rather be where Palm is projecting them now instead of in any other #3 or #4 slot, in large part because the #1 (Wichita State), #2 (Kansas), #3 (Cincinnati), and #5 (Connecticut) seeds around them all have below average ratings relative to their seeds. And on the flip side, as we alluded to above, Villanova has the worst possible projected draw for a #1 seed and would in fact fare better on any other #1 or #2 line.
We'll keep an eye on this, and, more importantly, come Sunday we'll evaluate these odds in the context of the actual bracket.
----------------

Brad Null is the founder of bracketvoodoo.com, the world's most advanced NCAA Tournament bracket analysis and optimization engine. Try it out now at bracketvoodoo.com
The Wildcats were No. 2 two days ago, but a two-game losing streak keeps them out of our r...

No. 2 Arizona and No. 18 Purdue are each 0-2 in the Battle 4 Atlantis, and they'll play each...

It's rare to see two incredibly gifted big men going head to head this early in a college hoops...
The Wildcats are no longer undefeated after losing to NC State

Brey's team overcame a 16-point deficit to top Wichita State in the Maui finale

No. 13 Irish led for only 22 seconds, but a pair of clutch free throws lifted them to a Maui...