Bracket Voodoo: Top picks for your 2014 March Madness bracket
Villanova and UCLA are among the teams users are steering clear of to win the tournament, and Bracket Voodoo's Brad Null says that's where you could position yourself to win.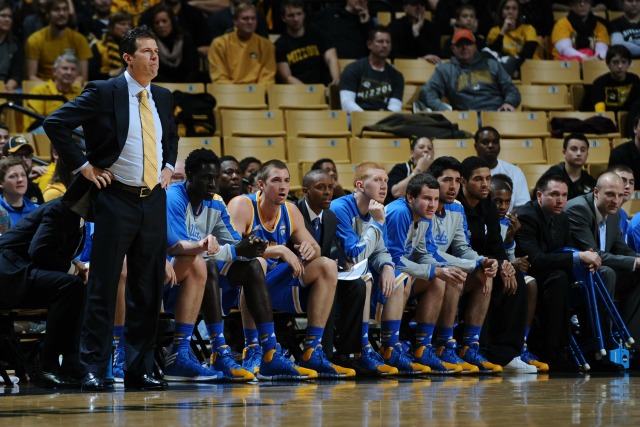 PLAY: Bracket Manager | Bracket Challenge | Round-by- Round | Experts Challenge
Over the last few days, we have been crunching the numbers to determine the best picks for thousands of different March Madness pools. Determining the optimal picks for a particular March Madness pool is a rather complex math problem (even more so to do it for thousands of pools simultaneously), but one fundamental component is identifying undervalued teams --meaning teams that have a much greater chance of winning the tournament than the public believes they do. These sorts of teams pop up again and again in our optimized brackets. Below are six teams the bracketvoodoo.com optimization engine has been spitting out a lot over the last couple of days.

1) Arizona - #1 seed / West Region -- Arizona is our pick as the most likely team to win the 2014 NCAA tournament, with a 14.5% chance, and while this isn't much higher than Florida's 12.3% chance of winning it all, the fact that only about 8% of CBSSports.com's users are picking Arizona versus about 32% backing Florida makes Arizona a much more attractive pick for your bracket.
2) Louisville – #4 seed / Midwest Region -- We've been excitedly proclaiming Louisville as a strong higher seed pick to win the tourney for weeks, but now that the brackets are out we see that despite their high seed, the Cardinals aren't such a dark horse after all. Eight percent of people are picking them to win it all, making them the fourth most popular pick (behind Florida, Arizona, and Michigan State -- another 4 seed). Nonetheless, with a 12.9% chance of actually winning the tourney UL is still a viable pick to win it all, especially in upset-based pools that give you extra points for picking higher seeded teams to win.
3) Villanova - #2 seed / East Region -- Despite the fact that Jerry Palm was projecting them as a #1 seed just a week ago only about 1% of people are picking the Wildcats to win the tournament, much lower than their 5+% chance of actually winning it. This makes Villanova a solid pick to win the tournament or at least make it to the Final Four. For example, picking them to win a pool of 100 people could make your bracket over four times as likely as the average bracket to win your pool.
4) UCLA – #4 seed / South Region -- A lot of noise has been made about Michigan State and Louisville as strong 4-seeds, and CBSSports.com users have backed that up by picking them to make the Final Four 45% and 35% of the time respectively. By contrast, UCLA, the team that just beat Arizona to win the Pac-12 conference tournament, is only getting picked to make it to the Final Four by about 3% of all CBSSports.com users. In contrast, bracketvoodoo.com projects them to have a 9.9% chance of actually making it to Arlington.
5) Pittsburgh - #9 seed / South Region -- Pittsburgh faces the unenviable task of having a looming matchup with Florida to get into the Sweet 16. Nonetheless, despite how much love Florida is getting from CBSSports.com users, it is still a surprise that only 3.5% of them are picking Pittsburgh to knock off Florida. According to our calculations, Pittsburgh actually has a 22% chance of overcoming Florida and marching on to the Regional Semis.
6) Iowa/Tennessee winner - #11 seed / Midwest Region -- This pick has a few things going for it. First, people tend to avoid selecting play-in winners to progress in their tournament brackets. Maybe they don't think a Team called 'Play-in 4' sounds very competitive. Second, the winner of this game gets to play UMass in the Round of 64, a team that both Iowa and Tennessee would be a clear favorite against. Third, they have precedent on their side, having seen VCU make it all the way to the Final Four out of a play-in game just three years ago. This all adds up to a 6% chance that one of these teams will be in the Final Four, yet only one in every 500 CBSSports.com users has projected them there.
While we believe everyone should take a hard look at these teams, how far you should project them in your bracket is a function of the specifics of your pool, most notably your pool's size and scoring system. So while we would recommend that just about everybody pick the Iowa/Tennessee winner to beat UMass as well, picking them to win the whole tournament would only make sense in very large pools or pools with significant upset bonuses.
You can try out the bracketvoodoo.com March Madness optimization engine now to find more top picks and identify which picks work best for your particular bracket. You can also enter your top picks in our Bracket Analyzer and learn your chances of winning and some additional advice on how to make your bracket better.
----------------

Brad Null is the founder of bracketvoodoo.com, the world's most advanced NCAA Tournament bracket analysis and optimization engine. Try it out now at bracketvoodoo.com
The Wildcats stumbled to an 0-2 record this week and fell out of the top 25

Gary Parrish and Matt Norlander also get into Trae Young's 48 points on 39 shots at Oklahoma...

The Wildcats had been ranked for 68 consecutive weeks
The Wildcats and Sooners have lost their last two games and drop in Jerry Palm's latest br...

Irving is impressed with what he saw and heard from the No. 3 player in the nation

The Wildcats have a good shot at staying No. 1 in the Top 25 (and 1) for the rest of the regular...