Bracketology: Arizona goes down, but stays on top line
Arizona lost to Oregon, but it doesn't jeopardize its No. 1 seed yet.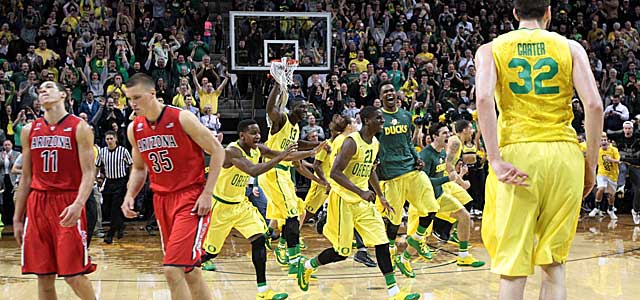 Latest in hoops: Bracketology | Bubble Watch | Team comparison
Arizona lost at Oregon on Saturday (big win for the Ducks, by the way), but it won't drop the Wildcats off the top line of the bracket.  It's only their third loss of the season, and none are bad ones.
Only Kansas has more top 50 RPI wins than Arizona, which has 10, six of those have come away from home. This is still a very accomplished team and remains a no-brainer as a No. 1 seed. 
In fact, the Wildcats might even be able to lose again and stay on the top line.  It should be noted that Saturday's loss does hurt their chances of being the overall No. 1, for what that's worth.
Marvin Bagley, if eligible at Duke this season, projects as the country's top power forwar...

The Big Ten Tournament is a week earlier than usual, so the regular-season schedule may look...

Arizona, Grand Canyon and Tulane are also in Barcelona and have reported to be accounted for...
The Kansas forward is no longer accused of walking out on an $88 tab

Cavaliers basketball coach tapes statement on behalf of his university and his city

Gary Parrish and Matt Norlander discuss all things Marvin Bagley and his immediate future