Bracketology: Cuse loss shuffles top line; voters too high on Louisville
The order changed, but the teams on the top line remain the same after a loss by Syracuse this week
The battle for the top of the bracket is interesting this year. There really isn't a dominant team. You can make a case for any of three teams as the overall No. 1. I went with undefeated Wichita State, despite playing a lesser schedule than the other contenders.  There's a case for Syracuse, which only has one loss, but it came to Boston College. At home. Florida is strong too but has two losses. The Gators are hot, but they're hot against SEC teams.
Arizona is still on the top line, but they have two recent losses, both of which came after the injury to Brandon Ashley. They still merit a No. 1 seed, but aren't really contending for the overall No. 1.
I think this battle is far from over.
The other end of the bracket continues to churn, which is typical. Teams down there are inconsistent, which is why they're at the bottom of the at-large pool in the first place. Minnesota took the biggest hit this week with a home loss to Illinois, but Georgetown dropped out entirely after a second loss to Seton Hall.  Oklahoma State is also falling as the losses continue to pile up.
One team that dropped without losing is Louisville. The Cards' profile just doesn't look good enough for a top-five seed. In fact, historically speaking, it doesn't look good enough for a single-digit seed. They may be loved by poll voters, but they only have three top-100 RPI wins. Before the committee took an ill-advised flier on Middle Tennessee State last year, three such wins was the bare minimum just to get an at-large bid, and it hadn't been enough since 2003. No team with just three top-100 RPI wins has ever received a seed better than No. 11. Louisville is ranked 11th in the AP poll and fifth in the coaches poll. That's a very rare dichotomy.
The next bracket will be Monday, and at that time, I'll begin doing updates daily.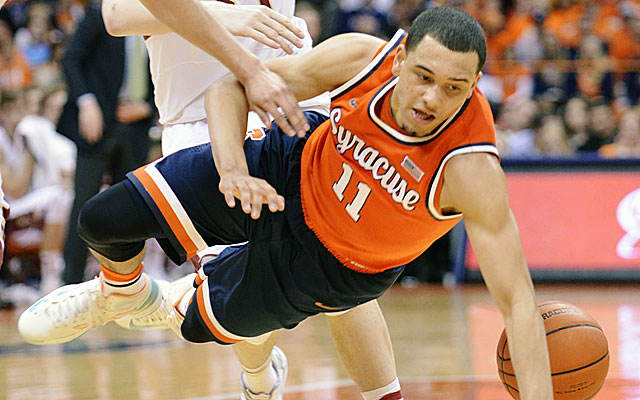 Fall is being shut down after dealing with shoulder injuries and will undergo surgery soon

The Wildcats' resume doesn't seem too impressive right now

Was there contact? 'Everybody saw it,' UK coach John Calipari said
After losing its second game this week, a deep NCAA Tournament run looks far-fetched for U...

Coach K shows he is on on top of his game by landing the best three prospects in the Class...

The Buckeyes and Boilermakers continue to assert their dominance in the Big Ten