Bracketology: Fourth No. 1 seed up for grabs
Villanova's last-second loss to Seton Hall in the Big East tournament has put the fourth No. 1 seed back in play.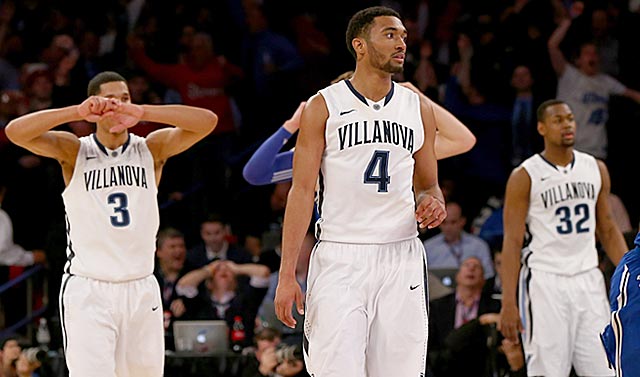 More college hoops: Top 25 (and one) | Updated projected bracket | Bubble Watch
Villanova became the 11th No. 1 seed to lose in its conference tournament Thursday when the Wildcats were beaten by Seton Hall. That loss dropped them to the 2-line of the bracket and moved Wisconsin up for now. Kansas, Michigan, Syracuse, Cincinnati and Louisville also have a chance to grab that spot. And if none of them do, it could end up back with the Wildcats.
Kansas made a statement that it could play without Joel Embiid in its first-round tournament game with <span data-shortcode=State" data-canon="Oklahoma Sooners" data-type="SPORTS_OBJECT_TEAM" id="shortcode0">. It took overtime, but the Jayhawks got the job done and will face Iowa State next.
Arkansas took another bad loss in the SEC tournament, falling to South Carolina. Three bad losses, a relatively bad record away from home (though not by Arkansas standards) and a poor nonconference schedule have them on the outs for now.
Missouri needed two overtimes to get by Texas A&M and keep its hopes alive. Minnesota, Xavier, <span data-shortcode= State" data-canon="Florida Gators" data-type="SPORTS_OBJECT_TEAM" id="shortcode0"> and Dayton also picked up key wins.
California was among the other losers. The Bears dropped their first Pac-12 tournament game to Colorado and don't look like they will make the NCAA Tournament.
SMU suffered a bad loss to Houston in the American tournament quarterfinals. The Mustangs have four top-50 wins, including one at UConn. That might save them because they now have three bad losses and a nonconference strength of schedule ranking around 300th. We've seen the committee leave teams close to the cut line out for that reason alone.
Iowa's skid continued with a loss to Northwestern in the first round of the Big Ten tournament. The Hawkeyes have lost six of seven and now appear on the bubble page but it would be a shock if they missed the field.
Was there contact? 'Everybody saw it,' UK coach John Calipari said

After losing its second game this week, a deep NCAA Tournament run looks far-fetched for U...

Coach K shows he is on on top of his game by landing the best three prospects in the Class...
The Buckeyes and Boilermakers continue to assert their dominance in the Big Ten

The 5-star phenom was thought to be headed to Clemson, but was swayed to the Blue Devils

The nation's No. 3 player will commit Saturday and here's his impact on each of his finali...