Bracketology: Hello, Arkansas; welcome back, Minnesota
The bottom of the bracket churned again, giving us Arkansas and Minnesota and taking away Dayton and Georgetown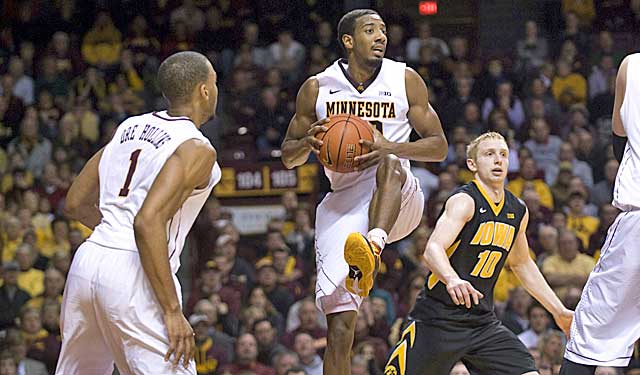 Latest in hoops: Bracketology | Bubble Watch | Team comparison
Minnesota picked up a much-needed win over Iowa at home on Tuesday, which pushed the Gophers back into the bracket for now.  For the Hawkeyes, that was their first loss outside the top 20, but it was enough to drop them one seed line to a six.
Dayton took a beating at St. Joesph's, which isn't that bad of a loss, but it was enough to knock the Flyers back into the first four out.  The Hawks are a bubble team too, so it was good for them to defend their home floor.
In the SEC, Missouri lost at Georgia, giving the Bulldogs a season sweep.  Georgia is 10-5 in the SEC and in third place in the league by a pretty healthy 2.5 games. Despite that, the Bulldogs aren't close to being a tournament team.  They had a very rough nonconference portion of the season, during which they picked up three of their four bad losses.  In conference, Georgia's sweep of Mizzou are the Bulldogs best wins and somehow, they have posted 10 league wins, but only three on the road. Those are Georgia's only wins all year outside of Athens. It goes to show how hard it is to build a tournament resume in the SEC.  Florida and Kentucky provide the only chances to pick up quality wins. Unfortunately for the Bulldogs, they didn't get a home game against either.
Minnesota's climb into the bracket also gave Arkansas a slight edge over Georgetown for that final spot in the field, even though neither of those teams played on Tuesday.
In the bracket, the last four teams in are typically bracketed so that the last two teams into t he field play each other, and the third and fourth to last teams in play each other. That way, they can be seeded on different lines, if necessary. However, the final two teams in are both from the SEC, so Missouri was swapped with Providence to avoid that conflict. With the new bracketing rules, that's the closest thing to a seed swap the committee should have to do this year.
The committee brackets the first four teams at the bottom of the bracket the same way, so the lowest seeded teams in the field are High Point and Alabama State, and the next two lowest are Robert Morris and Weber State.
Northern Colorado will be on probation through 2020 due to academic and recruiting violati...

You might not see a projected NCAA Tournament bracket quite like this one anytime soon

The Wildcats, once written off after a three game skid, appear poised to enter Pac-12 play...
The Ducks are riding a three game winning streak yet are slight underdogs against the Bulldogs...

The Hurricanes are one of only a handful of unbeaten teams left in college hoops

The Bearcats are fresh off a convincing win over previous unbeaten Mississippi State