Bracketology: Michigan into 4th 1-seed spot, but battle not over
Wisconsin fell to Michigan State, opening up the battle for the fourth No. 1 seed again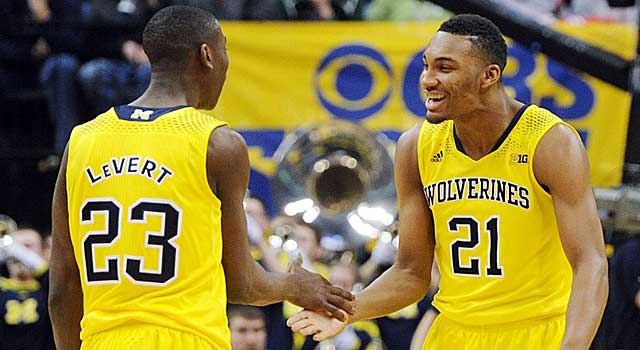 Latest in hoops: Bracketology | Bubble Watch | Latest news & notes
The revolving door at the fourth No. 1 seed spot has spun again with Wisconsin's loss to Michigan State on Saturday.
At the moment, Big Ten regular-season champion Michigan is in that spot. Only Arizona and Kansas have more top 50 RPI wins than the Wolverines, who have 10, seven of those away from home. They have seven losses, so they may not be able to take another one and be able to hold onto that spot.
Louisville also is a candidate, but they are a hard team to seed. They played a donut schedule, with only two opponents ranked between 52 (SMU) and 143 (Houston).  A win over UConn on Saturday night would give them five in the top 50 and eight in the top 100, and three of those would have come over the Huskies. They have no losses outside the top 50.
Villanova could still be in play. The Wildcats only have four losses, two to Creighton, one to Syracuse and the one to Seton Hall in the Big East tournament, which is a bad one. They have six top 50 wins, including a neutral-court win over Kansas, and 16 total in the top 100.
Wisconsin has seven losses now, but still has a strong profile. The Badgers beat the regular-season champions of the ACC (Virginia), SEC (Florida) and A-10 (Saint Louis) outside its league and hold the second-ranked strength of schedule. They have seven top 50 wins and 17 top 100 wins.  Only a loss to Northwestern stains their resume.
And finally, the ESPN-driven candidates Duke and Virginia.  The Cavaliers went 16-2, but beat only three tournament teams, which says a lot about the ACC in general and their league schedule in particular. They don't have anything you'd call a bad loss among their six, but two are outside the top 50 (Green Bay and Maryland). Even if they beat Duke in the ACC championship on Sunday, there is no case to seed them ahead of Wisconsin, let alone on the top line.
Duke wouldn't be getting talked about like they are if it weren't for the name on the front of their jersey. The Blue Devils, if they beat Virginia, will have seven top 50 wins, which is good, but their best road win (and their only one in the top 100) is at Pitt. They also have losses at Notre Dame and Wake Forest. No top seed has ever had two 100-plus RPI losses, and there's no reason to think Duke should be the first.
Jerry Palm's latest NCAA Tournament bracket projection also shows why Florida has issues

Michigan State's Miles Bridges, Duke's Wendell Carter among dozens of players named

Kenny White used to set lines for Vegas' biggest books. Now, he's telling you who to back on...
Duke, which held the previous record of 32 set in 1950, took to Twitter to congratulate the...

Without Trier, Arizona's Final Four chances are clearly in jeopardy

Porter Jr. is a projected top 10 pick but has played just two minutes all season