Bracketology: Nebraska almost off bubble; would-be No. 1 seeds fall
Nebraska had the big win of the day, taking down Wisconsin, and moves up out of the first four out of the field of 68.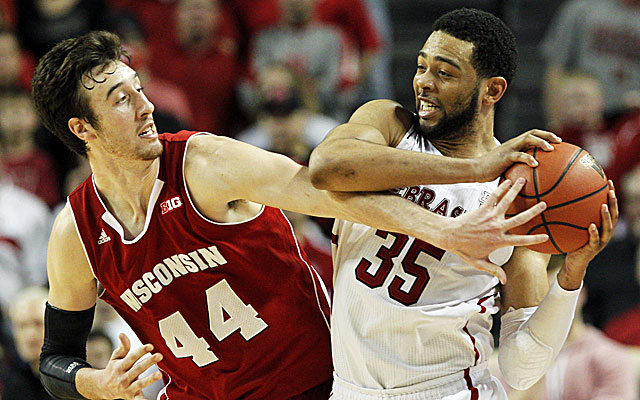 More: Bracketology | Bubble Watch | Team comparison | Top 25 (and 1)
It was a good day for Nebrasketball. The women won the Big Ten championship and the men bolstered their NCAA Tournament hopes with a win over Wisconsin on Senior Day.
The Cornhuskers (19-11) are up to a No. 10 seed in the bracket and dangerously close to playing themselves off the bubble entirely. They are looking for their first tournament appearance since 1998. Now, if they can just manage to avoid losing to Purdue. Oh, wait ... everybody does that.
Wisconsin's chances of becoming a No. 1 seed took a hit. The Badgers might be able to make a push still by winning the Big Ten tournament and getting the right opponents, but now they also would likely need some help from above. I mean above them in the bracket, not divine intervention, although that wouldn't hurt either.
ACC champ Virginia also lost Sunday. The Cavaliers went down at Maryland in the Terps' final regular-season ACC game before moving to the Big Ten next year. There was a lot of talk that this cost Virginia a shot at a No. 1, but they never really had a shot. They don't have enough high-quality wins to compete with Wisconsin or Kansas and too many losses (even before Sunday) to compete with Villanova. I still would put Syracuse ahead of Virginia despite two bad losses for the Orange.
However, characterizing Virginia as a top seed isn't as ridiculous as viewing Duke as a No. 1. The Blue Devils already have seven losses, and only three teams have been No. 1 seeds with seven losses since expansion in 1985. Duke also has two bad losses (Notre Dame and last Wednesday at Wake Forest) and no team has ever been a No. 1 with that stain on their résumé. In fact, that would work against Syracuse, too.
ACC fans are flooding my Twitter with the assumption that the league champ has a birthright to a top seed. They don't, and this league doesn't have a good candidate this season.
It was another tough day to be a conference tournament top seed. Three more lost Sunday, including last year's tournament darling, Florida Gulf Coast. Vermont and Davidson also lost. Of the 12 conference tournaments to date where the top seed has played, only six have survived.
One of those six is Wichita State, which became the first team since UNLV in 1991 to enter the NCAA Tournament undefeated. The Shockers beat Indiana State to finish the regular season 34-0, despite what their t-shirts said (scroll to the bottom of that link).
It's difficult to imagine an athletic director giving the Hall of Famer another chance

The recruiting scandal has cost Rick Pitino his job as coach of the Cardinals

Pitino's lawyer fought for his client's job Monday
These teams who have the potential to pull some upsets should they make it to the Big Danc...

Gary Parrish and Matt Norlander explain how and why UNC escaped penalty

J'Raan Brooks, a top-100 player, says he's reassessing his options