Bracketology: Syracuse goes down, loses No. 1 seed
The Orange suffered their fourth loss in five games and have fallen from the top line.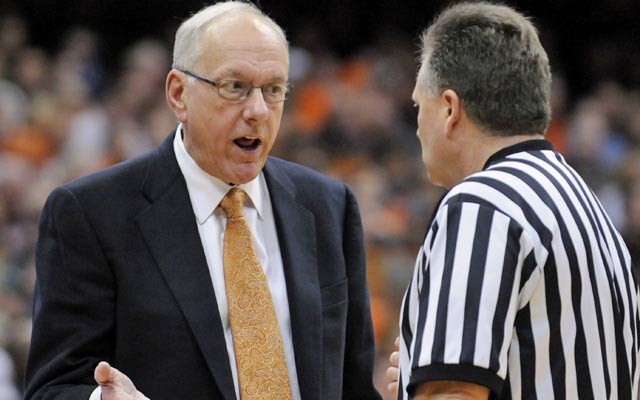 NCAA Tournament: Updated Bracket | Bubble Watch: Who's in and who's out?
Syracuse fell at home to Georgia Tech on Tuesday night, which was its second bad loss at the Carrier Dome in two weeks and fourth in five games. The result of that is that the Orange are no longer a No. 1 seed.  They are replaced on the top line by Villanova.  Kansas and Wisconsin are also candidates for that line, but Nova gets the edge for now because Kansas and Wisconsin have too many losses, and the Wildcats' losses have come only to highly rated teams (including Syracuse).
Michigan finished off the Big Ten regular-season championship with a 31-point rout at Illinois.  The Wolverines moved up to the two-seed line as a result, dropping San Diego State.
Creighton lost again, this time at Georgetown.  The Bluejays fell down to a No. 4 seed, while Cincinnati moved up.  The Hoyas moved up as well and are now the fourth team out.
Baylor picked up a big victory against Iowa State at home and are closer to getting off the bubble.  That was the sixth win in seven games for the Bears, who were once thought to be all but out.
Providence needed double overtime, but got a much-needed home win over Marquette to stay in the field for now.  The Golden Eagles will have to win the Big East tournament to get into the NCAA tournament now.
Oregon picked up another big win over Arizona State as the Ducks try to get off the bubble.  They still have to play potential No. 1 seed Arizona before the Pac-12 tournament.
The disgraced former Louisville coach really wanted those Yeezys with the zebra stripes

It's difficult to imagine an athletic director giving the Hall of Famer another chance

The recruiting scandal has cost Rick Pitino his job as coach of the Cardinals
Pitino's lawyer fought for his client's job Monday

These teams who have the potential to pull some upsets should they make it to the Big Danc...

Gary Parrish and Matt Norlander explain how and why UNC escaped penalty