Bracketology: Tough night for Cal, Richmond; impact games ahead
It was a tough day for a few teams on the bubble, led by Richmond and Cal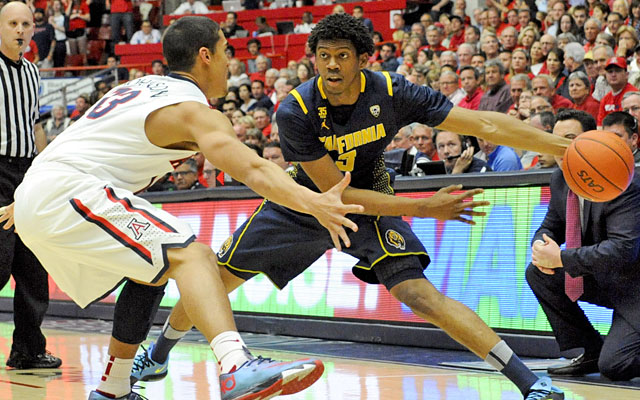 Bracketology: Updated projections | Bubble Watch | Team vs. team comparison
Richmond took a big blow to its tournament chances by losing at George Mason on Wednesday. It was the Spiders' first bad loss of the season, but for a team trying to show it can beat better teams on the road, losing to a non-contender hurts.
California lost at Arizona, which isn't necessarily all that damaging in and of itself, but the Bears got crushed. That's their second blowout loss to a top team in the league in three games. UCLA pounded Cal in Berkeley last week. It's one thing to lose, but another to not be competitive, especially at home.
Nebraska also lost for the first time in six games. The Cornhuskers went down at Illinois. That's not as damaging as Richmond's loss, so Nebraska remains among the first four out.
Baylor wrapped up a tough night for the bubble with a loss at Texas. The Bears have a couple home games coming up against Texas Tech and Iowa State that are close to must-win.
There are some big games Thursday night, including some potential conference-title clinchers.
Georgetown is at Marquette in an important game for both teams, but especially the Hoyas, who are right on the cut line of the bracket.
Oregon is at UCLA as the Ducks look for their first win of the season over a sure tournament team.
Arkansas can take a huge step forward to an at-large berth if it can win at Kentucky.
Vermont can clinch the America East title with a win over Stony Brook.
Davidson clinches the Southern Conference championship with a win over UNC Greensboro.
Stephen F. Austin can wrap up the Southland title by winning at New Orleans.
North Dakota State takes the Summit title if the Bison beat South Dakota.
Gonzaga will try for the third time to win the West Coast title outright at Pacific.
UC Santa Barbara and UC Irvine battle for first place in the Big West.
New Mexico State is at Utah Valley for sole possession of first place in the WAC.
Middle Tennessee State is at Louisiana Tech in Conference USA.  A loss by the Blue Raiders could create as much as a four-team tie for first in the league.
Missouri freshman will miss the season and likely never play another minute of college bal...

College basketball fans, especially those at Missouri, are robbed of the excitement Porter...

School officials expect the five-star freshman to miss the rest of the season
Cincinnati and Iowa highlight an impressive inaugural field for the Cayman lslands Classic

The Bluejays are 4-0 with some impressive victories, including a win vs. the Bruins on Mon...

The world's most prominent Basketball Dad responded to Donald Trump calling him 'very ungr...