Bracketology: Virginia gets final No. 1 seed; American gets dissed
Virginia's No. 1 seed doesn't hold water, and the American conference was not highly thought of by the selection committee.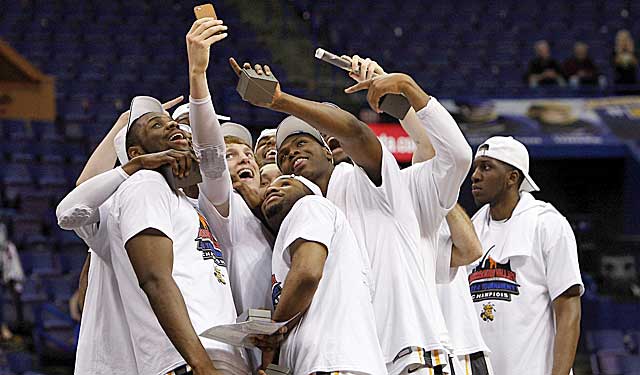 More NCAA hoops: Tournament bracket | Complete coverage of NCAAs | Latest news
Apparently, the committee ran out of ideas for the final top seed, so they picked Virginia out of a hat. The Cavs are the No. 1 seed in the East, despite having a weaker overall body of work than Michigan, Wisconsin and even Iowa State, which is the three seed in Virginia's region.
The claim of the ACC title, both regular season and tournament, is a nice positive for the Cavaliers, but this isn't a typical year for the ACC. The league is a distant third behind the Big 12 and Big Ten, and Virginia went 16-2 in the regular season despite beating only four tournament teams. The committee can't say it's about the entire body of work, and then ignore everything Virginia didn't do in 2013.
It's pretty obvious the committee didn't think much of the American conference contingent.  They were difficult teams to seed because the league was a donut, and therefore, some of the teams' schedules were, too. There was almost a 100-spot RPI ranking gap between SMU and Houston. Louisville played 12 games against teams ranked as good or better than the Mustangs, and 19 ranked as bad or worse than Houston. That left only three in between. The Cards were 7-5 in those top games, but one of those was against a non-tournament team (Southern Miss). Louisville, Cincinnati, UConn and Memphis all ended up seeded lower than expected.
That wasn't the worst of it for the league though. SMU was the only team I had in the bracket that was not selected. They are this year's example of a team that played their way down the bracket, and then got left out because of a putrid nonconference schedule. Put a donut conference schedule on top of that and it's it was hard for SMU to overcome that. North Carolina State, who was my fifth team out, got that spot. The Wolfpack got in on only three good wins, but all three came away from home and that certainly worked in their favor.
That said, the committee didn't do Virginia any favors after that; healthy and hearty Michigan State is its four seed. Iowa State or Villanova awaits in the Elite Eight.
The committee also stuck it to Wichita State. The Shockers are the No. 1 seed in the Midwest, but that region is loaded, with three of last year's Final Four. Kentucky is a bit underseeded as an eight, although I bet WSU would love a shot at Kansas State.  Louisville, the defending champion and arguably the hottest team in the country, is the four seed.  Big Ten champ and last year's runner up Michigan is the two seed. And, of course, Duke is there as well.
And finally, I never, ever, feel sorry for a team that got left out. I always feel that everybody that got left out deserved it. Each of those teams can look at their season and find one or two games that they messed up and that's why they are out. They have nobody but themselves to blame. That said, I do feel sorry for Green Bay. The Phoenix are a very good team. Heck, they beat No. 1 seed Virginia more times than North Carolina State did. They took No. 2 seed Wisconsin to the wire. Unfortunately, they lost three games when one of their two stars were injured. Teams like that don't have the luxury of losses due to injury.  So, they'll go to the NIT instead. I'm not saying they should have been selected, but I do feel a bit sorry for them.


Marvin Bagley, if eligible at Duke this season, projects as the country's top power forwar...

The Big Ten Tournament is a week earlier than usual, so the regular-season schedule may look...

Arizona, Grand Canyon and Tulane are also in Barcelona and have reported to be accounted for...
The Kansas forward is no longer accused of walking out on an $88 tab

Cavaliers basketball coach tapes statement on behalf of his university and his city

Gary Parrish and Matt Norlander discuss all things Marvin Bagley and his immediate future