Breakdown: Five-star Allonzo Trier commits to Arizona
Arizona landed its third five-star prospect in 2015, as scorer Allonzo Trier pledged to the Wildcats.
• 4 min read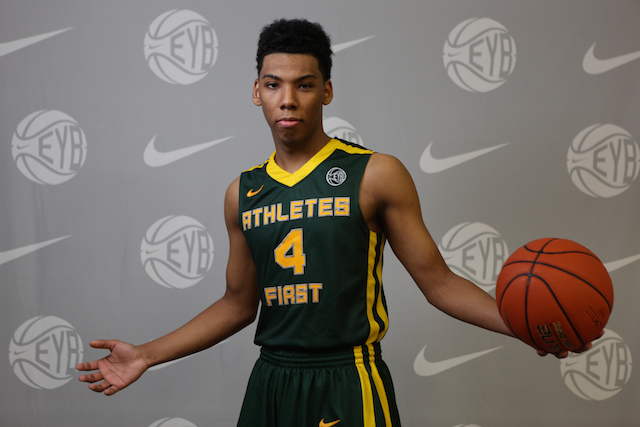 Allonzo Trier seemed like an Arizona lean since he boosted his stock during the spring period, and a 42-point performance against Isaiah Briscoe in front of Sean Miller at the Peach Jam seemed to clinch it.
All that was left to be done was Trier taking a visit to Tucson and officially making a decision.
That came on Sunday morning.
"This visit was important," Trier told Scout.com. "I've been here for a day now and it's a place that I really wanted to be. The visit has been great and I just thought it was time to pull the trigger."
It's the third five-star commitment for Arizona this class -- and the second-highest ranked prospect to make his decision in 2015. Ben Simmons, the top-ranked player in the class, is the only top-10 prospect to announce his choice thus far.
The file on … Allonzo Trier
Height: 6-foot-4
Weight: 185 pounds
Position: Shooting guard
Ranking: No. 11 in 247Sports Composite (No. 2 shooting guard)
High School: Findlay Prep (Nev.)
AAU: Athletes First (Okla.)
Stats: 29.8 points, 4.3 rebounds on EYBL circuit
How he fits at Arizona: Simply put, Trier is the best scorer in the class of 2015. He cemented his case at the Nike Peach Jam, when he averaged nearly 31 points in five games – including the aforementioned 42-point performance against the NJ Playaz. He's a volume shooter, but he can get off his shot against any defender. Trier isn't explosively quick, but he uses his strength to create separation and can make contested jumpers. He'll hit pull-up jumpers, fadeaways, step-backs – or drive to the rim and finish. Trier also has deep range on his 3-point shot, and is capable of getting hot from the perimeter. He's got some clutch in him, too, coming up big late in games.
Trier will be arguably the only pure scorer on Arizona's roster when he gets to campus. Justin Simon is an aggressive point guard, while Parker Jackson-Cartwright is a diminutive playmaker. Gabe York and Kadeem Allen could play more off the ball, but they are combo guards. Elliott Pitts is a designated shooter. The backcourt will be crowded in Tucson in 2015-16 – but Trier will get minutes immediately. His scoring prowess and ability to get his shot off against anyone will be needed.
What it means for Arizona's class: Arizona is on its way to nabbing the No. 1 recruiting class in the country for 2015. Trier is the third five-star prospect to commit to Sean Miller and the Wildcats, joining point guard Justin Simon and small forward Ray Smith. In fact, of the five five-star prospects off the board according to the 247Sports Composite, three are headed to Arizona. Miller has completely restocked his perimeter group going forward, getting an elite player at each of the three positions. It was necessary that Arizona had a big recruiting class, given that the Wildcats could lose all five starters from this season. T.J. McConnell is a senior, while Stanley Johnson, Rondae Hollis-Jefferson, Brandon Ashley and Kaleb Tarczewski could leave school early.
Simon is an elite-level defender who can score from the point guard position; and Smith is an excellent athlete who finishes at the rim. It wouldn't be a shock to see Simon, Trier and Smith all start at some point in 2015-16. Throw in Boston College transfer Ryan Anderson, a productive player in the ACC, and Arizona is loading up. Miller isn't done yet, either. He is squarely in the mix for top-five overall prospect Ivan Rabb, as well as four-star center Chance Comanche. Chase Jeter has Arizona on his final list of four, but Duke is the leader there. Stephen Zimmerman and Tyler Davis are also on the targets list. The biggest domino this causes revolves around Isaiah Briscoe. Arizona was considered the leader for him, but it's unlikely the Wildcats take both Trier and Briscoe (in addition to Simon). This could push Briscoe toward St. John's or another East coast school.
Which school loses the most? While Arizona has been the leader for a couple of months now, Georgetown was squarely in the mix back in the spring. At the time, Trier was attending Montrose Christian (Md.) and had visited the Hoyas' campus multiple times. After Trier moved out to Findlay Prep in Nevada, Georgetown's chances of landing Trier went down in a major way. The local tie was no longer there, and Trier would be heading back across the country if he was to play for the Hoyas. With Trier out of the picture, Georgetown still has plenty of high-level targets. The Hoyas want Ivan Rabb, which will be another battle with Arizona, and five-star small forward Dwayne Bacon. At the shooting guard position, the Hoyas are in the top five for P.J. Dozier, who will visit Georgetown in September.
The UConn women's basketball coach stepped in to offer up a solution in an education budget...

Duke and North Carolina players will skip ACC Operation Basketball because of new NCAA pol...

After a close game against Michigan, Air Force is playing San Diego State with some moment...
Quickley played for John Calipari this summer with USA Basketball

A revamped Erwin Center is part of a $4.25 million upgrade to the Longhorns' hoops facilit...

Nov. 10 will be here before you know it so here's what you need to know