Breakdown: Top-10 prospect Chase Jeter commits to Duke
Duke added its second five-star prospect in the class of 2015 on Monday, as top-10 prospect Chase Jeter announced he was going to Durham.
• 4 min read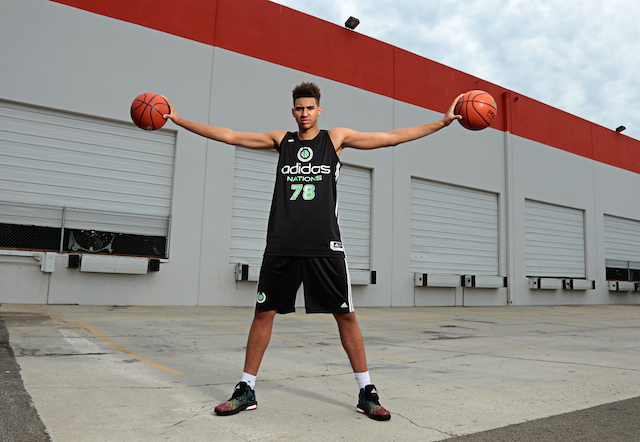 MORE: Latest News | Recruiting Updates | 247Sports Coverage
Chase Jeter had his mind made up.
While we always assume players know where they want to go heading into their decision announcement, Jeter never hid that fact. He told CBSSports.com in late July that he wanted to decide in a couple days and then announce shortly thereafter. Jeter stuck to that plan.
And he made his decision public on Monday evening, at the Adidas Nations event out in Long Beach, Calif.
The talented big man is heading to Duke. He chose the Blue Devils over finalists UCLA, Arizona and UNLV.
Jeter is Duke's second five-star commitment in the class of 2015, joining wing shooter Luke Kennard. Jeter is only the second top-10 prospect to announce his decision so far.
The file on … Chase Jeter
Height: 6-foot-11
Weight: 225 pounds
Position: Center
Ranking: No. 10 in 247Sports Composite for class of 2015
High School: Bishop Gorman (Nev.)
AAU: Dream Vision (Nev.)
Stats: 20.4 points, 11.7 rebounds on Adidas Gauntlet circuit (10 games)
How he fits at Duke
Jeter has steadily improved over the course of his high school career. He was overshadowed by the likes of Ivan Rabb and Stephen Zimmerman a couple of years ago, but now is in the conversation with those two among the best big men in the country. While he could add some weight and strength to his frame (and he has had some trouble against bigger defenders), Jeter is still able to get position on the low block and finish with his back to the basket. Jeter is known for his jump hook over his left shoulder, and his length makes it nearly impossible to block. Jeter runs the floor very well, blocks shots and is also unselfish when he gets double-teamed on the block. His ability to run the floor will help Duke in transition, especially when the Blue Devils push the tempo.
While Duke only has one senior on this year's roster, one can expect Jahlil Okafor to leave after his freshman season – and likely be the No. 1 pick in next June's NBA draft. Jeter's addition should help the Blue Devils make up for the loss of Okafor in the post. Mike Krzyzewski will return Amile Jefferson and Marshall Plumlee, while also adding Rice transfer Sean Obi. That will give Duke four men for two spots, and while they could add luxury depth, that should be plenty – especially given the perimeter talent on the roster.
What it means for Duke's class
Duke now joins Arizona as the only schools with multiple five-star prospects already in the fold. Of the six five-star prospects off the board, five are heading to either Tucson or Durham. Jeter will accompany Luke Kennard, one of the best 3-point shooters in the class. When you add Sean Obi into the equation, Duke is fairly set going forward. Quinn Cook is the lone senior on the roster, while Jahlil Okafor is expected to go to the NBA after his freshman season. Outside of that, will Duke lose anyone else? Rasheed Sulaimon could be a candidate, as could Tyus Jones – but it would be a surprise to see either player enter the NBA draft.
With Jeter in the fold, Duke likely has two scholarships remaining for the class of 2015. The Blue Devils will likely still pursue their remaining big men targets: Ivan Rabb, Henry Ellenson and Diamond Stone. Getting one of those five-star prospects could continue to offset the loss of Okafor, but there is already enough depth and another post player would be a luxury add. The biggest target remaining is Brandon Ingram, a five-star wing from North Carolina. He's taking an official visit to Duke later this week, and the Blue Devils will look to beat out North Carolina for his services. Outside of those frontcourt players, Duke is sitting in a pretty good position going forward. Kennard gives them another shooter to accompany the likes of Matt Jones and Grayson Allen, and Jeter is a skilled and high-ceiling post player that will continue to get better.
Which school loses the most?
Jeter has been considered a Duke lean for a few months, but UCLA was in the mix and looked to make up some ground down the stretch. The Bruins can't stay down, though, as they have two big visitors coming this week: Jaylen Brown and the aforementioned Brandon Ingram. It might be difficult to pull Ingram out of his home state, but UCLA is considered one of the favorites for Brown, the second-best player in the class. The Bruins already have a commitment from Aaron Holiday, and might be the leader for Louisiana native Brandon Sampson. Rabb, Stephen Zimmerman, Bennie Boatwright, and Jean Christ Koumadje are among the other targets. 
For the first time in years, the Shockers played a must-see game with national implications...

Gary Parrish and Matt Norlander discuss a wild weekend of college basketball

Andy Kennedy announced on Sunday he will no longer coach the Rebels
Grayson Allen has taken over with Marvin Bagley (knee) out of the lineup

The loss puts the Buckeyes out of the top 16 and it may lose the one-seed in the Big Ten t...

Austin Hatch has been part of the Wolverines program since 2014