Breakdown: Top-25 prospect JaQuan Lyle commits to Oregon
Oregon shored up its perimeter for next season with the addition of top-25 prospect JaQuan Lyle.
• 4 min read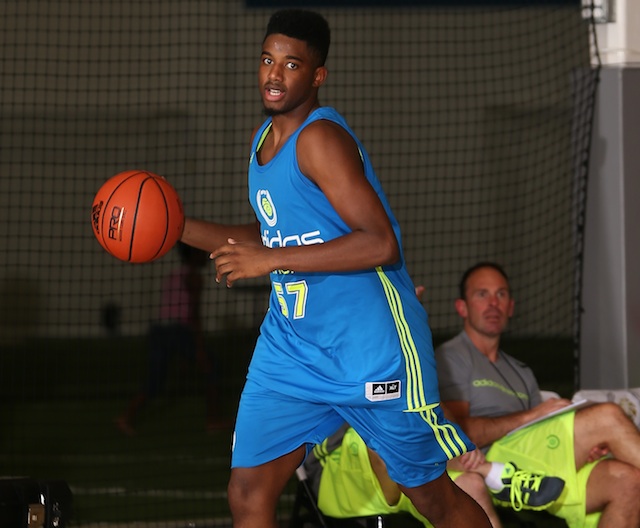 The recruitment of JaQuan Lyle hasn't been a simple one. He committed to Louisville last June – only to decommit three months later in mid-September. Since then, a number of schools have seemed like the de facto leader, from Kansas to Indiana and others.
Lyle stayed quiet during the early signing period when top-50 prospects were flying off the board, adding schools to his list instead of narrowing it down.
Earlier this week, though, Lyle suddenly announced he was ready to make a decision – and would be choosing between Oklahoma State, Memphis and Oregon.
All three schools play in the NCAA Tournament this week, but only one could get good news on the eve of the Round of 64.
And that ended up being Oregon.
"Next year, I'm going to attend the University of Oregon," Lyle said in a press conference.
Lyle was the best guard in the 2014 class left on the board, although there are some questions about his academics. With Lyle gone, though, current Appalachian State signee Devonte Graham would be the best available perimeter prospect if the Mountaineers give him a release from his letter of intent. Elite prospect Myles Turner is still the top player left in the class.
How he fits at Oregon: The Ducks of 2013-14 have been predicated on their guard play, spreading the floor with at least three or four perimeter players and attacking defenses off the dribble. Many of the guards are interchangeable, making Oregon tough to handle in man-to-man. Lyle fits that well. He's a difficult matchup for most opposing guards, given his size and strength. He has added weight, but he overpowers most guards with his body once he gets into the lane. Lyle also has good vision, and can create open shots for teammates with his ability to get by defenders and draw help defense. Senior point guard Jonathan Loyd and ex-Detroit transfer Jason Calliste are gone next season, while former starter Dominic Artis needs to regain the confidence he had as a freshman. Joseph Young and Damyean Dotson are both expected to return, and Lyle would add another ball-handler and playmaker on the perimeter – and a contingency plan in case Artis doesn't pan out again.
What it means for Oregon's class: Dana Altman spent most of the 2014 class involved in the frontcourt, nabbing junior college players Michael Chandler and Dwayne Benjamin, as well as Canada native Ray Kasongo. But the Ducks could have use some more perimeter help in case of unforeseen NBA departures or transfers – and Lyle really shores that up. Casey Benson is a solid point guard out of Arizona, but the addition of Providence transfer Brandon Austin is also creating excitement in Eugene. He never played for the Friars, but was a top-50 prospect in the class of 2013 and will be eligible in December of next season. Lyle and Austin are two players who will have extended roles, and the fact both players can guard multiple positions allows Altman to once again spread the floor with perimeter players and create matchup issues across the board.
Which school loses the most: Memphis. The Tigers have one of the best backcourt groups in the country this season, with four seniors leading the way. Unfortunately, Joe Jackson, Mike Dixon, Geron Johnson and Chris Crawford are all gone next season – and head coach Josh Pastner certainly won't have the same firepower on the perimeter in 2014-15. Markel Crawford (redshirt) and Pookie Powell (academics) had to sit out this season, while Damien Wilson didn't play much. All three will have to play much bigger roles, while incoming freshman Dominic Magee will also see immediate minutes. Lyle would have given Pastner a player he could insert into the starting lineup early on, as his versatility would have enabled him to be used in different combinations. Oklahoma State loses Marcus Smart and Markel Brown, and Lyle would have been the ideal replacement for Smart – but the Cowboys will be in better shape than Memphis on the perimeter.
The file on … JaQuan Lyle
Height: 6-foot-5
Weight: 215 pounds
Position: Shooting guard
Ranking: No. 22 in 247Sports Composite for class of 2014
High School: Huntington Prep (W.Va.)
AAU: Spiece Indy Heat/Mac Irvin Fire
Stats: 14.3 ppg, 5.9 rpg, 3.7 apg on spring 2013 EYBL circuit
Quotes from college coaches:
"JaQuan is a versatile player who has the ability to score, but he can also impact the game creating for others with his passing. He's capable of triple doubles. He's a shorter Kyle Anderson but a better shooter."
"He's a combo guard who needs the ball in his hands. He's got a good feel for the game and will thrive with talent around him."
"He's a really skilled big guard who can play three spots. Really good vision with a good mid-range game."
"My biggest concern is his motor. He's never been in great shape. I don't believe [he's an immediate impact player]." 
Comparisons from coaches: Deron Williams, Andre Miller
The Shockers look to build on their four game winning streak as they return home on Wednesday...

De'Anthony Melton is leaving the Trojans program and will look to jump up to the professional...

Kenny White used to set the lines for the biggest casinos. Now, he's dishing out advice at...
In a heartwarming moment, a team manager got an opportunity to play on the floor

Zack Cimini is on a red-hot college basketball run and he just locked in a strong pick for...

Louisville, Penn State and Marquette are also trying to hang on to fading tournament hopes