Breakdown: Top-five senior Myles Turner commits to Texas
Myles Turner was the final elite player to make his college decision in the class of 2014 -- but he was worth the wait for Texas.
• 5 min read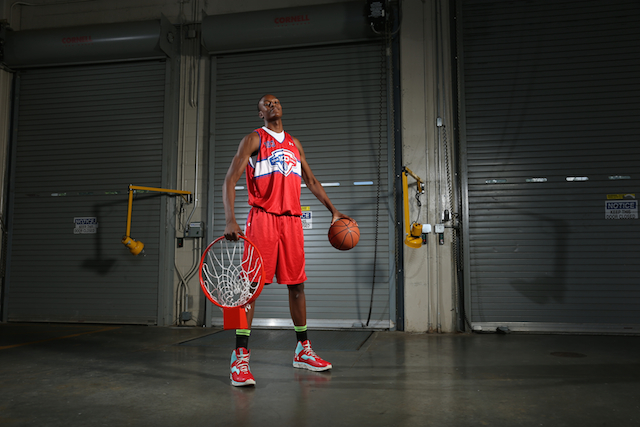 Recruiting from 247Sports: Latest News | Player Rankings | Team Rankings
While Myles Turner is the last elite player to make his decision, his recruitment hasn't been all that long, relatively speaking. He didn't burst onto the scene until last spring, after dominating at a couple of Under Armour events in April and May. After picking up more than 60 offers, Turner trimmed things to 25 – and then again to eight after the summer.
Turner never gave any indication that he was planning to end his recruitment during the fall, and didn't take his official visits until February and March. He has played his cards pretty close to this vest – but Texas began picking up momentum over the last couple of months.
And this time, the buzz was right: Turner is heading to Austin.
Turner chose the Longhorns over Kansas, SMU, Duke, Ohio State, Oklahoma State and Texas A&M, while Arizona and Kentucky were also in the mix at varying points since the summer.
Turner was the highest-ranked player left on the board, and he's now one of the final few notable pieces for the 2014-15 preseason puzzle. The best players still left on the board include three decommits: Jared Terrell (Oklahoma State), Elijah Stewart (Loyola Marymount) and Devonte Graham (Appalachian State).
How he fits at Texas: I think Texas would have been a preseason top-10 team regardless of whether Turner chose the Longhorns, but his commitment ensures they start out as one of the nation's best teams. Turner's upside is what makes him so attractive going forward, but he's also going to make an immediate impact in Austin. Defensively, he has the chance to be an elite player right away, given his length and shot-blocking ability. His role remains a bit unclear at Texas, though. Rick Barnes could go big, playing Turner alongside Cameron Ridley, and moving Jonathan Holmes to the small forward position. There are some potential switching and defensive issues involved with that, though. Texas played small last season, using three guards that were 6-foot-2 or smaller, attacking the rim constantly. The Longhorns' lack of consistent perimeter shooting hurt them at times – and going bigger probably wouldn't help in that regard, despite Turner's deft touch from the outside. The addition of Turner gives Texas one of the biggest frontlines in the country, though, and the inside-outside balance with Isaiah Taylor on the perimeter makes the Longhorns a dangerous opponent in 2014-15.
What it means for Texas' class: The Longhorns had been fairly quiet in the class of 2014, nabbing St. Louis native Jordan Barnett in the summer. JUCO transfer Obie Oleka had committed, but was released from his letter of intent back in January. Turner is clearly the prize of the class for Barnes, and he gives the Longhorns even more size in the frontcourt. Turner has the chance to be a one-and-done player at Texas, and Barnes has already prepared for that possibility, adding Maryland transfer Shaq Cleare earlier this month. Texas didn't need much with the 2014 class, as the Longhorns bring back everyone from last season, but Turner is a major asset for Barnes – and it also helps quiet the talk about Barnes missing on too many in-state prospects over the past few years. The class of 2015 has plenty of quality recruits from the state of Texas, so this could give them some momentum moving forward.
Which school loses the most: Oklahoma State or Ohio State. Although Kansas was the co-favorite for most of the recruitment, the Jayhawks are in fine shape without Turner. Ditto for Duke and SMU (although Turner would have vaulted the Mustangs into the top 10). However, Oklahoma State and Ohio State really could have used Turner. The Cowboys will struggle next season after the losses of Marcus Smart, Markel Brown and Brian Williams, but adding Turner would have given them a terrific frontcourt tandem along with Le'Bryan Nash. As for Ohio State, the Buckeyes don't have a true center on the roster, and will have to use Amir Williams next to Temple transfer Anthony Lee. Turner could have been the missing piece for the 2014-15 Buckeyes. I think Ohio State has the personnel to be a top-20 team throughout the season, but Turner could have solidified the Buckeyes' frontcourt play and been a dominant defensive player for Thad Matta's crew.
The file on … Myles Turner
Height: 6-foot-10
Weight: 225 pounds
Position: Center
Ranking: No. 4 in 247Sports Composite for class of 2014
High School: Trinity (Texas)
AAU: Texas Select
Stats: 18.1 ppg, 12.2 rpg, 6.8 bpg as a senior
Quotes from college coaches:
"He's always been tough for me for some reason. I think he's a good player that can stretch the floor for his size. He plays extremely hard on each end of the floor. He will have an impact due to his length, activity and skill. His durability will be the question."
"Myles is a versatile forward with a high ceiling. For a player his size, he has great shooting touch and doesn't shy away from competition. As good as he is today, his best basketball is ahead of him. He can also defend at a high level, as he is the only player I've seen who gave Jahlil Okafor problems."
"Myles will make an immediate impact in the right program. Defensively, he is aggressive and defends the rim better than anyone in his class. Teams that are telling him they will play the 3 or 4 will need to play zone. His mobility or lack thereof will dictate who he can guard. Offensively he is getting better. He is a very good shooter for his size."
"He's an impact guy, no question. I think his skillset offensively is unique and has a great upside. He needs to be somewhere that he is the No. 1 option right away. Defensively is where he'll be a game-changer from day one. He'll be the best pro from this class by far."
Comparisons from coaches: LaMarcus Aldridge, Anthony Davis
The Wildcats are no longer undefeated after losing to NC State

Brey's team overcame a 16-point deficit to top Wichita State in the Maui finale

No. 13 Irish led for only 22 seconds, but a pair of clutch free throws lifted them to a Maui...
Freshman overcomes plenty before he even puts on a jersey and then sparks signature win for...

Officials didn't buy the flop, but the Mastadons player gets an A-plus for his acting effo...

It's early, but the Vols appear to finally be heading in the right direction