Breaking down how the top committed players fit at the next level
Most of the focus coming out of the summer period is on the uncommitted players, but let's take a look at how the top committed guys will fit in college.
• 9 min read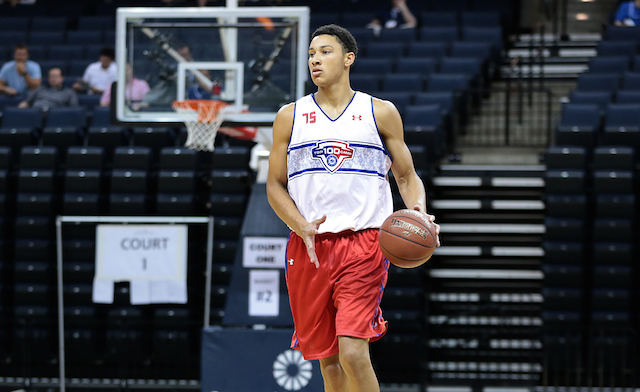 MORE: Latest News | Recruiting Updates | 247Sports Coverage
The basketball recruiting world is about to heat up in a major way. After three straight weeks of coaches heading on the road to watch prospects across the country, targets have changed and priorities have been adjusted. Over the next month, we will see players trim their lists and set official visits – and the commitment dominoes could begin to fall at some point. Going through the 247Sports Composite for the class of 2015, there were a few things to note.
-- Thirty-nine players in the top 100 are committed
-- Only one top-10 player has made a commitment, and just five top-25 players are off the board
-- Of the 12 guys ranked from No. 39-No. 50, 10 are committed
-- Twenty-one players ranked from No. 61-No. 100 have made pledges
While most of the attention over the next three months will be spent on the uncommitted players, let's take a quick look at the top 20 committed players in the class of 2015. We've watched these players several times each, so here's a brief analysis on how they will fit in at their future destination.
1. Ben Simmons, LSU (No. 1 in 247Sports Composite): The best player in the class of 2015, Simmons really solidified his status during July. It's rare to see the Australia native have an off-game, as he consistently makes an impact. Simmons is a terrific passer, and a matchup nightmare at 6-foot-9. He's not an outside shooter yet, but that's the next step. Simmons has the ability to start on a top-tier college team right now, and he will hope to carry LSU to the NCAA Tournament.
2. Ray Smith, Arizona (No. 14): The athletic wing tore his ACL in early July, and missed the final two evaluation weekends. Arizona could lose all five starters after the upcoming season – including wings Stanley Johnson and Rondae Hollis-Jefferson. Smith could step in immediately at the small forward position as a replacement and make an impact, finishing at the rim and guarding multiple positions. His stock was only rising before the injury.
3. Luke Kennard, Duke (No. 21): One of the best long-range shooters in the country, Kennard is capable of putting up big numbers if he gets hot from the perimeter. Duke will have plenty of wings on the roster in 2015-16, with Rasheed Sulaimon a likely starter if he's still around. Matt Jones and Grayson Allen will also be on the roster as shooting guards, and Justise Winslow is a versatile small forward option. With Kennard's shooting, though, he will find ways to get on the floor.
4. Justin Simon, Arizona (No. 23): The guard situation at Arizona will be interesting in two seasons, but Simon might be the best of the bunch. T.J. McConnell is gone after the upcoming season, but Simon's size, defensive potential and ability to score make him an option to play on or off the ball. Kadeem Allen, Gabe York and Parker Jackson-Cartwright are more backcourt options, but Sean Miller will likely be starting Simon from day one – in either backcourt spot.
5. Deyonta Davis, Michigan State (No. 25): Davis was one of the biggest risers of the spring and summer. He's athletic and long, and he runs the floor like someone several inches shorter. Davis can knock down shots from the perimeter, and only needs to add consistency and strength to take his game to the next level. Davis will immediately be the most talented post player on the roster when he gets to East Lansing, unless Tom Izzo lands another big man in 2015.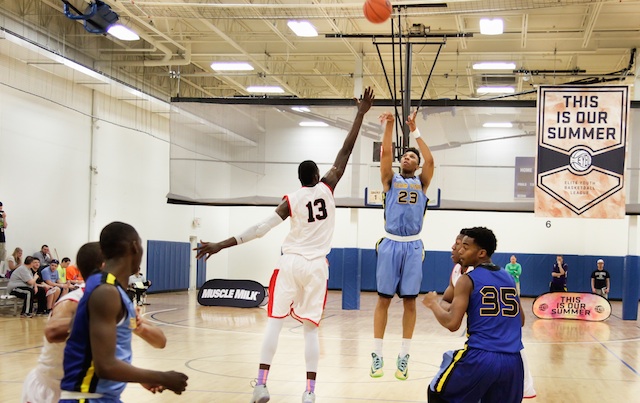 6. Malachi Richardson, Syracuse (No. 29): The 6-foot-6 New Jersey product is one of the better scorers from the wing position. He's got a smooth stroke from the perimeter and can also get points in the mid-range. Richardson always seems to find ways of getting baskets. Syracuse is filled with combo forward types on the roster, but Richardson immediately upgrades their wing scoring. He will likely find plenty of minutes from day one.
7. Austin Grandstaff, Ohio State (No. 35): When Grandstaff is on, there are few players more dangerous than him on the offensive end. He has deep range on his jumper, and is very confident in his ability to make contested shots. D'Angelo Russell and Kameron Williams will help boost Ohio State's perimeter scoring this season, and Grandstaff will only help that in 2015-16. The days of seeing the Buckeyes struggling to score from the guard position will be over.
8. Jessie Govan, Georgetown (No. 39): When it comes to pure back-to-the-basket scoring ability, there aren't many better than Govan. He has good touch around the rim and knows how to finish through contact or in traffic. Improving his face-up game would be ideal for Georgetown's offense. John Thompson III has two talented and skilled forwards coming in this season in Paul White and Isaac Copeland, but neither is a low-post scorer in the mold of Govan. 
9. Jalen Adams, Connecticut (No. 40): One of the best scoring guards in the country, Adams has the ability to play both backcourt positions and should fit in well at Connecticut. Adams can get by his man off the bounce, while also possessing range on his jumper. The Huskies love to use ball-screens for their guards, and Adams will be well-suited for that offense. Ryan Boatright will be gone by the time Adams enters school, although fellow combo guards Sam Cassell Jr., Rodney Purvis and Terrence Samuel are also competing for minutes.
10. Charles Matthews, Kentucky (No. 41): Matthews' stock has dipped a bit over the past year, but he still possesses a very good mid-range game. He has a decent pull-up jumper, can get to the rim and can also handle the ball effectively. John Calipari is only getting started for the class of 2015, as he is in pursuit of scoring guards Malik Newman and Antonio Blakeney. Tyler Ulis and Devin Booker will also still be on the roster, but Matthews brings some versatility in terms of defending and rebounding.
11. Aaron Holiday, UCLA (No. 42): There aren't many better attacking guards than Holiday. He is terrific off the bounce and can finish at the rim consistently – somewhat reminiscent of his older brother, NBA guard Jrue Holiday. Holiday is long and is continuing to improve as a true point guard, which is where UCLA will need him in 2015-16. Bryce Alford and Isaac Hamilton can handle the ball, but both are better as shooters or scorers, respectively. It would be a dangerous perimeter group.
12. K.J. Lawson, Memphis (No. 43): The Lawsons were in the news plenty over the past month, as Keelon Lawson accepted a job as an assistant coach at Memphis. K.J. was already a commit, but five-star junior Dedric committed shortly thereafter. Dedric has the higher ceiling, but K.J. is a quality player in his own right. He's good in transition and can defend effectively on the wing. There is plenty of competition for minutes at small forward, though; Lawson has to improve his shooting.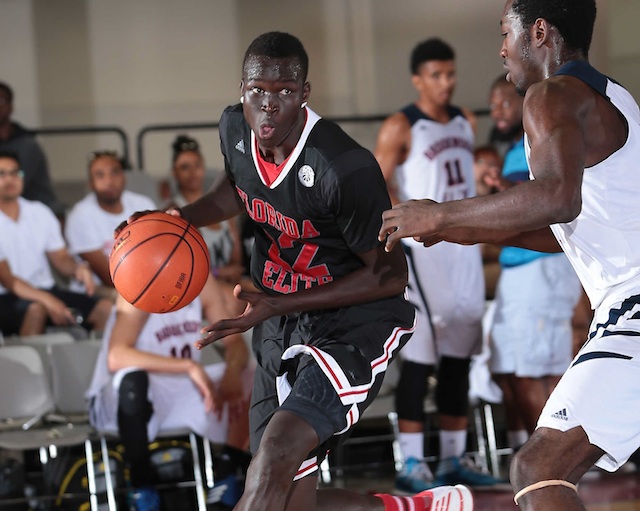 13. Deng Adel, Louisville (No. 44): The 6-foot-7 wing forward will be ranked much higher than this by the time the dust has settled. He's been improving at a rapid rate since arriving on American soil less than a year ago, but Adel's ability to finish at the rim and knock down shots from the perimeter already stand out. With Wayne Blackshear entering his final season of eligibility, Adel is a ready-made replacement at small forward. His ceiling is extremely high.
14. Daniel Giddens, Ohio State (No. 46): Giddens still has some progress to make on the offensive end, but he is ready to be a high-level rebounder and shot-blocker in the Big Ten. He runs the floor effectively and can finish off of dump-offs and putbacks. Thad Matta hasn't been relying on his centers for consistent back-to-the-basket production, but Giddens should be able to make an impact because of his defensive ability. Virginia Tech transfer Trevor Thompson and incoming freshman David Bell will compete for minutes.
15. Moustapha Diagne, Syracuse (No. 47): Syracuse doesn't rely on its bigs to create too much offensively on their own, which is why Diagne is a perfect fit for the Orange. He has great upper-body strength, and is a very good offensive rebounder. He can also finish at the rim, not shying away from contact when going up. Rakeem Christmas is gone after this season, leaving oft-injured DaJuan Coleman to lead the way. Chinoso Obokoh will also be around. Diagne's offensive game is raw, but his ability to rebound will be helpful out of the gate.
16. Dejounte Murray, Washington (No. 49): Lorenzo Romar landed one of the more versatile shooting guards in the class. Murray can knock down shots from the perimeter, while also demonstrating the ability to handle the ball and distribute from the point of attack. He is also one of the best rebounding guards in the class. Washington needed a go-to scorer like Murray, as Nigel Williams-Goss and Andrew Andrews form a two-headed point guard but don't possess Murray's scoring ability.
17. D.J. Williams, Illinois (No. 50): The Simeon (Ill.) product was a quality early pickup for John Groce and the Fighting Illini. He can score in different ways, especially off the mid-range or in transition. He's not a volume 3-point shooter, but he has range on his jumper. Williams could have a chance to get major minutes right off the bat in Champaign, as Rayvonte Rice will be gone by the Williams arrives. The Illini will be counting on Williams for points.
18. King McClure, Baylor (No. 58): McClure missed the Peach Jam due to a knee injury, but the power wing was a nice pickup for the Bears back in late April. He's constantly attacking the basket and doesn't mind drawing contact in the lane or at the rim. McClure is a decent 3-point shooter who is a solid rebounder for a guard. The Baylor backcourt will have some openings in two seasons, with Kenny Chery leaving. Al Freeman is another powerful guard, but he might play some point.
19. Tyler Lydon, Syracuse (No. 61): The 6-foot-9 Lydon has a future as a stretch-four in Upstate New York. He possesses deep range on his jumper and will make contested shots. Lydon runs the floor well and moves around without the ball. Lydon does need to add strength and toughness, though. Syracuse has a couple of combo forwards on its roster already in B.J. Johnson and Tyler Roberson, but Lydon is more skilled than both of them and brings the added dimension of shooting.
20. KeVaughn Allen, Florida (No. 63): One of the more impressive players in July, Allen was a surprise. Florida took his commitment in the spring instead of waiting for someone like Austin Grandstaff or Antonio Blakeney – and it looks fine for the Gators so far. He's a low-maintenance player who can shoot the 3, defend, finish at the rim, and be a secondary ball-handler. Allen won't start as a freshman, but he brings a little bit of everything and will carve out a role.
CBS' college basketball experts polled more than 100 coaches to get their pick to win it a...

Marvin Bagley, if eligible at Duke this season, projects as the country's top power forwar...

The Big Ten Tournament is a week earlier than usual, so the regular-season schedule may look...
Arizona, Grand Canyon and Tulane are also in Barcelona and have reported to be accounted for...

The Kansas forward is no longer accused of walking out on an $88 tab

Cavaliers basketball coach tapes statement on behalf of his university and his city