Breaking down Myles Turner and his seven finalists
Top-five senior Myles Turner is the top uncommitted player left on the board. How does he fit at each of his seven finalists?
• 5 min read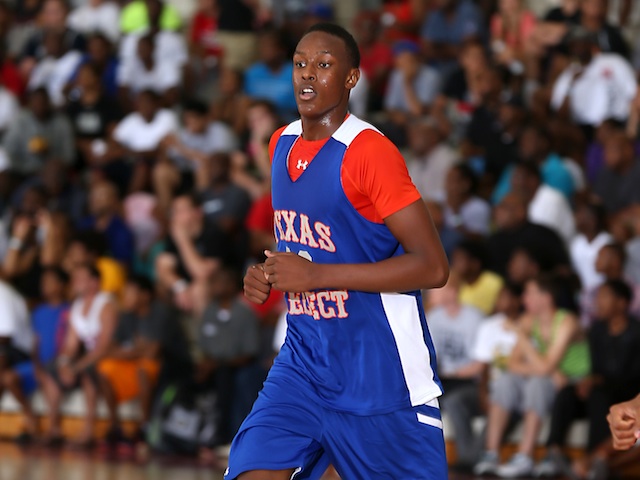 Latest in hoops: NBA Early Entries | Latest News | Coaching Changes
NEW YORK – On Wednesday, we found out when the highest-ranked uncommitted player in the class of 2014 would make his decision.
Myles Turner, a 6-foot-10 center from Trinity (Texas), announced he would be choosing his future college on April 30. Turner is ranked No. 4 in the 247Sports Composite, and he's the lone five-star prospect left on the board in the class.
Turner blew up last spring, going from a lightly-recruited player to one of the most coveted prospects in the country. His upside is extremely high, given his capability to add strength and become more effective down low on the offensive end. Turner can step out and knock down perimeter shots, and he can change games defensively with his shot-blocking ability.
With two weeks left until a decision, Turner has seven schools on his list: Duke, Kansas, SMU, Texas, Oklahoma State, Texas A&M and Ohio State. He says he has no favorites, but let's take a look at how he fits at each schools – first from his perspective, and then our take on the personnel factor.
Duke
Turner says: "I feel like I fit in because Coach [Krzyzewski] has coached a lot of versatile bigs and that's kind of what I am at this point. I feel like he's one of the best coaches in college basketball and he can coach me up to the point."
Personnel: The Blue Devils already have the nation's No. 1 prospect entering next season in Jahlil Okafor, but Okafor and Turner could co-exist. Okafor is more of a back-to-the-basket post player, while Turner can stretch the defense and brings finesse. It would be a terrific inside tandem. Duke does have other options inside in Amile Jefferson and Marshall Plumlee, too.
Kansas
Turner says: "I like the high-low system that Coach [Bill] Self runs, due to the fact that I can play both the high and the low. Playing in that system with Cliff and a couple of other bigs over there, that would be pretty cool to be a part of."
Personnel: Like Duke, Kansas has an absolutely elite big man also entering the fold in the fall. Cliff Alexander might be the most dominant college freshman in the 2014-15 season, given his strength around the rim. Turner and Alexander could play in the high-low, though. However, Bill Self brings back Perry Ellis, a very good power forward. Turner would have to compete for a starting job.
SMU
Turner says: "I really like Coach Larry Brown. I watched them play a lot this year. They get up and down the floor. That's kind of like where my game is, I like to run in transition. And being connected to Coach Brown has a big appeal to it."
Personnel: Turner would make SMU a preseason top-10 team next season – as the Mustangs are certainly pushing for that status already. With Emmanuel Mudiay coming in to boost the backcourt, Turner – and Texas Tech transfer Jordan Tolbert – would immediately lift the frontcourt group. Larry Brown does have Markus Kennedy, Yanick Moreira and others already gunning for minutes.
Texas
Turner says: "It's in my backyard. Hopefully I can come down there and make an impact like Kevin Durant had. If I were to be able to do that, that would be pretty cool. That's the biggest thing at Texas."
Personnel: Like several of the other teams on this list, the Longhorns do have multiple returnees up front. Cameron Ridley really came on strong in his sophomore season, and Jonathan Holmes was perhaps the team's most consistent player. Rick Barnes could go big with Holmes at the 3, and Turner and Ridley in the paint, though. Texas brings back basically everyone from last season.
Oklahoma State
Turner says: "I like the fact that I can come in there and immediately make an impact on their program because they're losing a lot of people next year and that overall appeal to the Big 12, to go down there and make an impact that would be pretty cool."
Personnel: As Turner said, there are plenty of minutes – and points – up for grabs in Stillwater. Marcus Smart, Markel Brown and Brian Williams are all gone from the perimeter, meaning Travis Ford will have to rely on the frontcourt more next season. Le'Bryan Nash and Turner would form a matchup nightmare for opponents, as Turner would be an upgrade down low on Michael Cobbins and Kamari Murphy.
Texas A&M
Turner says: "Coach Billy Kennedy, they need a big down there. That's been his pitch to me for a long time. To be able to come down there and do that, that would be the biggest appeal."
Personnel: The Aggies return most of its rotation from this past season, but Turner would have no trouble immediately stepping in and being a full-time starter. Jamal Jones, Antwan Space and Kourtney Roberson will be back, and Davonte Fitzgerald should return from a season-ending knee injury – but Turner would start right away and be the go-to-guy for Texas A&M.
Ohio State
Turner says: "They need a big as well. They don't have a true center at this point. Coach [Thad] Matta, I really like him and his whole coaching staff. I've talked to them, they're one of the schools that I've talked to the most."
Personnel: The Buckeyes have been searching for a dominant big man since Jared Sullinger left, and Turner would be able to step in and start. Temple transfer Anthony Lee will be eligible immediately, but he's more of a power guy who rebounds and changes shots. Virginia Tech transfer Trevor Thompson will likely not be eligible until next season. Amir Williams would see a decrease in minutes.
Marvin Bagley, if eligible at Duke this season, projects as the country's top power forwar...

The Big Ten Tournament is a week earlier than usual, so the regular-season schedule may look...

Arizona, Grand Canyon and Tulane are also in Barcelona and have reported to be accounted for...
The Kansas forward is no longer accused of walking out on an $88 tab

Cavaliers basketball coach tapes statement on behalf of his university and his city

Gary Parrish and Matt Norlander discuss all things Marvin Bagley and his immediate future