Breaking down the Unbeatens: Real Deal and the Frauds
Just 20 unbeaten teams remain nearly one month into the regular season. There are those you'd expect, such as Indiana, and those you wouldn't -- such as Virginia Tech. We break down all down and even tell you when each is going to leave the ranks of the undefeated.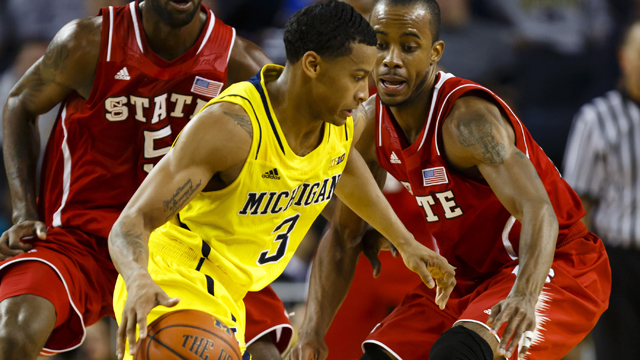 Jeff Goodman says Trey Burke makes Michigan a legit undefeated team (USPressWires)
We're nearly a month into the season and there are just 20 teams left without a blemish on their record. Danny Kaspar is undefeated while John Calipari is not. Jeff Neubauer hasn't lost a game yet while Roy Williams and Tom Izzo have each dropped a pair. 
The Big Ten, regarded as the top league in America, leads the way with a trio of unbeatens. However, one of the teams without a loss will surely surprise you. 
We give you a complete rundown of who is for real, a sham and which teams we need more time to truly evaluate: 
THE REAL DEAL

DUKE (8-0) -- No one (myself included) thought the Blue Devils would be in either the top spot or No. 2 in just about every poll in America at this point -- or any point this season. However, Coach K has taken on all comers and Duke has the most impressive resume thus far, knocking off Kentucky in Atlanta, winning the Battle of Atlantis crown by taking care of Minnesota, VCU and Louisville and then beating Ohio State at Cameron. Mason Plumlee has looked the part of the National Player of the Year thus far, averaging 19.6 points and 11 boards, and point guard Quinn Cook has been more than just serviceable. 
Next Game: Dec. 8 vs. Temple in East Rutherford, N.J.
Next Test: Dec. 8 vs, Temple in East Rutherford, N.J.
First Loss: Jan. 12 at N.C. State

INDIANA (8-0) -- The Hoosiers are either 1A or 1B right now and have a couple of quality wins on their resume: in Brooklyn against Georgetown and then a second-half blowout in Bloomington against North Carolina. This is a team that boasts one of the top players in the country in Cody Zeller -- and plenty of pieces around the skilled sophomore big man. Tom Crean has also been without frontcourt depth, but he'll get Hanner Mosquera-Perea and Peter Jurkin back for the Butler game on Dec. 15 and veteran Derek Elston should return sometime in late-December. Indiana could honestly remain undefeated into February due to a front-loaded home Big Ten slate that features road games against Ohio State (2-10), Michigan State (2-19) and Michigan (3-10) in the final month of the regular season. 
Next Game: Dec. 8 vs. Central Connecticut State
Next Test: Dec. 15 vs. Butler in Indianapolis
First Loss: Feb 10 at Ohio State

MICHIGAN (7-0) -- The Wolverines have all the weapons on the offensive end. John Beilein has a terrific point guard in Trey Burke, Tim Hardaway looks like a different player than last season, Glenn Robinson's kid is a stud, fellow frosh Nik Stauskas can shoot it with anyone -- and Michigan has a few options in the middle with Jordan Morgan and Mitch McGary. The question coming in was toughness and leadership, but thus far that hasn't been an issue at all. Beilein's crew took care of Pittsburgh and Kansas State in New York and also got cruised past N.C. State in Ann Arbor. 
Next Game: Dec. 4 vs. Western Michigan
Next Test: Dec. 8 vs. Arkansas
First Loss: Dec. 15 vs. West Virginia in Brooklyn

SYRACUSE (5-0) -- Jim Boeheim lost a ton off last year's team (Dion Waiters, Scoop Jardine, Kris Joseph and Fab Melo), but the Orange haven't missed a beat. In fact, they may be even tougher. Brandon Triche is a veteran and Michael Carter-Williams has been fantastic thus far. Rakeem Christmas has filled Melo's role, freshman big man DeJuan Coleman gives the 'Cuse a post-post scoring option and C.J. Fair is steady and underrated. The bench is deep with shooters James Southerland and Trevor Cooney, in addition to big man Baye Moussa Keita. Syracuse has a pair of quality wins away from the Carrier Dome, a rarity this early, with a victory against San Diego State on an aircraft carrier and one on the road down in Fayetteville against Arkansas. 
Next Game: Dec. 3 vs. Eastern Michigan
Next Test: Dec. 22 vs. Temple at Madison Square Garden
First Loss: Jan. 19 at Louisville

FLORIDA (6-0) -- The Gators have resounding wins against Wisconsin and Marquette, but both came in Gainesville. In fact, Billy Donovan's team has yet to play a game outside of the Sunshine State thus far. But this team has talent with big men Patric Young and Erik Murphy and guards Kenny Boynton and Scottie Wilbekin, who missed the start of the season due to a suspension. Florida also has Casey Prather back from injury -- and now Donovan has options. He's got Mike Rosario, Will Yeguete and even freshman Michael Frazier has -- and will -- contribute. 
Next Game: Dec. 5 at Florida State
Next Test: Dec. 5 at Florida State
First Loss: Dec. 5 at Florida State

GONZAGA (8-0) -- The 'Zags got everyone's attention in the first couple days when they blew out Bob Huggins' West Virginia Mountaineers. Now, though, that win doesn't look quite so impressive as West Virginia has struggled and hardly has the look of an NCAA tournament club. Mark Few & Co., then went down to Disney and won the Old Spice Classic with victories over Clemson, Oklahoma and Davidson. This could be Few's best overall team in Spokane with no shortage of quality big bodies (Elias Harris, Sam Dower, Kelly Olynyk, Przemek Karnowski) and one of the top young backcourts in the nation in Kevin Pangos and Gary Bell Jr. 
Next Game: Dec. 5 at Washington State
Next Test: Dec. 8 vs. Illinois
First Loss: Dec. 31 at Oklahoma State

ARIZONA (5-0) -- Sean Miller's team has feasted on a fairly lackluster slate thus far, one that includes four home games against Charleston Southern, UTEP, Long Beach State and Northern Arizona and a road contest against a weak Texas Tech squad. However, the Wildcats are talented, deep and balanced. They have veteran wings with Solomon Hill and Kevin Parrom, a tough, experienced guard in Mark Lyons and three really talented freshman bigs: Brandon Ashley, Grant Jerrrett and Kaleb Tarczewski. There may be a few hiccups along the way, the Miller has a team in Tucson that could make its way to Atlanta come April. 
Next Game: Dec. 4 vs. Southern Miss
Next Test: Dec. 8 at Clemson
First Loss: Dec. 15 vs. Florida
JURY'S STILL OUT

CINCINNATI (7-0) -- I'm still not quite sure about Mick Cronin's team just yet. Do I think the Bearcats will be an NCAA tournament team?  Absolutely. Do I think they are a legit Top 15 club?  I'm not sold on that. They needed a last-second shot by Cashmere Wright to get past Alabama at home and also got past Oregon and Iowa State in Las Vegas, but all of those three teams could wind up in the NIT at the end of the season. I love Cronin's guards: Sean Kilpatrick, Wright and JaQuan Parker. Titus Robles has also been really good off the bench. Over the next few weeks, we'll get a better grasp of how good this team truly is. 
Next Game: Dec. 6 vs. Arkansas Little Rock
Next Test: Dec. 15 vs. Marshall in Charleston, West Va. 
First Loss: Dec. 15 vs. Marshall in Charleston, West Va. 

NEW MEXICO (8-0) -- The Lobos needed a late comeback against Davidson at The Pit in the season-opener and then went to the Virgin Islands and beat UIC, George Mason and UConn to claim the title. Then Steve Alford's team also needed overtime to get past Indiana State on the road, so it's not as though much has been easy for UNM. But this team is undefeated and has played a few decent teams thus far. Kendall Williams and Tony Snell are leading the way thus far -- and Alex Kirk has stepped up his play. 
Next Game: Dec. 5 vs. USC
Next Test: Dec. 5 vs. USC
First Loss: Dec. 27 at Cincinnati

TEMPLE (5-0) -- It's the first time the Owls have been undefeated after the first five games of the season since 1987-88, but don't expect it too last much longer. Fran Dunphy's team is solid, but the schedule has been favorable. The Owls have a couple of decent road wins against Kent State and Buffalo, and have beaten Delaware, Rice and Wagner at home. Scootie Randall is back, and playing well, and he and Khalif Wyatt form a quality 1-2 punch. This is a fringe Top 25 club at the end of the day. 
Next Game: Dec. 5 at Villanova
Next Test: Dec. 5 at Villanova
First Loss: Dec. 5 at Villanova

COLORADO STATE (6-0) -- Larry Eustachy inherited a pretty good basketball team, one that went to the NCAA tournament last season and returned most of its key pieces. He also added a talented big man in Minnesota transfer Colton Iverson, who is putting up 16.5 points and 11.2 boards thus far. The wins aren't overly impressive, but the Rams have taken care of business on the road against Washington and Denver, and also at home against Evansville, Montana (without Will Cherry), Northern Colorado and Chadron State. Could Eustachy & Co. return to the Big Dance?  Absolutely, but it won't be easy. 
Next Game: Dec. 5 at Colorado
Next Test: Dec. 5 at Colorado
First Loss: Dec. 5 at Colorado
NOT BUYING 

OLE MISS (6-0) -- Andy Kennedy needed to get out to a quality start, and that's exactly what's gone down in Oxford. The Rebels have played all six of their games at home and have taken care of business with the likes of Mississippi Valley State, Coastal Carolina, Arkansas-Little Rock, McNeese State, Lipscomb and Rutgers. That's hardly Murderer's Row, but Kennedy needs victories -- and he's gotten a half-dozen already. Former Utah Ute Marshall Henderson has been terrific as has another transfer of sorts, Murphy Holloway. But it's way too early to tell with Ole Miss. 
Next Game: Dec. 8 at Middle Tennessee State
Next Test: Dec. 8 at Middle Tennessee State
First Loss: Dec. 19 at Loyola Marymount

WICHITA STATE (8-0) -- I'm not saying Gregg Marshall's Shockers won't be in the mix for an NCAA tournament berth, but I'm not ready to buy the fact that this will be a Top 25 team for more than another week or so. Carl Hall and Cleanothy Early have led the way and Wichita has some decent victories -- including one in Richmond against VCU. But it's still way too early to tell whether this will be a Missouri Valley contender to Creighton or a middle-of-the-pack team in the league. 
Next Game: Dec. 8 vs. Northern Colorado
Next Test: Dec. 13 at Tennessee
First Loss: Dec. 13 at Tennessee

ILLINOIS (8-0) -- Few would have thought than John Groce would have began his career in Champaign with eight consecutive wins, but that's exactly what's happened. The Illini have a couple of decent wins en route to the Maui Invitational title, but let's face it: That event was just ordinary this year. They beat USC, Butler and Chaminade - and also got past Georgia Tech at home. The other wins?  Colgate, St. Francis (N.Y.) and Gardner-Webb. Brandon Paul is one of the best guards in the country, but there's just not enough around him to sustain anything like this. Look for the Illini in the NIT this year. 
Next Game: Dec. 4 vs. Western Carolina
Next Test: Dec. 8 at Gonzaga
First Loss: Dec. 8 at Gonzaga

VIRGINIA TECH (7-0) -- Hokies rookie head coach James Johnson took over a team that doesn't have any depth -- and has limited talent, but what he does have is senior Erick Green. Virginia Tech's point guard has been sensational and has helped lead the Hokies to wins over Iowa and most recently, against Oklahoma State. However, there just aren't enough quality bodies in Blacksburg. 
Next Game: Dec. 8 at West Virginia
Next Test: Dec. 8 at West Virginia
First Loss: Dec. 8 at West Virginia
FRAUDS

WYOMING (8-0) -- Larry Shyatt loves to schedule with Charmin. It started with Western State, then N.C. Central, South Dakota, Southern, Northern Colorado and Cal State Bakersfield. The last win, though, came against a previously ranked Colorado Buffaloes squad. Shyatt does have a couple of players in Leonard Washington and Luke Martinez, but this team's record is completely deceiving. 
Next Game: Dec. 4 at Illinois State
Next Test: Dec. 4 at Illinois State
First Loss: Dec. 4 at Illinois State

CHARLOTTE (7-0) -- The 49ers haven't been relevant since Bobby Lutz was coaching them back in C-USA. Well, that's not entirely the case -- especially since Alan Major hasn't exactly gone up against high-majors. In fact, Charlotte has played all mid-major programs thus far, with the most impressive victory coming at home against East Carolina. The other victims came either at home or at the Great Alaska Shootout and they read as follows: Charleston Southern, Georgia Southern, Lamar, Texas State, Oral Roberts and Northeastern. The key for the 49ers will be come league play -- where they have finished 13th and 11th in Major's two seasons at the helm. 
Next Game: Dec. 5 at Davidson
Next Test: Dec. 5 at Davidson
First Loss: Dec. 5 at Davidson

LSU (5-0) -- New Tigers coach Johnny Jones hasn't left the Maravich Center yet -- and the list of opponents has been hardly intimidating. First it was UC Santa Barbara, then McNeese State, followed by Northwestern State, Mississippi Valley State and finally Seton Hall. The Seton Hall win is decent, but Kevin Willard's group hardly has the look and feel of one headed to the Big Dance. The good news, though, is that Johnny O'Bryant has made strides and junior college forward Shavon Coleman has been better than advertised. 
Next Game: Dec. 11 vs. Chattanooga
Next Test: Dec. 14 at Boise State
First Loss: Dec. 14 at Boise State

STEPHEN F. AUSTIN (5-0) -- The non-conference schedule is truly an embarrassment with four non-Division 1 opponents. The Lumberjacks have already taken care of mighty Howard Payne and Jarvis Christian and the next two games are against LSU-Shreveport and Lubbock Christian. They are celebrating in Nacogdoches -- for now. 
Next Game: Dec. 8 vs. LSU-Shreveport
Next Test: Dec. 18 at Oklahoma
First Loss: Dec. 18 at Oklahoma

EASTERN KENTUCKY (7-0) -- Jeff Neubauer's Colonels have played seven consecutive games at home -- and come out on top each time. The list isn't pretty: Cincinnati Christian, Kennesaw, Towson, Radford, Norfolk State, Delaware State and Western Carolina. Win a road game and then we'll talk. 
Next Game: Dec. 4 at N.C. Central
Next Test: Dec. 8 at Chattanooga
First Loss: Dec. 8 at Chattanooga
Was there contact? 'Everybody saw it,' UK coach John Calipari said

After losing its second game this week, a deep NCAA Tournament run looks far-fetched for U...

Coach K shows he is on on top of his game by landing the best three prospects in the Class...
The Buckeyes and Boilermakers continue to assert their dominance in the Big Ten

The 5-star phenom was thought to be headed to Clemson, but was swayed to the Blue Devils

The nation's No. 3 player will commit Saturday and here's his impact on each of his finali...