Brey confronts new challenges as Notre Dame joins ACC
Notre Dame head coach Mike Brey is preparing the Fighting Irish for an arduous, initial ACC slate.
• 3 min read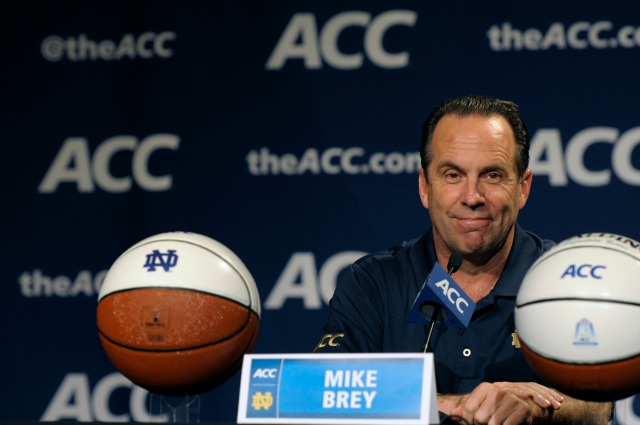 Mike Brey said he feels like he took a new coaching job without having to change his location.
Brey, who is entering his 14th season as head coach of Notre Dame, is about to begin a new chapter.
After a successful run in the Big East, the Irish -- along with Pitt and Syracuse -- are set to begin play this year in the ACC.
"There's a lot of emotions right now," Brey said. "We're anxious, excited, worried, all that type of stuff. I'm just happy that we have a good experienced group to work with. That always makes the transition easier."
But one thing the veteran coach immediately pointed out was it's going to much harder to win on the road in the ACC than it was in the Big East.
"Holding serve at home becomes that much more important because of how much more difficult it's going to be away from home," Brey said.  "Several teams in the Big East didn't always play on campus, they played in big arenas. That's not the case in the ACC. People play on campus. That makes it harder. You're not playing Villanova in downtown Philadelphia anymore or anything like that. It's not that those were easy places to play, but the dynamic changes when you step foot on somebody else's campus."
Notre Dame returns three of its top five scorers from last season's team that won 25 games and reached the NCAA Tournament.
The Irish will have one of college basketball's best backcourts with veteran guards Eric Atkins, Jerian Grant, and Pat Connaughton. Freshman Demetrius Jackson, a McDonald's All-American is also expected to make an immediate contribution.
"It's definitely as good as any perimeter we've had," Brey said. "We'll definitely downshift and play small a good amount this year and use Connaughton at power forward. We have the pieces to spread things out a bit. I like Jackson as my first sub but our other two freshmen -- Steve Vasturia and V.J. Beachem -- have been very good. They're competing right now with Cameron Biedscheid for minutes."
Brey was also quick to praise veteran big man Tom Knight, who stepped in and played a big role when Martin went down in the middle of last season with a knee injury.
"He saved our backside last year," Brey said of Knight, who averaged 5.5 points and 3.5 rebounds per game last season. "He's going to be a key guy for us and I think Garrick Sherman has been our most consistent big man through the first few weeks of practice. The surprise though has been Austin Burgett. He's a 6-9 face-up four-man in the form of a Rob Kurz or a Scott Martin."
On paper, the Irish look like a team that will post another 20-win season under Brey's watch. There's a slew of veteran guards along with capable big men who know their roles, and a freshman in Jackson who should be one of the better first-year guards in the ACC.
But it would be naive to think that this team will simply coast to another successful year as they enter a brand new environment.
Notre Dame will visit upstart Iowa in the Big Ten/ACC Challenge and also faces Indiana and Ohio State in neutral site games before beginning conference play. Once that begins, it's a whole new era for the Irish, one that will include home games in South Bend against both Duke and North Carolina.
"There's a lot of juice and a lot of energy around here surrounding our schedule," Brey said. "There's definitely a buzz, but the question is can we get a bid in our first year in the ACC? We can't go into the ACC and assume that's going to happen. The league is too good."
Zack Cimini is on a college basketball heater and just locked in a strong pick for Saturda...

Our advanced computer model simulated Saturday's Arizona-Stanford game 10,000 times

'If you want it, you're world champs,' A-Rod told the Spartans, which isn't exactly correc...
The players have the right to appeal the decision within three business days

Young is coming off his worst game as a Sooner and will try and bounce back vs. the Cowboy...

The Wildcats face a surging Stanford team that has risen as a potential Pac-12 contender