BYU's road win at Stanford puts Gonzaga on alert in the WCC
BYU sent a message on Monday night, going into Stanford and dropping 112 points on the Cardinal.
• 3 min read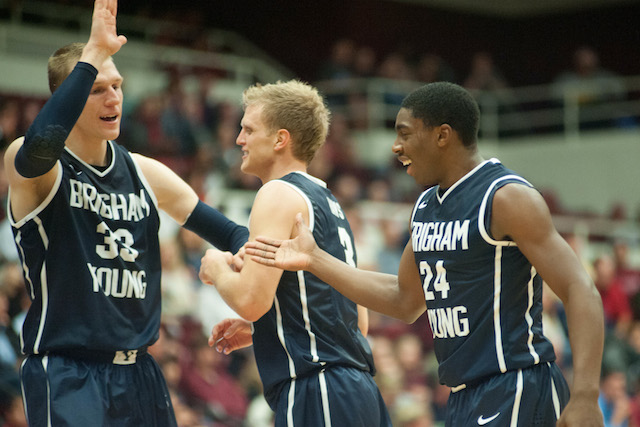 As it always seems to do, Gonzaga sent a message during its 24-hour marathon game on Monday night, dominating Colorado State, 93-61. Gary Bell hit eight 3-pointers and the perimeter quartet of Bell, Kevin Pangos, David Stockton and Gerard Coleman combined for 63 points.
Despite losing Kelly Olynyk, Elias Harris and Mike Hart from last season, it looked like the Bulldogs were reasserting their status as the team to beat in the West Coast Conference. With Matthew Dellavedova no longer at Saint Mary's, that seemed like a pretty decent bet.
Then BYU followed Gonzaga with an impressive performance of its own – and this one will have some lasting power later this season.
The Cougars went into Stanford and handled the Cardinal fairly easily, scoring 112 points and never being threatened for most of the second half. The lead grew as large as 19 points toward the end of the game, but a late run by Stanford kept the final at a respectable 112-103.
BYU outplayed Stanford in nearly every facet of the game, setting the tone early. Matt Carlino pushed the tempo at every opportunity, getting into the lane at will. For some reason, Stanford head coach Johnny Dawkins went with a bigger starting lineup that included using inside-outside weapon Josh Huestis at the three. The Cardinal simply couldn't keep up with BYU, despite trying to run with the Cougars. With Carlino, Tyler Haws and Kyle Collinsworth consistently finding ways of unlocking Stanford's defense in the halfcourt, the Cardinal were helpless.
Defensively, BYU constantly changed its zone looks, forcing Stanford to settle for outside jumpers or relying too heavily on Chasson Randle to create his own shots. By the time the Cardinal started hitting their outside shots, the game was already out of reach.
Is Stanford going to win the Pac-12? Probably not. But that doesn't mean a road win in Palo Alto isn't noteworthy for the Cougars.
Under Dave Rose, the profile for BYU hasn't changed that much. The Cougars like to push the ball on the offensive end, play zone defensively – and inevitably end up with around 25 wins.
Over the past two seasons, though, the question with BYU has revolved around its ability to win beat good teams. In 2012, the Cougars went 1-6 against teams ranked in the top 50 at KenPom.com. Last season, BYU lost its seven most difficult games – by an average of 11.3 points per game. Both seasons, they ended up on the bubble, getting a No. 14 seed in 2012 and missing out last season.
Based on Monday night, BYU won't have to deal with the bubble this season. The Cougars could push Gonzaga for the league if they continue playing like they did against Stanford.
In Haws, Rose has a player who can carry the offense for stretches if necessary. Carlino has had issues with consistency since he arrived at BYU, but he looked aggressive on Monday – without playing out of control. Those two were there last season, though, as was all-conference forward Brandon Davies. Davies put up nearly 18 points and eight boards a game, and he's gone. So what's changed?
To start, the return of Kyle Collinsworth from his mission and the arrival of freshman big man Eric Mika. Collinsworth is an all-around wing who has threatened for triple-doubles in each of his first two games. Through two games, the sophomore is averaging 12.5 points, 8.5 rebounds and 7.5 assists. Then there's Mika, who entered the season ranked among the top 15 impact freshmen in the country. He gives the Cougars a legitimate post player when the perimeter guys aren't capable of making a play. He can score with his back to the basket, and also has good vision out of the post.
Will this impressive start lead to a stress-free Selection Sunday? The Cougars will have chances to prove their worth over the next few weeks. Rose challenged his team with non-league games against Iowa State, Oregon, Massachusetts, Utah, Texas, Utah State – as well as a likely showdown with Wichita State. The past two seasons, BYU would struggle with these games.
But this season just feels different – and Gonzaga is now on alert.
The Big Ten Tournament is a week earlier than usual, so the regular-season schedule may look...

Arizona, Grand Canyon and Tulane are also in Barcelona and have reported to be accounted for...

The Kansas forward is no longer accused of walking out on an $88 tab
Cavaliers basketball coach tapes statement on behalf of his university and his city

Gary Parrish and Matt Norlander discuss all things Marvin Bagley and his immediate future

Which version of Grayson Allen will show up for Duke and other questions for every ranked...